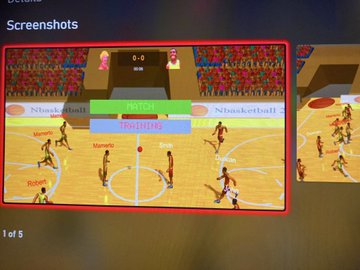 Scams affect any type of industryincluding video games. Ask those players (a few, actually), who got scammed by an NBA 2K23 clone. The news was reported on Twitter and seems to concern only the Xbox store, with this up game that is sold for 60 dollars, which is the list price.
The scam is not very elaborate, but clearly less experienced players and especially people who are not very familiar with the systems of purchasing from marketplaces are very prone to fall for it. The game is not called NBA 2K23, but NBAsketball and takes advantage of the same cover image as the 2K game. In short, not exactly easy to fall for it, but clearly the risk is there. And that's what happened, as stated in the reviews on the game page.
"I thought it was NBA 2K23 but really I just wasted money on this application. You will be speaking to my lawyers shortly," read a comment. In short, not everything is going well. Clearly it is not possible to know how much the game has sold, but according to some testimonies now the scam title would be impossible to buy. Nonetheless, it is important to be alert. And it's not even the first time something like this has happened.
Yo this is bugged out someone created a game with @NBA2K photo and selling it… @Xbox y'all need to take this out the store @Beluba @Ronnie2K pic.twitter.com/Mw4EYgHsO7
— Hu (@hugarden2k) October 23, 2022
Over the years, in fact, several scammers have tried to take advantage of less practical players, selling poorly made clones of very well made triple A or indie titles. The warning, therefore, is to be careful. All of this, however, also opens up to another discourse, or the lack of control by the stores on what is published. In the world of video games there is still a need for balance in this regard and it will be difficult to find it quickly. Keep following Tom's Hardware for all the news and upcoming announcements from the world of video games.