NBA 2k22: 2K Games presents My Career in all its new features
A few days after the worldwide release of NBA 2k22, Visual Concepts and 2k Games have unveiled their latest "Fieldside Report". This time, the modality is explained in detail and in detail myCareer of the game and the various inherent innovations that we will find on next-gen and current consoles. But no more chatter, let's go immediately to discover all the great news of the new basketball game made in the USA:
Hello everybody!! Before we reveal our latest "Fieldside Report" per NBA 2K22, we want to send a huge hello to the community and fans of 2K scattered around the world. Every year we work hard to bring you the best basketball video game possible, and it's always great to finally get to share what we've been working on. But without further ado, let's talk about what's new in My career and City that will arrive on the new generation platforms PlayStation 5 and Xbox Series X | S, but also some interesting news related to the Neighborhood on PlayStation 4, Xbox One, Nintendo Switch and PC.
A NEXT GENERATION NBA 2K22 EXPERIENCE: MY CAREER
We always strive to make MyCAREER a unique experience and last year we introduced the City, which was a big step forward in making 2K an open world basketball adventure. This year we take a huge step forward, with the story of MyCAREER entirely set within the boundaries of the City, for a whole new level of immersion and control.
To make it possible is one My career mission-based: not only will it offer the same kind of unique and engaging storytelling that players have come to love over the years, but it will also allow total control of the narrative, with main and secondary missions scattered throughout the various locations of the City. My NBA 2k22 CAREER doesn't feel like a movie anymore, but it will be more of an interactive adventure. Trust me, we've never seen anything like this in a basketball game and we're sure you will find these changes very interesting.
Clearly, it wouldn't be MyCAREER if you couldn't bring MyPLAYER to Town to compete on the pitches against the best players in the community, and there are also several improvements and enhancements to the gameplay experience. For example, the introduction of Seasons, which will help you take your online multiplayer experience to new heights. There are more details of that below too, but let's start talking about MyCAREER and the new MyPLAYER, MP.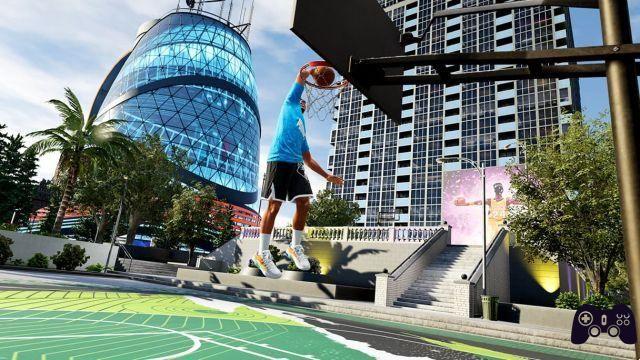 DISCOVER MY PLAYER
Each year, MyCAREER lets you check out My Unique PLAYER's journey to the NBA and beyond, and this year is no different. My 2K22 PLAYER is MP, a high school star with a successful social channel on which he posts videos humiliating amateurs on the pitch.
MP just moved to the City with his best friend and business manager Ricky Bennett, and together they have big plans. Not only do they want to conquer the world of basketball, they also want to get their hands on those in music and fashion. The ultimate goal remains to make it into the NBA and lead a team to the title (or three!) But how to get there and how to build your own personal brand along the way is based on options that are more diverse and fun than ever. new personal brand system).
In NBA 2K22 MyCAREER, progress through the story as you wish. It is a much less linear and more open experience, allowing you to improve your draft odds through matches, college, G League, training sessions, interviews and more. History hasn't left MyCAREER. In fact, it's more engaging than ever and allows you, the players, to dictate the terms. There are still plenty of routes you can take to the NBA and plenty of side activities to embark on once you get to your destination, but it's up to you in the company of your friend Ricky to find the right route.
PLOT NBA
This year, in the history of MyCAREER, making it to the NBA is just the beginning. Once in the league, you will have to juggle a complex set of circumstances that we don't want to reveal yet but which include difficult conversations with coaches, GMs, agents and the press. You will find yourself in the midst of those behind-the-scenes events that NBA fans love and are a vital part of the experience of being an NBA fan. The choices you will have to make during the first season in the NBA will be difficult, but each with its pros and cons. These choices will allow you to aim for the career and personal brand that best suits you, making you feel more in control than ever of your career and letting you feel the consequences of the choices made to pursue glory in the NBA.
CHARACTERS
This year in NBA 2K22, the large number of characters to interact with is one of the greatest virtues of My career. You will meet your PR director in the team structure, reporters in their offices and representatives of brands such as Nike e Adidas in the offices of their companies. Almost everything you do in MyCAREER can be done by interacting face-to-face with great personalities scattered throughout the game. Among our favorites there is Marvin Castleberry, the pretentious employee of the record store. Come and see him if you want to have a chat about music. It will surprise you to find out what you can get as a reward!
SYSTEM OF MISSIONS
As mentioned before, the new structure is based on our new mission system. Open world RPG players will happily find themselves in their territory. It is no longer a question of going from one cutscene to another. Now you can choose who to talk to and when to activate a multitude of unique interactions, with interesting characters and cinematic footage. It will be a lot of fun and will allow you to add more twists and arcs than ever before, increasing the feeling of living in a real, pulsating world. Not only will things happen out of your control, like in real life, but the choices you make in everything from play style to interview answers will unlock small story arcs and rewards that will shape what happens in your MyPLAY career. .
MUSIC AND FASHION
The stars NBA they are among the most creative and enthusiastic entrepreneurs in the business world. In My career of this year, we wanted to reproduce the emotions one feels in engaging in extra activities and we have introduced new narrative lines related to music and fashion, which you are free to follow according to your interests. That said, some of our favorite scenes take place in these narrative lines, then we recommend you try them, especially if you've always wanted to produce music in a professional recording studio. We don't want to give too much away but we can't wait for the community to find out what's in store for them on NBA 2k22, if they choose to indulge in non-basketball interests in these always very fascinating sectors.
PERSONAL BRAND
Speaking of interests, a star NBA he must carefully choose his personal brand to make the most of sponsorship opportunities, so this year we're introducing a personal branding system that mirrors the dynamics of the real world. We keep track of everything you do, on and off the pitch, and we award personal brand points to a number of characteristics: Free Spirit, Showiness, Company, Fundamentals, and more. Your actions and decisions affect your personal brand and this will determine what opportunities you have off the pitch, so think carefully about what to do and how to do it.
SECONDARY MISSIONS
This year we have added many more side missions to enrich the experience outside the main story arc. We've already mentioned music and fashion, but there's a lot more to it, from racing around the city (more on that later) to interview opportunities that arise when you do things like rage on the opposing team at the end of a landslide victory. So, in addition to there being a main story arc you can follow, there are plenty of opportunities to have fun around the City that change on a daily, weekly, and even seasonal basis.
MVP OF THE CITY
Everything you do in the City, and by everything we mean EVERYTHING, is worth MVP points. Among other things, NBA and City games, interviews, side missions, going to the catwalk (yes, even the catwalk!) Bring you closer to the ultimate goal of any 2K basketball player: to become the MVP of the City. City MVPs unlock a penthouse, quick access to membership fields, and more. It doesn't matter if you are a City player, an NBA fan or something else: you can become MVP of the City simply by playing as you please.
SEASONS
In addition to all the above we introduce the concept of Seasons in MyCAREER and in the City, which means that you will have new content every six weeks. New side missions, new clothing and much, much more. To find out more about how the Seasons will keep NBA 2K22 exciting all year round, read our latest pre-launch season sideline.
THE CITY
AN ALL NEW CITY
The first thing you will notice when you enter the City this year is how real it feels. Our graphic design team has done an incredible job of making everything from fire escapes to windows much more real and lived-in. You will find dirt, scratches and wear exactly where you would expect to see in a City that wasn't built yesterday. And depending on the time of day, the light will illuminate buildings and monuments beautifully, really highlighting these improvements. Take a moment to watch the sunset and you will understand exactly what we mean.
We've also added interiors that you can get in and out of without any loading, including a huge open-air mall that makes shopping quicker and more enjoyable than ever.
The City really feels like a real City and we can't wait for you to jump into it.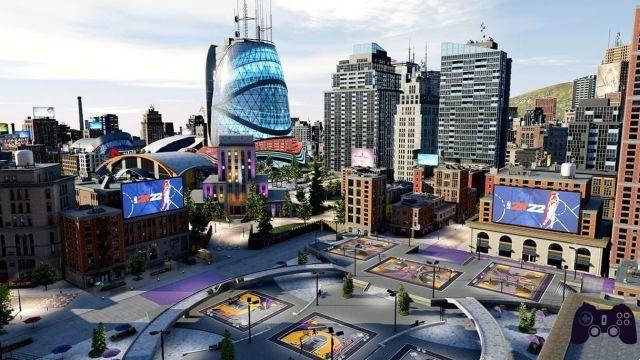 NEW PLACES OF INTEREST
Bringing the City to life also means adding new places of interest. We already mentioned this above, but all the characters you interact with in 2K22 now have a place in the City, so you'll be dealing with underground rappers, bartenders, reporters, ex-MyPLAYER, NBA stars and more. There may even be new arrivals later in the year, thanks to the Seasons. Keep your eyes peeled for the latest additions to the City. You never know who you will meet ...
You will also notice that the new places of interest and those returning from last year are pulsing with life. Go to Perco-Latte and watch everyone enjoy their coffee and chat. Take a stroll through the market and watch people buy the best vegetables in town. The goal is to make the City realistic and lived in and we think you will appreciate the results.
DAILY MISSIONS
Have you ever wondered what to focus on for the day? Now you will have the opportunity to take on 5 new daily missions that will help you earn rewards such as VC, XP, personal brand points, MVP points, exclusive gear and much more. There is also a lot of variety in what you can do, ranging from achieving statistical milestones in City, NBA and Pro-Am games, to earning money from sponsorships by promoting local stores in creative ways, to taking selfies in front of the shops. City attractions. You will meet people like Zach LaVine exploring every single inch of the new and improved City as you complete mission objectives. Whether you are a completist who wants to tick off every minimum goal or are simply looking for a change of pace, the daily missions are exactly what you are looking for.
SEASONS
PE SEASON
We mentioned the Seasons in the section above My career, but we have also added them in general to the City and there are BIG news. In previous editions of NBA 2K, park and city players had to scramble to climb the ladder from Freshman to Legend, but this year there is a new way to progress each Season, from the 1 level to the 40 level, with fun rewards at every level of the course. Does this mean that when a new Season arrives you will lose everything you have earned? Absolutely no! Everything you have earned in previous Seasons is kept in future ones. The real benefit of switching to Season XP is in keeping each Season fresh and ensuring you progress rewarding faster than ever. Every 6 weeks, there will be new rewards: Player Panels, Green Indicators, Clothes, Shooting Releases, and more.
Reach level 40 and you will get the BIG REWARD for that Season. Reach level 40 in 4 Seasons (not necessarily consecutive) and you will become a legend! Of course we can't reveal what you will get by becoming a legend, but we can already say that it will be a fantastic reward!
A MORE BEAUTIFUL CITY
In addition to always guaranteeing new rewards, the Seasons will constantly refresh the look and atmosphere of the City. There will be new parquet flooring for the playgrounds, new murals and of course seasonal changes. Every six weeks, the Season will change in both profound and subtle ways, like a real City. And, hey, start preparing for the City Slam! Do you want to know what it is? Have a little more patience ...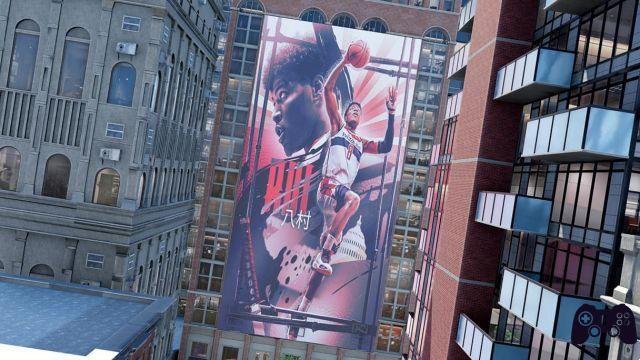 SEASONAL MISSIONS
Each Season will introduce 4 new Seasonal Stat Missions, which will inspire city basketball players to do things like score avalanches of baskets, perform spectacular alley oops, fan assists and more over the course of an entire Season. Also, every week there will be a new race of the week. Speaking of which…
RACE OF THE WEEK
This could be the queen of all side missions. How come? Well, whoever wins the race of the week will win Un. Million. By VC. Yes, really! One million VC! Each week there will be a new route through the City. You will use one of the various vehicles available: skateboard, BMX and more, to complete the ride as fast as possible. Whoever gets the fastest time, a single winner between the PlayStation 5 and Xbox Series X | S platforms, will receive one million VCs. Pretty cool, isn't it? But not only the winner will be awarded. Those who don't finish in the lead will still receive nice rewards, such as MVP, VC and XP points. Start the engines! (or feet ...)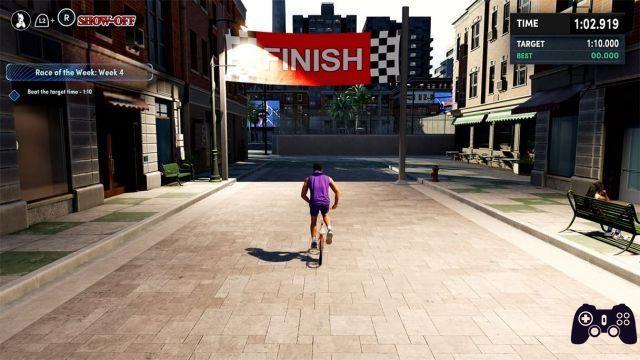 NEW ITEMS OF CLOTHING
Fashion is an important part of a basketball player's life and every Season we will add new looks, allowing you to embellish your wardrobe as time goes by. Keep your eyes peeled for the arrival of clothing from brands like DIM MAK e Billionaire Boys Club, in addition to those already seen in past years. There will also be clothing items that will boost attributes (for example shooting sleeves); this aspect of the game, therefore, has also been enhanced.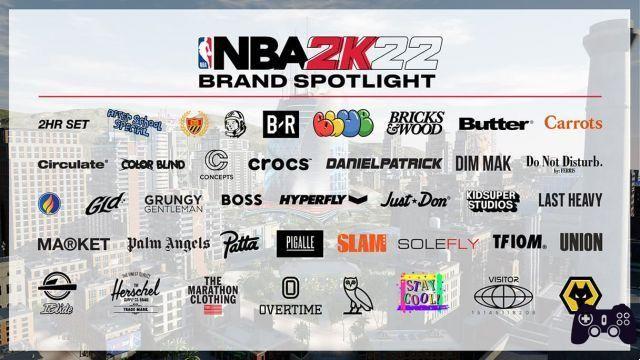 MATCHMAKING BUILDING
One of the most requested functions in recent years is matchmaking. We still enjoy playing on the affiliation fields and owning them, but those who prefer matchmaking will be happy to know that we have introduced new matchmaking modes that work 24/24, in various places in the city:
3V3 PLAYER VS PLAYER - TEAMS ARE NOT ALLOWED!
Do you want to jump into the game without risking to face a close-knit team with years of experience? This is the mode for you. Random teams only! United by chance!
3V3 PLAYER VS AI
Team up with other MyPLAYER (teams allowed!) To take on a wide selection of famous basketball players, starting with our cover stars: Dirk, Kareem and KD. Think you have what it takes to defeat these legends? Launch into this mode and find out. Ah, clearly the group of players will grow and change with each Season, so you will always have a new set of NBA legends to confront.
3V3 PLAYER VS PLAYER - MATCHES IN THE CAGE
Trampolines and basketball, what more could you want ?! Now you can crawl into the cage and face all the challengers. Do you want to do it with a team? Take a seat!
1V1 PLAYER VS PLAYER
Sometimes you need to play it the old way: one on one. This matchmaking mode allows you to tackle 1v1 matches faster than ever.
AFFILIATIONS
The City would not be the City without the affiliations and we are therefore pleased to announce that they are back better than ever, each with its own unique Neighborhood. We've also tweaked the XP system, with a 20% XP boost if you play matches on your court.
EVENTS
Events form an important part of the game in the City too NBA 2K22. Some of your favorite events will be back, but there will also be several new ones, to give you a good refresher. One of the biggest events coming in 2K22 Season XNUMX is Chips Ahoy! A challenge for the weekend in which the winner takes home 1 million VC! We do not want to reveal too much about it but we are sure that you will appreciate what we have in store for you. And of course, the events will be updated with each new Season.
GATORADE PRIVATE CAMPS
Last year, with the addition of rentable fields Gatorade, we have allowed players to train alone or play matches with other players of their choice. But the courts weren't always available and some players didn't like having to spend VC for rent, so this year we have completely eliminated the cost in VC and added the ability to enter a Gatorade private camp whenever you want. Perhaps it is a minor change but we believe it will improve the quality of life in the City.
ALL ON BOARD FOR THE NEW DISTRICT ON PLAYSTATION4, XBOX ONE, NINTENDO SWITCH AND PC
We talked about the content coming to the City, now how about we dedicate ourselves to new horizons for players of NBA 2K22 on PlayStation 4, Xbox One, Nintendo Switch and PC? For the first time, the players they will set sail in a neighborhood on the move, aboard the "Cancha Del Mar", to compete on the high seas! From the lobby to the upper deck, each level of the ship is designed to hold lots of your favorite basketball activities and have fun all year round.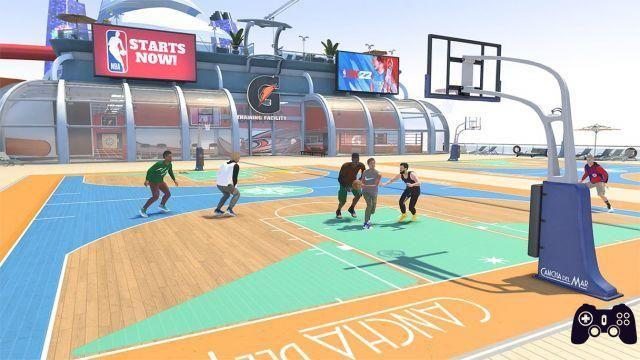 LA LOBBY
The ship is made up of five levels, starting with the lobby on deck 4. From the moment you step aboard, the cruise will make you feel seriously on vacation and ready to enjoy all the fun. To facilitate the acclimatization, Heather will assist you in exploring the ship, offering various tutorials. She, for example, will be one of the many personalities you will meet on NBA 2k22.
MY FIELD
When you are ready to start, take the elevator to deck 8, where you will find My FIELD, Pro-Am matches and the gym for team training. My COURT is essentially your base camp and you can customize it however you like, by painting a colorful mural, modifying the field or the board… the choice is yours. On a cruise, competition is always around the corner and some of the best challenges will be held in the engine room. Pro-Am 3v3 matches will also be accessible, but only if you join a Pro-Am team.
REWARDS
As you explore the ship, on deck 14 you will find Up the ante, Match Room, Restaurants, Pick of the Day and the Daily Wheel Spin. We have an avalanche of rewards for you and we can't wait to find out what you will achieve. There will not be only the daily rewards: the restaurants, in fact, will not be limited to serving meals, they will also be handing out gifts and power-ups a couple of times a Season. Don't miss them.
GAME MODE
Above deck 14 is deck 15, which features 2v2, 3v3 and the Gatorade workout gym, with everything you need to keep you in an elite state of form… and also a breathtaking view.
Once you reach deck 16, you will find several fields ready to host 3v3 games and even a new 5v5 pitch (with park rules), surrounded by a small river called Fossato. You will be able to recognize NPCs on the fly with side missions to assign because they will have a "!" floating above the head. Additionally, the upper deck hosts a reality show titled "The GOAT Boat" and you will be able to interact with the participants to receive other challenges.
SEASONAL EXCURSIONS
Finally, if you feel claustrophobic in the cabin, know that the ship will dock in various ports. The Seasons will always offer new excursions. The launch of each Season will introduce new content, new rewards and unique events. On a cruise there is always a lot to do and events will never be lacking. We don't want to give too much away: scan the horizon for things you will hardly believe.
CONCLUSIONS
In Visual concepts we can't wait for players from all over the world to launch into the new City and the new Borough. Whether you play next-gen or current, we have a huge amount of content and news for you. As you explore, you will find new challenges, unique thrills and modes designed to maximize your experience. It has been a while since the park was introduced and we are delighted with how things have evolved, but also with our plans for the future. Now, you can live in a huge, basketball-focused open world. Is not it fantastic?
Before closing, We want to thank fans and the community around the world for choosing to play NBA 2K and giving us their feedback year after year. We create this game for you and can't wait to bring you the best NBA experience. See you on the pitch!
We remind you that NBA 2k22 will be available from 10 September on PlayStation 5, PlayStation 4, Xbox One, Xbox Series X / S, Nintendo Switch and PC.