We had leaked it here, we had talked about it in a long preview and prepared Giorgio Mastrota's classic polenta taragna to kill time. Nanowar of Steel: The Revenge, the metroidvania developed by the independent Spanish studio Wisdom Studio, will be released on December 8 on Google Play, the famous digital distribution service of the American giant which will host the production of the most iconic, demented and famous Spanish metal band on the Italian scene.
This was communicated by Wisdom Studio itself, which in a note lets it be known that the production is ready to be released and that it is time to sharpen the blades and fix the beard of the Nanowarrior, the protagonist that the player will impersonate in a world completely designed in hand by Carlo Alberto Fiaschi, the frontman of the band who took care of the illustrations of the game world. To have dealt with the game design, however, there is the Assyrian-Babylonian Giuseppe Prenni who, apparently, may have inserted traps and other annoying things typical of metroidvanias into the video game.
According to Roberto di Leo, sceneggiatore di Nanowar of Steel: The Revenge, it will be fun: "The plot
has its roots in the imagination of Nanowar of Steel, so we talk about geography more than history", revealing that players will have to move in the Nanoworld, in the Nanoverse and in the Nanotime, facing embarrassing bosses, through the beauty of ben four hundred diamonds and trade with The Merchant, a sort of strange fellow we can't wait to meet. And what video game dedicated to Nanowar of Steel would it be without good music?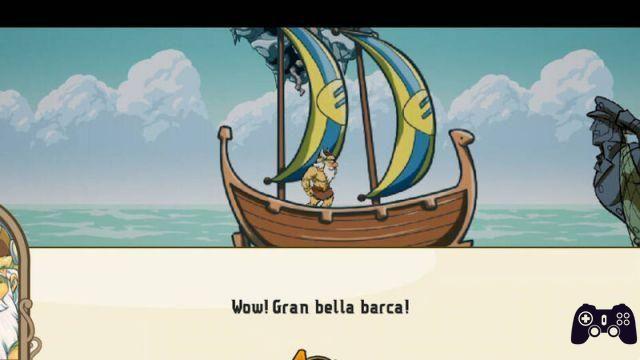 Taking care of the musical compositions is Christian Ice, who revealed: ""Following the footsteps Trent Reznor and Mick Gordon, who respectively dealt with Quake and Doom, I chose a diet with low carbohydrates and high proteins." In short, you can expect everything and more, and how could it be otherwise?
The game is designed for devices with free GB and a decent amount of RAM (at least 4GB, recommended 6GB). It will be possible to play offline, configure touch controls, no advertising and no microtransactions. The game will have a launch price in Spain of Euro 4,99 until December 15th, with a final price set at 7.99. Ready to fight without fear?