The autonomy of smartphones may no longer be a problem in a few years. The solution would be the nano-diamond battery that Californian company NDB plans to debut in less than two years. The secret? Use recycled nuclear waste that to create a battery that does not require recharging. The life span can reach 28 years with very small sensors or devices. It drops to around 90 years for electric vehicles and a 9 for smartphones.
Numbers that could really lead to a turning point. Considering that - on average - we change a smartphone every two years, we would find ourselves never having to recharge our device. Also, it could go back to removable batteries and re-use the same unit on another mobile. Sure, it's not as simple as it might seem but the potential behind such solutions is truly limitless.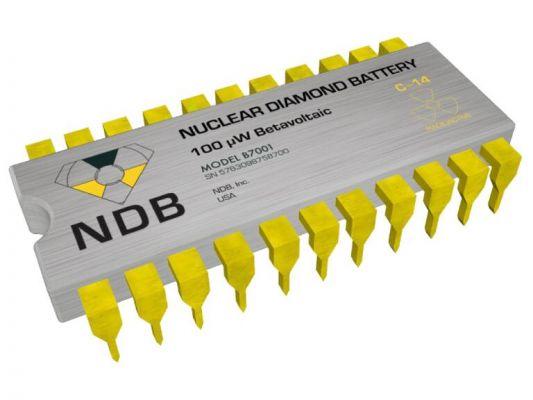 NDB batteries are created from carbon-14 nuclear waste, purified and used to create artificial carbon-14 diamonds in the laboratory. The diamond structure acts as a semiconductor and heat sink. Finally, there is a nano-diamond coating made from Carbon-12 that not only it is not radioactive but it is highly resistant and prevents radiation losses, as explained in detail by representatives of the company in an interview with New Atlas. It therefore acts as a protective layer that can hardly be tampered with.
"The only way to get through the facility is to use specific tools and lasers, which are quite expensive," they explain. The company provides various assurances on the level of safety by claiming that the radioactivity produced by the human body is higher than that generated by these batteries. Another interesting aspect is that they can take countless forms to be used in any type of device. The fields of application are endless: automotive, consumer electronics, aerospace industry, medicine, industry and much more.
Read also: Samsung Galaxy M51 lands in Europe: 7.000 mAh battery at 360 euros
NDB also speaks of higher power than lithium batteries which would also be cheaper thanks to the use of nuclear waste material. In short, we will be able to have durable, cheaper, safer batteries that contribute to solving the problem of nuclear waste disposal (at least in part). Among the objectives is to use the new technology to bring electricity to the places where it is needed without the need to have the adequate infrastructure available.
It almost seems like a dream that - according to NDB - is preparing to become reality. At the moment, the company explains, they are still in the slow prototyping phase due to the global pandemic. The plans foresee the realization of the first commercial prototype after about 6-9 months from the reopening of the laboratories and then bring the first nano-diamond batteries to market in less than two years. In short, the future may not be so far away.
iPhone 11 can be purchased on Amazon with one discount of 90 euros. .