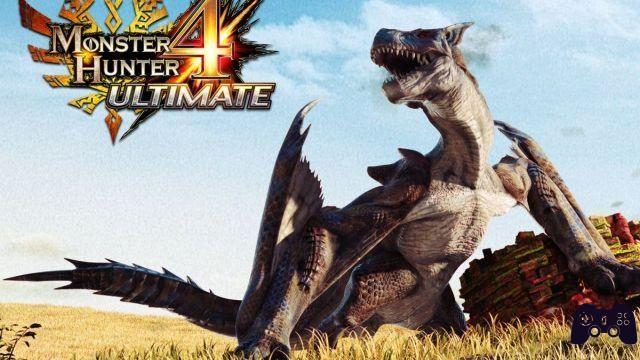 by Simone Cicinelli
Monster Hunter 4 Ultimate (from now on: MH4U) is the new chapter in the series of Monster Hunter, action-adventure with RPG components from Capcom. Also this time the western players had to wait a long time before having some more certainty about the localization: this Ultimate version is actually the revised and corrected version of the fourth episode, which was published in Japan last year already obtaining the typical success. audience and sales.
HUNTER 101
The purpose of each chapter of the saga is the same: the player is part of a guild of hunters and has the task of facing monsters of all sizes, exhausting them more and more until they can be captured or, if necessary, killed. By defeating increasingly fierce monsters it will be possible to scale their remains or get their parts broken in battle, then used to build new weapons or armor. The feeling is that of feeling like a real hunter, always struggling with something bigger: the monsters will in fact be sought in very large and varied areas (now a swamp, now a desert, now a volcano) and they will not have a life bar that will indicate their level of fatigue. It will therefore be necessary to rely on their behavior in battle to know how effective our attacks are or if a change of strategy is necessary. For example, it will not be uncommon to see a monster escape to another area to rest or refresh in order to recharge its energy, or even witness monsters in distress calling others to help.
NEW HUNTES, NEW ARMAMENTS
The news of this episode are many, starting from the skills of the hunters: MH4U allows the player to jump off ledges and climb much more actively than in the old chapters. It will therefore be possible to shorten our routes by jumping over obstacles, or to attack an enemy even while we are hanging from a wall. The most interesting addition is undoubtedly the possibility of jumping on the back of the monsters we are facing, in order to exhaust them and / or try to tame them.. As soon as we manage to jump over the monster, an unprecedented phase will start that will allow us to attack it repeatedly or to take back the reins when the creature begins to rebel. We tried this new tactic in one of the levels of the demo, which allowed you to fight a Great Jaggi, one of the first monsters available to face in many games in the series. Logically there will also be new types of weapons, two of which are unpublished: the Insect Club, which allows you to summon large insects that will help us face a monster, and the Charged Ax Sword, a new type of Sword & Shield which, once charged, can become a powerful Ax (thus combining the powers of the Sword & Shield and Sword Ax set). There will also be many new monsters to face and the demo we tested featured two: the Tetsucabra and the dangerous Gore Magala.
TO THE PUNCH!
MH4U, as well as many of its predecessors, it finds its true nature in group play: in fact, multiplayer modes will be available locally and via WiFi, in order to create a group of up to 4 hunters to face even the most combative monsters together. The game is thus capable of taking on an enormous depth, allowing even hundreds of hours of gameplay to the most tenacious and passionate. The demo we tested also featured a Spanish translation, excellent news given the amount of text that characterizes some aspects of the experience. Fans of the saga can then begin to sharpen their swords and polish their armor, while newcomers will still find a perfect starting point and many hours of play. All starting from the first months of 2015, exclusively on Nintendo 3DS.
Comment Monster Hunter returns for a fourth 3ds exclusive episode, gathering all the content of the old and promising a lot of news. As always, the series promises rich cooperative multiplayer and full-bodied entertainment. A game that, however, seems sacrificed on a normal 3DS, but which will be essential for fans of the series and perhaps will be able to attract some "novices" of hunting. Pros and cons
✓
The gameplay starts from a well-established base
✓
Lots of new monsters, weapons and abilities ...
x
... But the differences with the old chapters will have to be checked in more detail
x
The Circle Pad Pro now seems almost obligatory