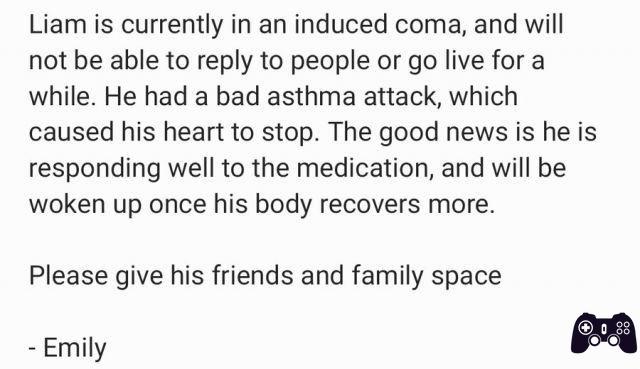 There are desires and hopes that go further any negative situation that happens in our life, as in the case of one of the strongest and most popular players of Warzone. We're talking about Liam "Jukeyz" James, who over the past few days has had a bad asthma attack, so much so that the doctors have preferred to induce a coma to safeguard his life. Upon awakening, however, James surprised everyone, simply asking if Modern Warfare 2 was already out.
An absurd story, told by his partner. James was put into a coma on September 27, 2022 and was awakened a few hours later. "Liam is now awake and recovering", the words of the partner disclosed online. Later though, James asked if Call of Duty Modern Warfare 2 was out yet. A clear sign of how all of his mental functions have been preserved (and actually we do not believe there was any doubt about it).
Induced coma is clearly a fairly standard practice in medicine where there is immediate danger to a person's life. Unlike the "normal" coma, a subject can be awakened at any time. Sure, most people would probably care more about his health than the release of a game, but we're sure that for family, friends and all those who love James that phrase represented a sort of "return" to normality.
UPDATE:
Liam is now awake and doing well
He also asked if MW2 is out yet https://t.co/Ga4yW9kCUP
— Li (@Jukeyz) September 29, 2022
James will have to wait quite a while before he can get his hands on Call of Duty Modern Warfare 2. The game from Activision and Infinity Ward will in fact debut on October 28, 2022, on PC, PlayStation 4, PlayStation 5, Xbox One, Xbox Series S e Xbox Series X. You can book the shooter on Amazon. Keep following Tom's Hardware for all the news and upcoming announcements from the world of video games.