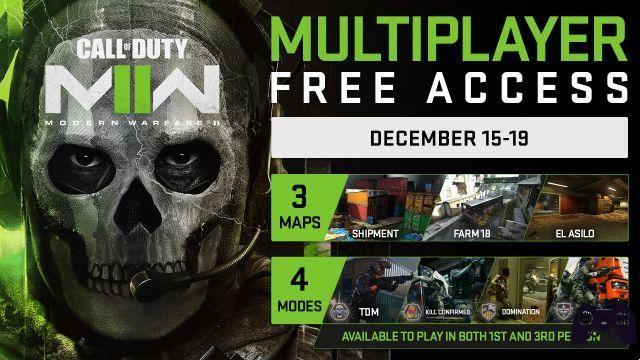 With the arrival of Season 1 Reloaded, Activision has officially kicked off a series of initiatives for Call of Duty: Modern Warfare 2. The first and perhaps the most important, at least on the publisher side, is certainly the arrival of free game weekends, which will give you the opportunity to try the title for free and which from now on will obviously be more frequent, exactly as happened with the last iterations.
How to access the first weekend free of Modern Warfare 2
The first of a long series of free trials of the game will take place starting today, Thursday 15 December 2022. All those who are interested in trying Infinity Ward's shooter will be able to download the game files on PC, PS4, PS5, Xbox One, Xbox Series S and Xbox Series X. The trial will last until Monday 19 December at 19:00 Italian time.
What are the contents of the free weekend?
Although the build to be downloaded will actually be the complete one, actually the players who will participate in the free weekend of Call of Duty: Modern Warfare 2 they will not be able to access the entire full game. In detail, only the multiplayer component will be available and not even in its entirety.
As specified by Activision, players will have only three maps available (Shipment, Farm 18 and El Asilo), on which they will be able to play 4 different modes, namely Team Deathmatch, Confirmed Killing, Domination and Location. Although the contents seem few, in reality they are more than enough to get an idea about the game. In addition, all of these modes and maps are also playable using the new third-person mode, with the camera positioned behind the players back.
Call of Duty Modern Warfare 2 is available from October 28, 2022 on PS4, PS5, PC, Xbox One, Xbox Series S and Xbox Series X. The game has received two important updates: the first, dated November 16, 2022, which introduced Season 1 and the first Battle Pass (as well as Warzone 2), and the second yesterday, with a new map, a new weapon and the long-awaited raids.