One of the most important things in recording and making live streaming is undoubtedly the quality of the microphone. If your voice is not crystal clear and of good quality, rest assured that you will not be followed up at all. It is therefore essential to buy at least one well-made microphone. In this article we will in fact recommend several, from the cheapest to the most expensive ones, offering you excellent products in any case. For all audiophiles, however, we recommend taking a look at the best headphones for PlayStation and the best for Xbox.
Clearly, quality aside, the product should also be selected on the basis of your own needs: if you usually shoot videos on vacation or, in general, love filming yourself around, it is certainly more advisable to microphone small in size and to be attached to your clothing; different speech instead if you recover from your bedroom or a studio. In this case a microphone table is the most suitable choice, whether it is one Yeti or Rode it just depends on your budget. That said, let's get started now!
The best microphones
Blue Yeti
Lavalier, Rode
Tonor
Rode NT-USB
Blue Yeti, the best value for money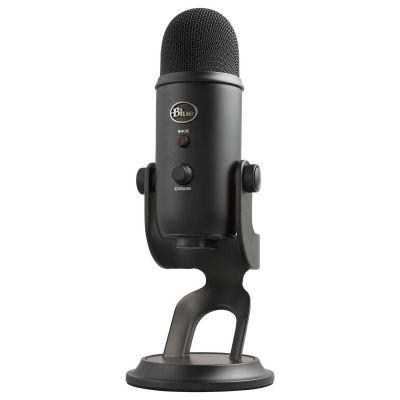 We could not start with him, a microphone which, over time, has earned the esteem of many users, becoming a highly recommended purchase for all interested parties. Clearly not the best microphone on the square, also because, if you want, you can always find better, budget permitting. Still, it's still a very good choice.
The design of the Yeti it is simple but captivating, worked with care and above all built with excellent materials which give a resistant feeling. On the front, in addition to the clearly visible logo, we have two buttons: the first allows you to change your voice (very useful action; never have a sudden allergic crisis), while the second is actually a small knob through the which to adjust the volume. On the sides we have instead thin cranks positioned specifically to fix the microphone and avoid possible oscillations. And on the back we find two other options: one for adjusting the gain and another for switching the various audio capture modes. We immediately specify that, if your intent is to use it only during streaming, the ideal choice is the penultimate one, or the pattern designed to capture a single voice coming from in front.
Finally, we close by spending a few characters on connectivity. To connect the microphone to your computer you simply need to have an unoccupied USB port, once this is done the drivers will be automatically installed and it will be ready for use. There's even a headphone jack that's very useful for listening to your voice, so you can make adjustments carefully.
See on Amazon
See on Ebay
Rode Lavalier, the best for making Vlogs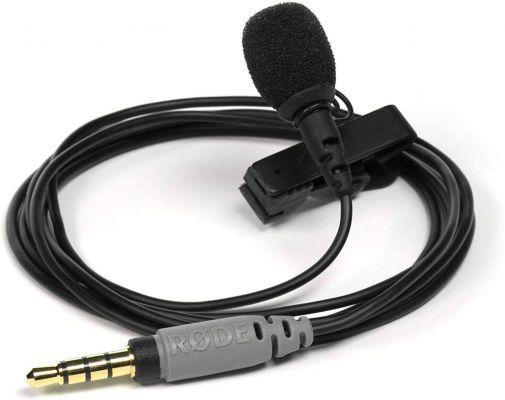 As discussed in the previous paragraph, if you love making videos on the go rather than sitting in your bedroom, then you need a microphone that is very different from the common Yeti.
Here, the purchase of a small product to be attached to your clothing is recommended. It is appropriate to suggest this device to you Lavalier di Rode, very useful to carry around and mainly designed to be used with smartphones and reflex cameras. Little to laugh about the design, built with excellent materials and already equipped with an anti-pop filter; it is even water resistant. A practically perfect purchase for those who love filming themselves on the go.
Nothing prevents you from using it even for classic home recordings or live on Twitch e YouTube. Although it is designed for making videos on the go, it goes well with the rest of the activities you may want to do. Also, as is the case for the Yeti, is instantly recognized by programs such as Viewer discretion o Audacity, you will therefore be able to use it very simply and, in the case of Audacity, also to record the audio and improve it in post production.
See on Amazon
See on eBay
TONOR, the cheapest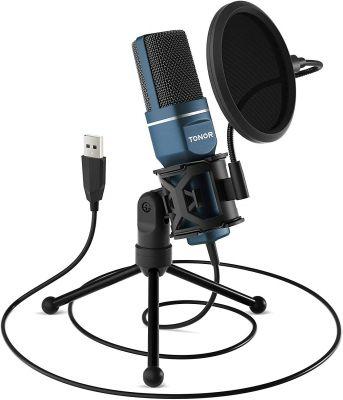 Do you have approx 40 € to spend and are looking for a good microphone? The answer may be this product from TONOR, absolutely already equipped with everything necessary and useful for many activities. From the usual group chats, video recording and live streaming, this microphone indeed proves to be a good choice and, as for the devices we have told you about before, it is plug & play: connect the microphone to the USB port, and it's done.
The design is rather classic, nothing extravagant, and perhaps it's for the best. In fact, what matters is the audio quality, and considering the price of the product we are faced with one of the best purchases you could make, with nothing to envy to other microphones. Furthermore, obviously it is perfectly compatible with the most common programs, so you will be able to make the most of it.
See on Amazon
See on eBay
Rode NT-USB, the best ever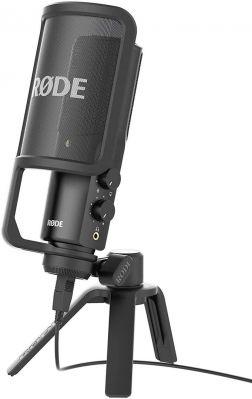 Here we are at the top step of this ranking, clearly occupied by Rode. If you hang out in the area, you know: Rode has always been a leading company in this market, thanks to products characterized by an enviable quality, a bit like Logitech through the webcam.
The model we recommend is Rode NT USB, featuring a simple and clean design, extraordinary audio quality and good connectivity. In addition to the classic USB, as always useful to connect the microphone to the PC, there is a jack cable that allows you to connect headphones and listen to your voice in real time.
In short, if you have a lot of budget to invest, this microphone is absolutely right for you.
See on Amazon
See on eBay
How to choose a microphone for streamers
As we said at the beginning, a microphone is essential to improve your live streaming. The reason? Well, it's easy to say: imagine listening for hours and hours to a broadcast accompanied by poorly amplified, unclear and not at all clear voices. For this reason, even before improving the video quality, the advice is precisely to invest in a good microphone, whether tabletop or lavalier will depend only on your needs and the format you bring live. So let's find out what are the key features to take home a good microphone.
Audio quality
To choose a good microphone it is not necessary to keep in mind many things, the important thing is that your voice is reproduced crystal clear. In this regard, you must first of all be clear about the type of use. The speech, therefore, is more related to the quality of the microphone, and often also to the price. In fact, a low-end microphone will hardly satisfy you fully, except to be satisfied and evaluate the purchase as a sort of first step into the world of streaming.
Another fundamental factor is the frequency: the higher it is, the better the sound will be digitally converted. In order to consider a microphone fit for purpose, it must have at least, 44,1 KHz; even better would be 48 KHz, and finally 96 KHz. We then have the bits, which you will surely have noticed in programs such as Audacity. This figure indicates the amount of information present in each individual sample. Simply put, the higher this figure is, say 16 bit, the clearer your voice will be reproduced. If your intention is to compete at a professional level, then choose a 24bit microphone; alternatively, 16 bits will be more than enough.
Microphone types
Considering that most live broadcasts are set up in the same way, i.e. with the streamer positioned in front of the microphone and the camera, it is worth spending a few words on cardioid microphones, known for their ability to capture audio from the front. Well yes, as mentioned, cardioid microphones are microphones designed to capture the voice mainly from the front, therefore suitable for audio recordings such as amateur dubbing, or for live streaming. There are different types of cardioid which we are going to illustrate below:
Bidirectional cardioid: This typology, on the other hand, this pattern, it's mainly for capturing audio from multiple directions, right and left to be exact. A suitable usage scenario could be the presence of two people in front of the microphone, with the latter positioned on the desk between the two people, so as to capture the audio of both to the fullest.
Cardiode omnidirezionale: this last pattern will hardly be useful to you but, what time should you have need to capture 360 ​​degree audio, therefore also environmental and of several people at the same time, omnidirectional is the way forward.
Ease of use
Don't underestimate ease of use, compatibility with programs like OBS and StreamLabs, and driver downloads. All the models listed by us are very simple to use, thanks to the convenient plug and play system. In this way, once the microphone is connected to the computer, it will be immediately ready for use and will be immediately recognized by programs. However, don't take these conveniences for granted: from drivers to software compatibility, problems could arise out of nowhere, and frustrate you like there's no tomorrow. For these reasons, we always suggest looking for very popular, well-known, plug & play models that are compatible with the best-known streaming software. Throwing yourself on an unknown brand in order to save a little something could really be harmful.
Compatible programs
While writing this guide, we thought it well to recommend products that were the most compatible with the software out there. In fact, what we tend to take for granted often turns out to be the number one problem, and before even running into these problems, we might as well make sure from the beginning that we buy a perfect microphone for the purpose.
Audacity, OBS, Streamlabs, and so on… all software designed to assist your streams and get them going. The selected microphones, especially the Blue Yeti and the Rode, are by far among the most compatible and widespread in the community, so we suggest you take them into consideration in order to avoid running into any problem that could even remotely be related to compatibility.
Materials
Another indispensable element e not to be underestimated is the quality of the form factor and, in general, the materials used. For example, in order for you to better understand what we mean, condenser microphones are characterized by a lower build quality than other models which, depending on the brand, instead boast parts made of metal or aluminum. It is precisely with these materials that your microphones can breathe a sigh of relief, guaranteeing you a rather high resistance over time. Needless to say, finally, we strongly advise against plastic microphones, really too fragile and subjected to involuntary movements due to their very light weight.
Accessories and connectivity
Choosing a microphone that has good sound quality is the minimum wage. In fact, all the products selected by us, even the least expensive, will be able to satisfy from this point of view. What you may not know, however, is that in addition to the quality of the microphone itself, the microphones are equally important supplied accessories and connectivity. In fact, to get the most out of your device, it must be not only easily compatible with the various audio and video software, but also with your PC and operating system. The ideal choice, in this case, are the microfoni plug and play, products equipped with a USB cable and which only require connection to one of the many USB ports on your PC; once this is done, all the necessary drivers will be downloaded automatically.
Finally, the accessories: to make your voice even cleaner and use the microphone in a comfortable way, you may need a stand and a pop filter. Some microphones are already equipped with these accessories (TONOR is a good example), in some cases you may be forced to purchase them separately.
Usage scenario
As repeated several times in this guide, even before establishing the budget, think about the format and usage scenario. It sounds silly but it really is basically and will make your life easier on more than one occasion. Below are the types of microphones related to the different usage scenarios, mainly summarized in two categories:
Lavalier: Ideal for shooting videos outdoors or, always at home, but standing up. They are very small microphones that attach to clothing. Also compatible with smartphones, they offer an immediate and convenient solution that adapts to every streamer and video maker who intends to shoot standing or on the move.
Tabletop: mainly suitable for live broadcasts in which the protagonist of the channel is seated and has a desk and his own setup at his disposal. To microphones of this type it is also worth adding an anti-pop filter to clean the sound more, and an esta, necessary to position the microphone correctly, also improving the general performance of the same.
The most reliable brands
In addition to the price, which is rightly worth paying attention to, not to be underestimated is also the brand, the brand, the parent company of the product. Exactly, since there are giants in the sector out there, it is worth relying on them and taking home a product that lasts over time, even at the cost of spending a little more on it.
In this regard, we mention brands such as Blue and Rode, truly the first in the class, but also Shure and Samson. All reliable brands that have demonstrated it over time with products characterized by a general excellence that certainly does not go unnoticed.
Price
The price issue, commonly addressed in our guides, today is really simple: as described in the text, we have divided the guide into categories, so as to satisfy in the blink of an eye those looking for an economic solution and those who want the best the best without thinking too much about it. If you're tight-sleeved or still unsure about throwing yourself headlong into the world of streaming, our advice is to invest €35 and buy the Tonor microphone, which offers you a truly complete and functional starter pack. Alternatively, to the more convinced, we recommend an investment of more than €100, grabbing the always excellent Blue Yeti microphone. Finally, however, for all those who simply want the best, make the investment that ensures many years of use and quality, let's say that you have to go over €150 and contact Rode, which has always been an excellent choice for microphones. whether tabletop or lavalier.