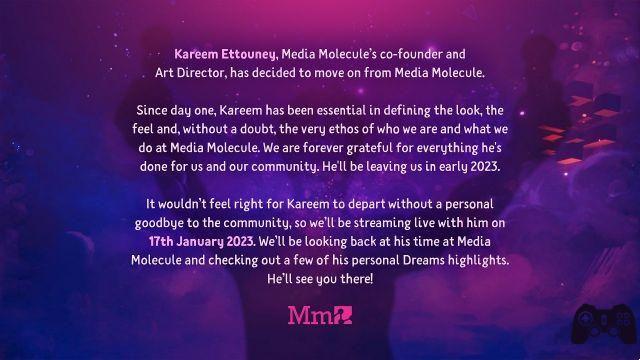 With 2022 now starting to close, a few hours ago we were able to witness what were the last big video game announcements of the year. The Game Awards 2022 have unveiled many productions that, starting next year, will be able to excite us. Among the protagonists of recent years there have been a handful of PlayStation productions; but apparently there is something new that few would have expected, and it concerns the talented and creative team of Media Molecule.
The recent announcement is about Kareem Ettouney, the co-founder and artistic director of Media Molecule. Ettouney is about to leave the studio that he co-founded and in which for several years he helped bring out his artistic talents. The British team itself announced this farewell through a recent press release published on the net, in which the latest appointments were revealed in which to greet the co-founder of this historic development team.
"It wouldn't be fair for Kareem to leave without giving a personal goodbye to the community, so we'll be live with him on January 17, 2023. In this broadcast, we'll look back on his time at Media Molecule and see some of his personal highlights at 'inside of Dreams", this is what can be read inside the recent press release published on Twitter in these hours.
- Media Molecule studios were opened in 2006, when Kareem Ettouney, together with creative director Mark Healey and technical directors Alex Evans and Dave Smith, joined forces to create a real dream team full of creativity and out of the ordinary ideas. Now, however, it's time for the co-founder to move on, and to do so by saying goodbye to his community of enthusiasts in the best possible way.
Before saying goodbye, we advise you to also visit our YouTube channel, where you can find videos dedicated to the gaming world at 360 degrees.