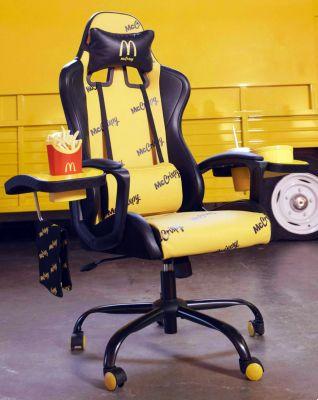 That McDonald's is now increasingly interested to the world of video games is nothing new. Over the years, the company that owns the most famous fast food brand in the world has in fact managed to approach this world with a series of decidedly interesting initiatives, such as those related to Sonic and Overwatch. However, the latest gimmick of the English division went a little too far.
As you may have guessed from the title of the news, this time McDonald's has decided to launch a special gaming chair. However, this chair is designed to meet the needs of players who love fast food. Yes, because beyond the backrest, everything else is designed to keep a hamburger and fries warm at all times, thanks to the two arms positioned on the right and on the left.
If you're wondering how much such an object could cost, well, we'll tell you: it's priceless. Not only because it is something unique of its kind, but precisely because there is only one McDonald's gaming chair. And no, you can't have it, unless you're a resident of England, Scotland and Wales. This is because in reality this chair is the result of a very special contest, created to sponsor a new sandwich from the fast food chain.
Sometimes I wonder if I'm subscribed to the right press lists. And then McDonald's makes a gaming chair. pic.twitter.com/pzmQiy16cd
— Louise Blain (@Shiny_Demon) November 7, 2022
Ok, this very particular chair cannot be had, but clearly if you are looking for a slightly better gaming chair than this one (and probably more suitable for your habits), then our advice is to visit our guide to the best chairs of 2022. Maybe the fries and hamburger won't keep you warm, but at least you won't run the risk of greasing the mouse, keyboard or any controllers. And then, let's face it, aesthetically it's not exactly the most successful product of the fast food chain.