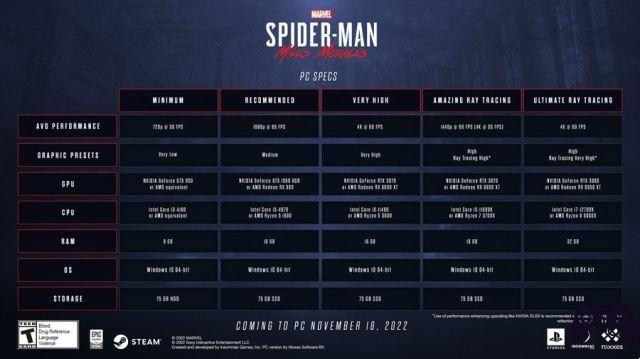 Over the past week, Insomniac Games has announced the arrival of Marvel's Spider-Man: Miles Morales on PC. The release date of the stand-alone expansion of the original game is very close and today Nixxes Software (author of the porting from console to PC) has decided to reveal the graphic presets and the hardware that will need to be used in order to achieve a certain requirement . Let's try to summarize them a little further down, with a particular focus on GPUs.
The requirements without ray tracing
To make it run better Marvel's Spider-Man: Miles Morales without using Ray Tracing technology different components are required based on the resolution and frame rate goal players will want to achieve. We go from the lowest ones, with a target of 720p 3 30 frames per second with presets at "Very Low" for which decidedly affordable GPUs and CPUs are needed. To play at 60 frames per second and in Full HD, however, the question changes and we find the classic GTX 1060 or an AMD RX 580.
If gamers will have a decidedly high-performance PC, then they can also try the path of 4K and 60 frames per second, for which, however, a GeForce RTX 3070 GPU or an AMD Radeon RX 6800 XT will be needed. The RAM stands at 16GB and an SSD is required instead of the classic mechanical hard drive.
The requirements with Ray Tracing
As for the present with Ray Tracing, Nixxes Software has worked on two types of customization. The first is Amazing Ray Tracing, with a resolution target of 1440p at 60 frames per second or 4K but with the frame rate locked at 30 frames per second. To achieve such a result, a GeForce RTX 3070 GPU or an AMD Radeon RX 6900 XT are required. The second preset for Ray Tracing is instead the Ultimate, which targets 4K and 60 frames per second, where a GeForce RTX 3080 GPU or an AMD Radeon RX6950 XT are required. You can find all the details of the configurations in the twitter just below.
#MilesMoralesPC supports a broad range of hardware configurations. Here's an overview of recommended specifications for a variety of graphical presets. pic.twitter.com/cvutP63miO
— Nixxes Software (@NixxesSoftware) October 18, 2022
Marvel's Spider-Man: Miles Morale will be available on PC a starting November 18, 2022, on both Steam and the Epic Games Store. Keep following Tom's Hardware for all the news and announcements in the pipeline from the world of video games.