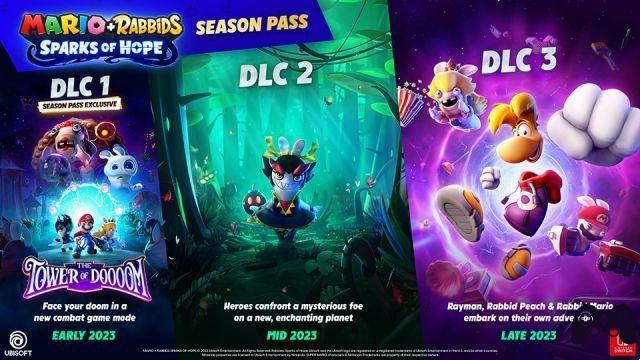 After the release of the game, it's time for Ubisoft to reveal the DLCs included in the Mario + Rabbids: Sparks Of Hope season pass. The reveal of the new game content was revealed on Twitter, through a post published in the last few hours. The appearance that Rayman will have was also revealed in the twitter, one of the characters who will enter the roster later.
In detail there will be three additional contents, but only the first one knows some details. Let's start right from the first additional content which will see the light in the first months of 2023: it is called The Tower of Doooom and will add a new combat mode. This DLC is exclusive to Season Pass holders and will not be purchasable separately.
Subsequently, two further DLCs will see the light. The first will be released in mid-2023 and will see the protagonists of the game face a mysterious enemy on a new planet. At the end of 2023 it will be Rayman's time, who as you can see from the image just below will have the same features adopted in the chapter Havoc from the series of the same name. In the third DLC the protagonists will be Rayman, Rabbid Peach and Rabbid Mario, who will face a completely new adventure. More details on the content will likely arrive in the coming months.
So we heard you wanted to know more about the #MarioRabbids Sparks of Hope Season Pass?
DLC 1️⃣ TOWER OF DOOOOM coming early 2023
DLC 2️⃣ coming mid 2023
DLC 3️⃣ coming late 2023 pic.twitter.com/4KwpNo1WYu
— Ubisoft (@Ubisoft) November 2, 2022
Clearly all content is free of release dates. Despite this, Ubisoft Milano and all the studios working on the additional content should be able to respect the temporal launch windows. Of course, let's not take them for granted and we remain, as always in these cases, awaiting any announcement. In the meantime, if you haven't already done so, we invite you to take a look at our review of Mario + Rabbids: Sparks of Hope, which you can consult at this address. Stay tuned to Tom's Hardware for all the news and upcoming announcements from the gaming world.