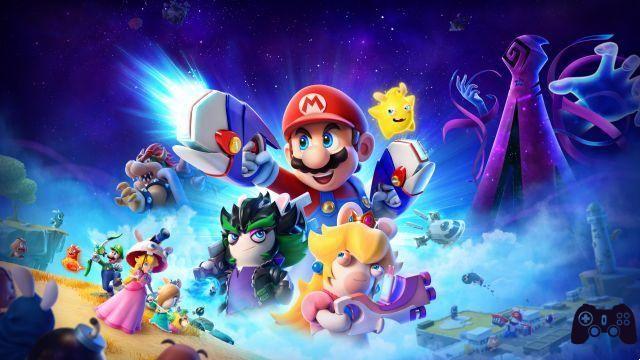 If you are waiting for the release of Mario + Rabbids: Sparks of Hope and you are hesitant to buy it, trying to get an idea about the game before its release the 20 October, fear not: IGN published a recent movie that's right for you. In this 17 minute video there is the possibility of snooping a little inside the experience, and the gameplay, that this video game will offer you in a few days.
Mario + Rabbids: Sparks of Hope, the new strategic title built and shaped by Ubisoft, for now, has been welcomed by the international press with mainly positive reviews, marking a foreign debut that would seem to bode well even in our own land. In this new video game we will return to playing the role of the most famous, courageous and legendary plumber ever from Nintendo, flanked by the Rabbids and their particular adventurous nature, in a journey that wants to evolve starting from what the chapter of previous release (we talked about it in depth in our review).
The official synopsis of the game, in fact, reports: "In Mario + Rabbids: Sparks of Hope you team up with Mario, Luigi, Princess Peach, Rabbid Peach, Rabbid Luigi and their friends on a galactic journey to defeat a malevolent entity and save your fellow Sparks. Explore planets across the galaxy and uncover mysterious secrets and challenging missions!"
The colorful soul of the Ubisoft title can be found perfectly in the images of the aforementioned movie, with a first taste of what will be its complete experience. In a world that has certainly improved both from an aesthetic and an artistic point of view, you will find yourself facing a journey in which you will have to reflect on the individual moves in the battle phase, facing a world that for now seems quite inspired. We remind you that this video game will be released on October 20 on the Nintendo Switch console. What do you think of these first moments of gameplay? Have you got an idea?