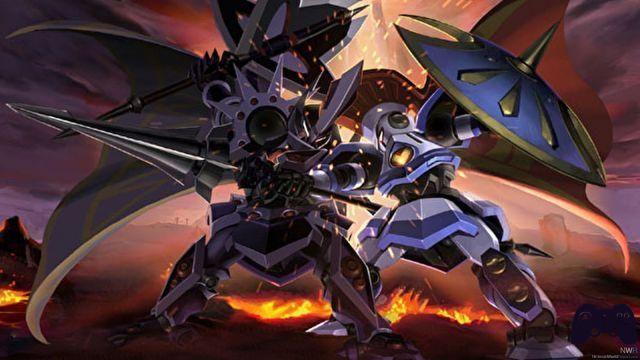 After the juicy preview of the beginning of August (which you can find here) it is finally the day of judgment for Little Battlers eXperience, title created by Level-5 in the far" 2011 for PSP has only just arrived, in version 3DS, in our territory. Our first impressions were positive, but will the title be able to keep them? Find out in our review. Finally, we remind you that Little Battlers eXperience Sara available starting September 4, 2015 exclusively on 3DS.
I Love My Robot
The plot created by the guys of Level-5 manages to keep you glued to the Nintendo portable console from the first minute of play
In 2050 own a LBX it is something that most people consider absolutely normal. LBXs are toy robots that you can use to fight inside certain portable arenas built with a solid and innovative material. In Little Battlers eXperience we will go to interpret From, a thirteen-year-old boy who has always been passionate about the aforementioned robots who, after receiving a particular model of LBX from a mysterious woman, will find himself embroiled in a vast plot that risks putting the whole world at risk. There plot basted by the boys of Level-5, despite some quite predictable twists and a characterization that is a bit too stereotyped, manages to keep you glued to the Nintendo portable console from the first minute of play. The strengths of the Little Battlers eXperience narrative are to be found in the topics covered, never too childish or banal, and ingreat pace that the story keeps from beginning to end, thanks also to a wise subdivision into chapters that, with a continuous crescendo, will take us from the initial lukewarm adventures to a final full of pathos. Longevity is also excellent that, according to your style of play and your desire to train the multiple LBXs, it will be able to take away tens and tens of hours like the most famous role-playing games.
How to Train My Robot
Little Battlers eXperience can be defined as a role-playing game with action elements, characterized by two distinct types of gameplay
Little Battlers eXperience is definable as a role-playing game with action elements, characterized by two distinct types of gameplay. The first sees us in the role of Van Yamano (or any other member of his group, as the characters are interchangeable) and, as in any self-respecting role-playing game, we will have to explore the city to find new pieces for our LBX, interact with the numerous NPCs (which we can challenge) and manage every single aspect of our robot. The management of the various LBXs turns out to be one of the most interesting and accurate features of the entire Level-5 production. We will have the possibility, in fact, of to touch the core of our little robots, inserting multiple power ups in the form of pieces of chips as if we were playing a game of Tetris within the "heart" of the various LBXs. In addition to the internal care of our robots, we will have the opportunity to find around (or to win in battles) parts for the bodywork of the numerous LBXs, allowing us to create the perfect companion based on our play style. New types of legs, arms, helmets and a large number of different weapons (ranging from swords to guns, also passing through spears and brass knuckles) are just some of the elements with which we can enhance our metal allies, making Little Battlers eXperience an unmissable title for modeling fans. We must however admit that one feature of the Level-5 title did not completely convince us: each piece of our robot will be able, through the battles, to level up becoming more and more powerful. This unfortunately affects the finding of new pieces which, often starting from level 1, will be less powerful than those already in our possession and, consequently, putting the player in the difficult position to choose whether to weaken to "train" new parts of armor or continue to enhance those already well-run. The other type of gameplay of Little Battlers eXperience is the one that takes over whenever a fight between LBX begins. The titleIn fact, goes from "role-playing" to "action", putting ourselves in the shoes of various robots and allowing us to fight inside the arenas between jumps, normal attacks and super moves. Despite a not exciting arena modeling (they are almost always very bare) e a certain basic repetitiveness, clash gameplay is fluid and fun thanks to the possibility of changing one's fighting style based on the weapon held. Fighting with a spear, for example, is extremely different than doing it with a sword and a shield, making each fight different based on your equipment and the various pieces of armor worn. Definitely the gameplay of Little Battlers eXperience proves to be extremely varied and cared for from almost all points of view, guaranteeing hours and hours of good fun not only for lovers of modeling (who will spend time looking for all the pieces for the various robots), but also for all those looking for a well-made action role-playing game.
The beauty and the Robot
It gives a
technical point of view
, Little Battlers eXperience is characterized by its ups and downs
It gives a technical point of view, Little Battlers eXperience is characterized by its ups and downs. There polygonal modeling of the characters was without a doubt updated compared to the PSP version, but it is clear from the outset that we are faced with a title that is not in step with the latest releases. This is even more evident when we switch from free roaming to LBX arenas which, unfortunately, they are graphically sparse and devoid of details. However, an applause must be made to the character design of both the characters and the robots, able to fascinate thanks to a refined visual style and with clear references to the series Inazuma Eleven. Also excellent colors which, always on, give a good general glance on the Level-5 production, helping to improve the general impression once the title is launched. Game footage is also of good quality which, thanks to the animated sequences created as if they were part of a real anime, increase the identification of the player within the title. Quite negligibleInstead, the implementation of 3D that although in the sections with Van and his group it is quite evident it does not add much to the base title launched on PSP in 2011. Nothing to say regarding the sound compartment which, strong of one excellent soundtrack and quality English dubbing, will not fail to fascinate most gamers. Finally, remember that Little Battlers eXperience is fully subtitled in Spanish, making the use convenient even for non-English speakers.
Verdict 8.5 / 10 When is the second episode? In 10 years? Comment The wait for Little Battlers eXperience's release from Japan has been long and painful, but it is finally available also for the European territory. The Level-5 title confirmed all the excellent impressions demonstrated in the preview phase, resulting in a profound, fascinating and charismatic title, capable of conquering the little ones, but not only. Too bad that the title does not appear exciting from a graphic point of view and that, in the long run, the training of the various LBXs could be slightly repetitive. In any case, it is a title that we would like to recommend not only to lovers of role-playing games with action elements, but also to those who are "simply" looking for a valid, refined and multifaceted title to pass many hours of fun. Pros and cons
✓
Compelling and mature storyline
✓
Fun LBX fights
✓
Deep and engaging LBX management
✓
Excellent longevity
✓
Successful Character Design
✓
Quality sound sector
x
Slightly stereotyped characters
x
Obligation to train the various pieces of the LBX
x
Long-term repetitive LBX fights
x
Graphic sector dated