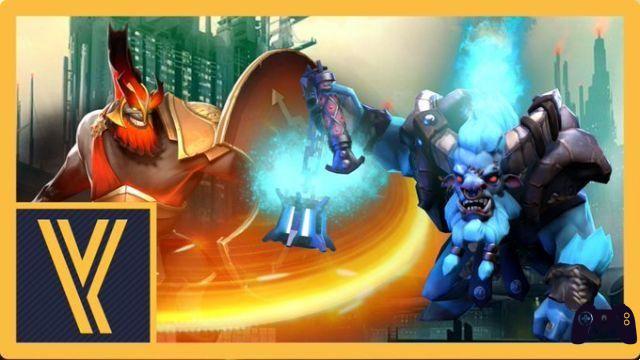 Over the weekend we have brought you the news of a new trademark registered by Valve, namely Neon Prime, and perhaps today, thanks to a rather well-known insider from the Steam world, we have new information. And (surprise surprise), the new project by Gabe Newell and associates may not be a completely new intellectual property, but more something already seen, close to the DOTA world.
As reported by the insider, in fact, NEON PRIME would be nothing more than a sort of DOTA with a science fiction setting. It would therefore not be a completely new project, but a sort of readjustment. Clearly, at present it is not possible to know precisely what it is. Surely though to help us understand the story you need to understand and understand how Valve works, especially when it comes to announcing new products.
Usually Valve is always very good at keeping the projects they are working on hidden. Examples are Steam Decks, of which very little information had come out shortly before its reveal, or of Half-Life: Alyx, masterfully kept hidden by Gabe Newell's headquarters. NEON PRIME is currently a project of which we know practically nothing, but considering that the trademark has already emerged, it is most likely a minor project. It is therefore difficult to exclude a priori that it is a sort of spin-off of DOTA, but obviously we are not sure.
Valve Software's indev game, NEON PRIME, is likely a DOTA-adjacent Sci-Fi game, made by ICEFROG, taking place in other dementions, such as the Continuum or the Moons of Ultoria. It is likely NOT an FPS, and obviously, unrelated to Half-Life: Citadel, Valve's other indev game. pic.twitter.com/6L5PoJ9RT7
— Tyler McVicker (@Tyler_McV) October 26, 2022
The insider who disclosed the rumor is Tyler McVicker, who in the past had already tried to reveal other projects made in Valve, including Half-Life: Citadel. The company responded to the rumor, but obviously not confirming or denying the existence of such a game. We are therefore still in the field of rumors and speculations and we invite you to take all this information with a grain of salt. We will update you as soon as there are more news and updates in this regard.