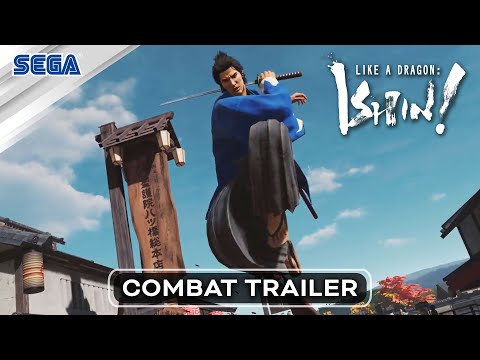 All those waiting for Like a Dragon : They were they will still have a lot to clean up before their purchase. These days SEGA and RGG Studio have released the first combat trailer dedicated to the new effort of the Yakuza house. The violence is as much as the familiar feeling of a new narrative fragment that seems to promise a lot.
The video was posted directly to Sega's YouTube channel accompanied by the following description: "Draw out your favorite weapon, whether it's a samurai blade, a feudal-era firearm or the bare knuckles of your hand! Engage in visceral combat that lets you switch between four different battle styles: Swordsman, Gunman, Wild Dancer and Brawler. Check out the powerful skills and elegant moves that await you in Like a Dragon: Ishin! Coming February 21, 2023."
From the images, the situation explains itself, showing an apparently fluid gameplay in the battle phase and above all without too many filters. Blood flows freely in this new combat trailer by Like a Dragon : They were which does not bother to hide almost anything from enthusiasts, showcasing a large part of the future possibilities from which they will be able to choose.
This new chapter in the Yakuza series takes place during the last years of the Edo period, when the Tokugawa shogunate ended. In terms of history, it is set in 1860, with the story of a protagonist at the center who will try to balance the balance of a land afflicted by some shadows.
Waiting for February 21 2023, reporting that Like a Dragon: Ishin will be released on PC, PS4, PS5, Xbox One and Xbox Series X / S, we remind you that the title will not have any dubbing of any kind outside of the original Japanese voices. This thing, of course, will make all the most purist linguists happy.
Before saying goodbye, we advise you to visit our YouTube channel, where you can find videos dedicated to the gaming world at 360 degrees.