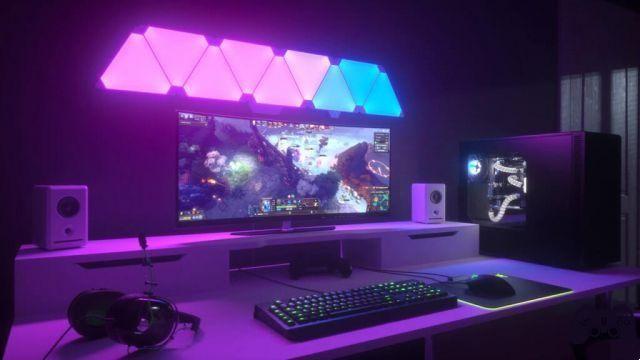 The discounts continue on each type of product for this Amazon's first day, and in this article we want to tell you about one of the best offers regarding LED lighting. For this second Prime Day of the year, Amazon has indeed decided to offer the best products in the Nanoleaf catalog with a 30% discount. If you want to give a whole new tone to your gaming station or perhaps enrich your live shows with designer lights, we have selected the offer on Nanoleaf Shapes (Triangle, Canvas o Hexagon) which in the kit of 9 can be purchased for €139,99 instead of €199,99.
If you are a streamer you will already know the immense potential of Nanoleaf lights, capable of transforming a simple live show into a light show. If, on the other hand, you don't know them, you should know that it is one of the most coveted lighting systems in the design market. Nanoleaf lights are gods applique da parete and they also work with Alexa and can be controlled via WiFi. The interesting thing though is that they can also be sync with music or your game screen to change color according to the rhythm of the music or what is happening on the screen.
The other factor that makes Nanoleaf lighting systems so interesting is their shape and the ability to create your own composition. For example, by purchasing a set of Nanoleaf Shapes Triangle and another set of Nanoleaf Shapes Hexagon, you can position them on the wall as you prefer, creating your personal set of lights.
Also read: Amazon's best October Prime Day deals
If you have always thought about furnishing your gaming station and adding some LEDs, this discount on Nanoleaf products could be for you and allow you to experiment with creativity and with 16 million colors. However, the Nanoleaf offers do not end there and a little further on you will find the best of the brand for this Prime Day.
Furthermore, before completing your purchase, we strongly suggest that you also subscribe to our three Telegram channels dedicated to offers, with specific channels dedicated to: Offers, Hardware & Tech and Clothing and Sport. Happy shopping!
The best deals on Nanoleaf products for Prime Day 2022
Nanoleaf Shapes Triangle – 9 pezzi | €139,00 (199,00 €)
Nanoleaf Shapes Hexagon – 9 pezzi | €139,00 (199,00 €)
Nanoleaf Shapes Canvas – 9 pezzi | €139,00 (199,00 €)
Nanoleaf Lines - 9 Pieces | €159,00 (180,13 €)
Nanoleaf Essentials Lightstrip – 2 metri | €34,99 (49,20 €)
Nanoleaf Elements Hexagon Wood - 7 Pieces | €160,99 (229,99 €)
Follow us and always stay informed on the best offers!
Events » Amazon Prime Day | Black Friday
Offers and Discounts » All offers | Discount Codes
Telegram channels » General Offers | Hardware & Tech | Clothing and Sports
Buying guides » SOS Home & Garden