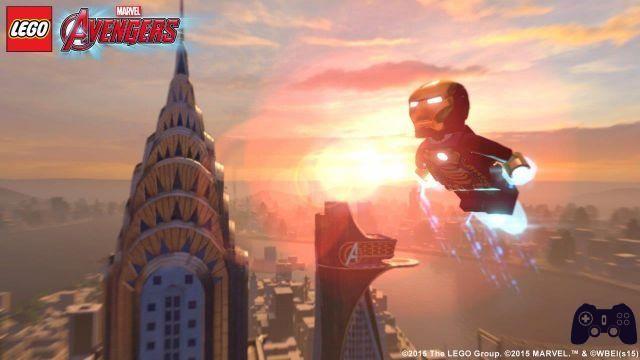 The LEGO brand has also been enriched in the videogame field in recent years by invading and shaping different narrative universes in its own image: from Tolkien's Middle-earth to Batman's Gotham, passing through Hogwarts and finally Isla Sorna last June. On January 26th the guys from TTGames bring us back to the Marvel world, for a title completely focused on the Avengers group.
Warner Bros. guests in the splendid setting of the WOW! Comic Space in Milan (which is currently hosting an exhibition dedicated to Snoopy and the Peanuts) we attended the presentation of LEGO Marvel's Avengers, and we are ready to give you some second impressions (after the very good first of Gamescom 2015).
Avengers Assembled
LEGO Marvel's Avengers is not a direct sequel to LEGO Marvel Super Heroes, but a spiritual successor that focuses mainly on the group of Avengers led by Captain America and Iron Man. Through the then chapters of the story, players will be able to relive the key moments of the two films dedicated to the Avengers, Thor 2, Iron Man 3 and by Captain America Winter Soldier.
Even in the choice of characters TT Games wanted to focus only on the most powerful heroes on earth: there will in fact be references to both the TV series (We saw Coulson, Daredevil and Jessica Jones in action) and the current comics (with Miss Marvel and Devil Dinosaur) , for a cast that will therefore cover practically every official member of the super group, however, it is necessary to test how much all these characters will actually differ from each other. The vehicles will also be faithful to those seen in Marvel Studios productions, such as Nick Fury's armored van or Lola, Coulson's flying car.
As we had anticipated at Gamescom, in LEGO Marvel's Avengers special moves have been introduced, which can be performed via Circle (in the PS4 version we tested), whenever the hero has enough energy (accumulated by defeating enemies); not only that, if you are facing a mission with another character as a back-up you can unleash a powerful combined attack capable of defeating multiple enemies at the same time. There are many possible interactions, the funniest we were able to try is certainly the one between the Hulk and Iron Man, where the jade giant uses Tony as a laser gun.
This vast vast Open World
Since the Hogwarts of LEGO Harry Potter, passing through the city of LEGO City Undercover, TTGames has gradually tried to expand the open world of each of its creations: LEGO Marvel's Avengers will be no exception, hosting the adventures of the Avengers in Manhattan (practically the same city seen in Marvel Super Heroes) and in other locations created specifically for this chapter, such as Asgard and Tony Stark's Malibu mansion. To make the city more alive, random generation events have been included, such as robberies or brawls with criminals, which will be activated cyclically and will contribute to increasing the high number of subquests that for years has gone hand in hand with LEGO titles.
TTGames has particularly focused on exploring the Open World: if in the old title the flying characters were faster to use to reach a certain section, to the detriment of the Hulk or other giant heroes, in LEGO Marvel's Avengers the alter ego of Bruce Banner will be able to jump much higher thanks to a new ability, just as seen in the film, moving much faster than in the past. Furthermore, with the introduction of sprinters like QuickSilver, even exploration on foot has become more immediate and fun.
Put on the armor
In LEGO Marvel's Avengers a lot of space has been given to Tony Stark and his armor collection: in addition to being able to fully explore his Malibu mansion, Tony has his own selector (against the grid of the other characters) in which to decide in any moment which armor to wear, choosing from those seen in the movies and some of the most famous ones worn in the comic. As Will Evans confirmed in the interview he gave us (available soon on the pages of ILVG), TTGames has received many requests from fans on which armor to insert, ranging from 5 in LEGO Marvel Super Heroes to 15 in LEGO Marvel's Avengers , obviously each armor has its own specialty and will allow Tony to solve every puzzle in the title.
Commentary LEGO Marvel's Avengers promises to bring a great action-packed experience to Avengers fans by focusing the spotlight on the super group and leaving out other Marvel Universe characters from other families. While on the one hand we are certain that the LEGO vervè will conquer us again, on the other hand we have some doubts about the actual variety of the characters' powers and the repetitiveness of the Open World missions. We just have to wait until January 26 for the verdict on the latest TTGames effort. Pros and cons
✓
The new special moves of the characters
✓
The armor of Iron Man
x
Real variety of missions in the open world
x
Actual variety of characters