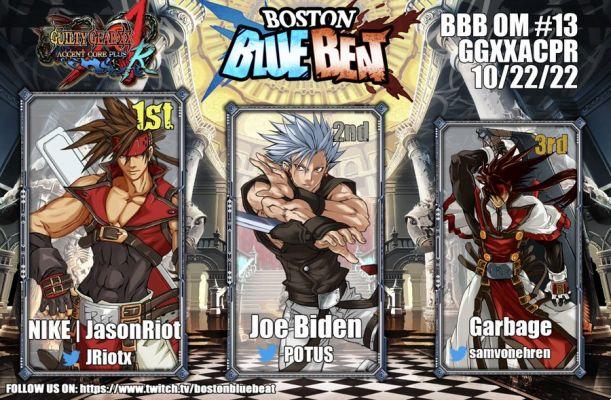 Twist: as well as being the busiest politician in the world, Joe Biden, president of the United States of America, is also a champion of 2D fighting games. A real plot twist, which emerged thanks to Guilty Gear and the tournaments that are being held online between the United States and Europe. But will it all be true? Obviously not.
The reality may be very different, but this story is certainly passionate fans. What happened, exactly? Well, on the Guilty Gear leaderboards for some time there has been a player above all, who uses the pseudonym USA | Joe Biden, with a reference to the official Twitter account of the US presidency, or "@POTUS". We could brand it all as a simple joke of a joker with a lot of time to waste, but there is an aura of mystery surrounding this story: Nobody knows for sure who the player is.
The communities of games of the genre know each other, especially at very high levels. The fact that nobody knows this player feeds this whole absurd story. However, it is hardly really about Joe Biden: It's hard to imagine the president of the United States devoting himself to video games, especially in such a difficult economic and political context. However, the legend continues and will probably continue until the identity of the mysterious player is officially revealed.
Thank you to everyone who showed up and played in last night's Guilty Gear Accent Core +R tournament! Good times, great vibes
@JRiotx
@POTUS
@samvonehren
Let's run it back at the next one! pic.twitter.com/RKZrBKvhFd
— BostonBlueBeat (@BostonBlueBeat) October 23, 2022
As often happens, the world of video games is not new to stories of this kind. However, if this is more a sort of fan theory, just yesterday we told you another very curious fact, namely the story of a Valorant player who defeated the opposing team from a hospital bed: you can read all the details by visiting this address. Keep following Tom's Hardware for all the news and announcements in the pipeline from the world of video games.