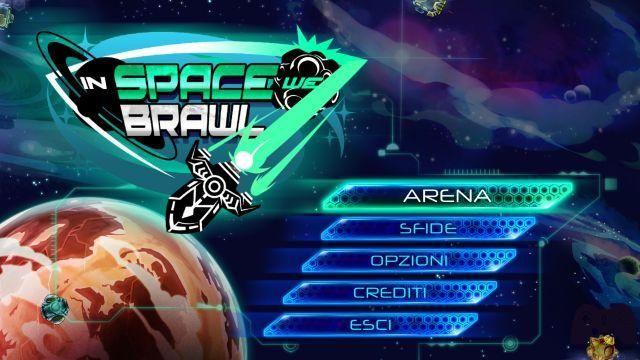 In Space We Brawl it's one of those titles that you don't quite know how to judge, because your entire gaming experience took place entirely with a nostalgic look at the past and the evenings with friends spent playing locally (even the present, to be honest. The life of a gamer rarely changes). This reason is perhaps strong enough to allow you to ignore the way In Space We Brawl do you approach the average contemporary gamer? Probably not. Fortunately for him, however, it must be said that the game is not doing badly at all in that case either.
This is not the first time we talk about In Space We Brawl on these pages: the title, in fact, only recently landed on PC, after a first, considerable experience on PlayStation 4. And it didn't come alone: ​​the PC port brought with it some new features compared to the console version, but we will have the opportunity to talk about it shortly. Fruit of an Indie software house (ForgeReply), In Space We Brawl it is a title that reminds you of the evenings with friends belonging to a bygone era, when insults and chips were really on the agenda. Such an aspect can also be there, if we talk about consoles; it becomes, however, almost unacceptable if it is a PC title.
Version tested: PC
How many colors! * enchanted expression *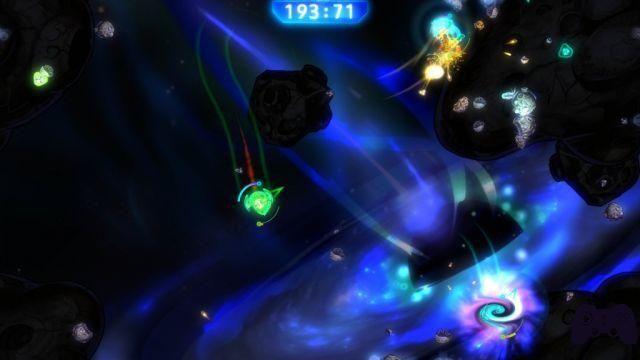 The first impact with In Space We Brawl is mind blowing
Being a title with a pro-arcade mold (even if it actually has little arcade), the first impulse transmitted by In Space We Brawl it is the need to jump straight into the game to understand what you are dealing with, without paying too much attention to the whole outline of menus, options, customization and the like. The impact is nothing short of mind-blowing: the graphics are reminiscent of something you played without being sure of what, with all its colors and glittering graphics effects, a graphic style similar to titles like Worms: Reloaded. The cel-like shading graphics are crowded with brightly colored visual effects, with the sole exception of the light effects that are rendered by the graphics engine with a real "laser effect" shader (and of course, it is a title set in space). Everything certainly becomes more enjoyable when you realize that, thanks to the underlying lightness of the visual sector, the game can run at 60fps without too many problems, ensuring a very special fluidity to the gameplay. You also realize that the controls are pretty simple: In Space We Brawl is an arena twin stick shooter, i.e. a shooter in which you control the ship with an analog stick and aim with the other, simply using the four backbones to do some additional action (such as activating the shield, shooting or use the secondary weapon). The aim of the game is to destroy, disintegrate, mercilessly defeat the three opponents that you will find yourself facing (bots, perhaps, but preferably human) and triumph on the battlefield.
After the first match (which never lasts more than three minutes at the most), you can already say that you are quite satisfied with what you saw, even if you do not know how you managed to win that match.
Will you be equally satisfied when you look at the gameplay choices?
But ... And that voice?
The Voices: A Wasted Opportunity?
One aspect that surely makes you smile, when you scroll through the options menu (like any good self-respecting PC gamer), is the package of voices made available by the developers. Whether it is set on the shuffle or on a very specific choice, the game will use a voice at its disposal to act as a "reporter" during your navigation through the menus. And, there, the first disappointment already arrives, when you hear that the voice is limited to announcing your ship and your weapons, the beginning of the battle and very little else (like when he laughs at you mockingly if you are destroyed by one of the opponents). A wasted opportunity? Maybe; but, when you find yourself turning down the volume of your voice because you start to feel a pressing discomfort in the eardrum, thank that Clayton or Cheng are not your reporters for real during battles.
"Yes, yes, bring a joypad ... Ah, no, wait, I have it on PC!"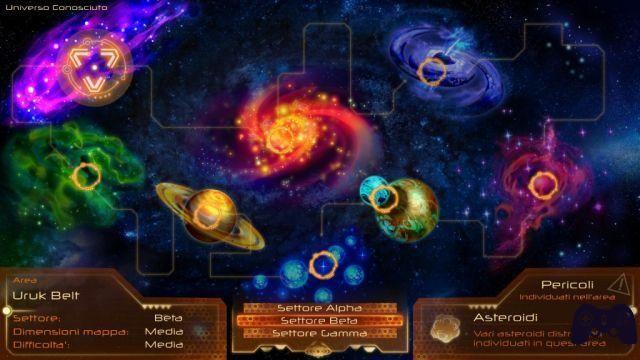 And then you run into the real problem of In Space We Brawl on PC
And then you run into the real, almost insurmountable problem of In Space We Brawl on PC: that it is a local multiplayer game for up to four players, that you are playing on PC, and that just the idea of ​​having to connect another pad does not excite you very much, especially if your computer is not particularly snappy . Unlike what happened on consoles, you know that connecting a second controller to the PC isn't as straightforward, and that the evening could be compromised quite easily if something goes wrong. And then, come on, how many place their PC in front of a sofa to sit on with friends?
The very nature of the game, then, excludes the possibility of balancing the problem by using the keyboard and giving the controller to a friend (assuming that only two are playing), because In Space We Brawl it is practically impossible to play with keyboard and mouse.
"Perhaps associating this with this other ..."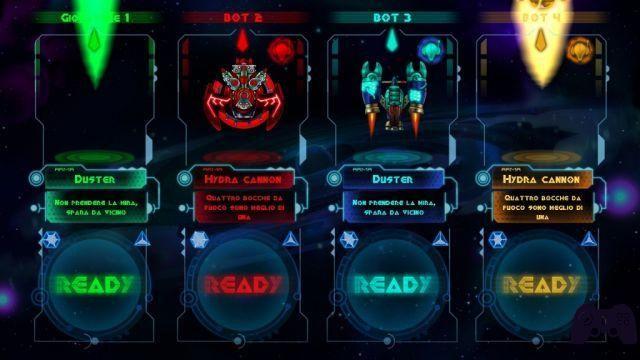 Great variety is given by the 13 ships and 14 weapons
Great variety in the gameplay is given by the 13 ships and 14 weapons, which can be associated with each other in an attempt to find the perfect configuration; but, if you don't have a swarm of friends to invite home and four different USB ports to connect the PlayStation or Xbox joypads (which, fortunately, can also work in Bluetooth), boredom is bound to come a lot soon, fought only by your own mania for perfection when you try to get the S Rank in all the single player challenges of the game.
The title, however, has no claim to the single player mode, on the contrary: the 21 challenges proposed by the "Challenges" mode do not stray too far from an extended tutorial, useful for mastering basic and advanced game techniques. The real heart of the game is the Arena Mode (which, not surprisingly, is the first item of the main menu), which can be filled by Bots or by real human players.
But you were expecting online matchmaking
Of course, the arrival of In Space We Brawl on Steam has brought three new secondary weapons and two ships (one of which is practically a miniature war machine), but, after the slight criticism of the PS4 version, you at least expected the developers to implement an online matchmaking system, to compensate for the fact that the PC, for all intents and purposes, is designed and engineered to be many other things, apart from a gaming platform.
If, however - you find yourself thinking -, you are lucky enough to have four friends and four Microsoft or Sony pads at your disposal, In Space We Brawl it could also become one of those games that you will never uninstall, precisely because fun, with your friends, will always be guaranteed.
[nggallery id = "1317 ″]
Verdict 7/10 "Look, the pad doesn't work!" "Like? Wait, I'll try again ... »Comment In Space We Brawl arrives on PC bringing with it some exclusive content, designed to increase the fun with friends. The single-player mode, however, introduces nothing that would increase the longevity of the title, and the "console-like" formula of local multiplayer partially fails on a platform like PC, especially when you realize that the game is impossible. to play without a gamepad. If, however, you have a number of friends (and pads) with whom to organize games to the sound of insults and munched food, the very spirit with which In Space We Brawl was conceived can allow it to become one of those titles that will ensure hours and hours of fun and "old fashioned" laughs, and from then on, it will be very difficult for the title to leave your Steam library. Pros and cons
✓
Guaranteed fun in local multiplayer
✓
Great variety of weapons and combat shuttles
✓
Exquisite wire-cel shading graphic style
✓
Colorful battles
✓
Funny Voice Pack ...
x
... But it tends to get annoying
x
Absence of online multiplayer
x
Completely unplayable with keyboard and mouse
x
The presence of friends and pad is required
x
Soon boring in single player