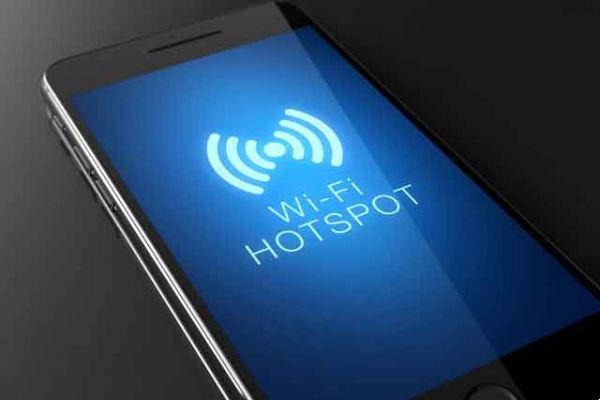 Buried in almost every smartphone is a capability that few people use, but which I have relied on more and more: the ability to use smartphones as a modem or turn the phone into a WiFi hotspot.
Using my phone as a wi-fi hotspot (also known as WiFi tethering) means that whenever I have a couple of bars of signal strength, I can put my tablet or laptop online and share the Internet connection via Wifi with co-workers. .
It's my way to stay on top of work wherever I am, allowing me to read and send emails, move data back and forth with company servers, and even get a taste of the latest office gossip from the comfort of a standard size device.
A portable hotspot can be a serious collaboration tool for a group of business people looking to work together. The potential ranges from a group traveling to the airport in a bus finishing a group presentation to an accounting team working in a conference room with an internet connection independent of the company they are controlling. It can also provide a lifeline when WiFi isn't working.
Hotspot Meaning, What Is It?
At its core, a hotspot is a mixture of software, hardware, and back-end network data services that combine to enable the cell to be used as a broadband modem and router. In other words, it can distribute a web connection to neighboring systems via Wi-Fi.
This not only allows me to get my laptop and tablet online, but I can share it with colleagues as long as they are within range and know the password. Some phones also allow tethering via Bluetooth and USB cables, but these techniques are less popular.
How does Hotspot work?
To use cellular as a modem, the device treats its online connection to the data network as if it were a broadband data source. It then broadcasts this data locally as a Wi-Fi mini-router using the 802.11ac or 802.11ax protocol with newer phones. The net result is that those Wi-Fi devices that are in range can tap into the data signal as if it were a regular old Wi-Fi network, also because it is.
Which devices can connect to a phone hotspot?
A phone hotspot can work with any Wi-Fi-based device, including laptops, tablets, other phones, and even game consoles. (We don't judge what you do in your off hours.) Just look at it as just another Wi-Fi source, only it comes from your phone.
How many devices can use the mobile phone as a modem?
Most Android phones can connect up to 10 users at a time, while iPhones from the 4S model to the current iPhone can host up to five connections at the same time, although this may be limited to four clients from the network. Obviously, the more users sharing Internet throughput, the slower the speed for each client will be.
How to use your smartphone as a modem
It's different for iPhone and Android, but it shouldn't take more than a minute or two. Tip: For security reasons, make sure you change your network name and password.
How to share internet on iPhone and iPad:
Start from the Home screen and tap the Settings icon.
Open the Personal Hotspot section.
Tap the slider to allow others to join. (If you're still using iOS 13 or earlier, the slider simply says "Personal Hotspot".)
Instructions now appear near the center of the screen and the network password at the top; the network name is the same as your device name.
I suggest for security reasons to change the password by tapping the Wi-Fi Password section and typing a new one.
How to use your phone as a modem on Android:
Due to the variety of models, providing instructions for Android phones is a little more complicated. I have included instructions for my Galaxy S20 Ultra 5G running Android 10, but depending on the software and network, Android Wifi hotspot for your phone may be slightly different.
Swipe the Home screen up or down to view apps and open Settings.
Tap Connections, then scroll down and tap Mobile Hotspot & Tethering, then tap Mobile Hotspot to enable it. Depending on the software, the menu wording may be different (for example "Wireless & networks" instead of "Connections") and you may need to tap "More" to find the tethering and hotspot option.
Open the Mobile Hotspot section to do anything from changing the network name and password to choosing whether you want the hotspot to work on the 2,4 or 5 GHz Wi-Fi network.
If you scroll down, at the bottom you can see how many devices are connected to your hotspot network.
After enabling Android tethering, it will be discoverable by devices looking for nearby Wi-Fi networks, but only the users you shared the password with can connect. Start by opening the Wi-Fi settings for your laptop or tablet and search for your new network. Then, enter your password. The system should connect in less than a minute.
Some newer Android devices offer a link to hotspot connections with a QR code. To do this:
Tap the QR code icon at the top right of the Android hotspot phone screen; now show a QR code.
Point at the camera of the phone or tablet you want to connect and take a photo.
Touch to confirm that you want to connect.
All in all, it takes about 10 seconds to complete the procedure for using the smartphone as a modem.
Read also: How to discover private number, the complete guide
Further Reading:
Snapdragon X55, the second generation of Qualcomm's 5G modem
How to reset your modem / router with ease
Change WiFi password, simple
WiFi not working on Samsung Galaxy S9 [Solution]
Here's how to fix the most common Wi-Fi problems