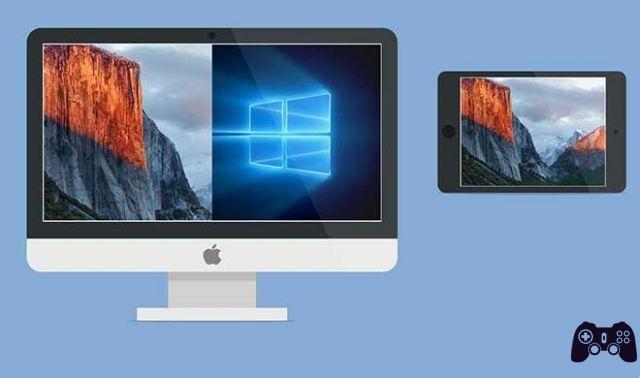 Do you need to use iPad as a second monitor? Try Sidecar, Air Display or Duet Display. This article explains how to use an iPad as a second monitor for your Mac. It focuses on Sidecar, a feature in macOS Catalina (10.15) and later and iPadOS 13 and later, but there are other options, such as Air Display and Duet Display .
IPad memory full: how to free up space on iPad
How to factory reset your iPhone or iPad
What to do if an app doesn't open on iPhone or iPad
How to cancel Netflix subscription from iPhone, iPad, Android and online
How to connect AirPods to iPhone and iPad
What to know
apri System Preference and choose Sidecar. In the window, press Select device and select your iPad.
Select the menu Sidecar on your Mac to choose the role of the iPad. To select Use as a separate display. You can now drag and drop windows between displays.
Duet Display, Air Display, and iDisplay are other great options for setting up your iPad as a second display.
How to use your iPad as a second monitor with Sidecar
Sidecar is equipped with most modern Macs and iPads. Here's how to use this feature to use your iPad as a second monitor for your Mac.
Open System Preferences on your Mac by selecting it in the Apple menu or clicking its icon in the Dock.
Choose Sidecar.
The Sidecar options window opens. Decide where the Sidebar and Touch Bar will appear.
The sidebar contains buttons that let you open a keyboard, press the Command key, and other items that help you perform tasks on the second screen. You can put it left or right.
The Touch Bar mirrors the context-sensitive menu functionality on some Mac models. It may appear at the top or bottom of the iPad display.
You can use the Touch Bar in Sidecar even if your Mac doesn't have one.
Check the box next to Enable Double Tap on Apple Pencil to quickly switch between tools, show a palette of colors, and more.
Double tap is available on the second generation Apple Pencil.
The "Enable Double Tap" option in the Sidecar settings
Select the drop-down menu labeled Select Device to choose your iPad.
Your Mac automatically connects to the iPad.
Select the Sidecar menu on your Mac to choose the role of the iPad. Select Use as separate display.
You can also use Sidecar to mirror your computer's display.
Your iPad screen has another desktop on it. You can drag windows between it and your Mac.
The sidebar contains buttons that help you perform desktop tasks on your iPad.
Tap the icon at the top to toggle the display of the menu bar on or off.
The next icon opens the Mac dock on your iPad.
The next four buttons mirror the Command, Option, Ctrl, and Shift keys on a keyboard.
The arrow icon allows you to undo the last action performed.
Tap the keyboard icon to open a full keyboard on your iPad. You can use it in conjunction with modifier keys to navigate between apps.
Tap the Sidecar icon to disconnect from your Mac.
Is an iPad a good monitor?
Is the iPad as good a display as a real monitor? Not really. The full-size iPad's 9,7-inch display won't give you as much space as a 22-inch monitor. But the best apps to convert your iPad to a second monitor also use the iPad's touch interface, which can be a plus.
More options for connecting iPad to Windows
If Sidecar isn't your thing or you're looking for something to connect your iPad with Windows, there are other great options you can try.
Duet Display
While many apps can use your iPad as a second monitor over Wi-Fi, Duet Display uses the same Lightning or 30-pin cable you use to charge your iPad. This makes the connection fast, allowing you to do everything from watching videos, which would lag on WiFi, to gaming.
Duet Display also works well with iPad Pro. The iPad Pro's 12,9-inch display makes it perfect for adding a second monitor to your MacBook, iMac or PC.
You can watch a demonstration video of Duet Display in action on Youtube.
Air-Display
Until the arrival of Duet Display, Air Display was the reigning champion in converting your iPad into a monitor. And while Duet Display didn't log a TKO, the champion was definitely cornered.
Avatron Software's Air Display 3 also uses the iPad cable instead of Wi-Fi to set up the iPad as a second monitor. However, Air Display 3 only works with Macs. If you are using Windows, please install Air Display 2.
Do not download Air Display 2 from the Avatron website. Avatron has an Air Display 3 upgrade package available in the app store. However, their website does not link to it. While the upgrade package costs $ 5 more than the Air Display 2, it matches the price of the Air Display 3 and gives you access to both apps, so when the Windows version is ready, you'll be ready.
Do you have a Mac? Download Air Display 3 instead.
iDisplay
Duet Display and Air Display are not the only ones to offer the possibility of using the iPad as a monitor for the PC. But they are the best solution. If you are willing to pay the price of iDisplay, choose the best options.
Further Reading:
The best curved monitors
How to connect multiple monitors at the same time in Windows 10
How to connect an iPad to the TV
Apple introduces the iPad Air 10,5 (2022), the affordable alternative to the iPad Pro
How to use Android phone as a second monitor