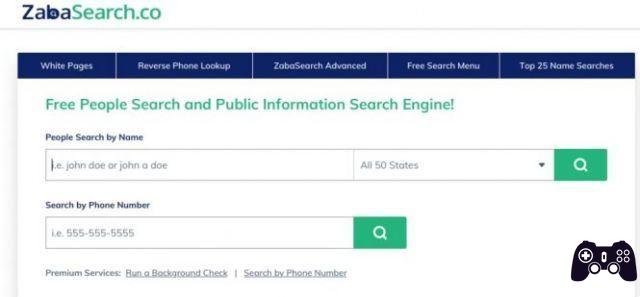 For a very long time, tracking has been done using mobile tracking apps. However, these are not efficient, especially if you want to find someone instead and not monitoring them. ZabaSearch is a web-based peoples' search engine service in the United States.
Through your phone, you can use your browser to access this platform and confirm information like someone's home address and other information available in the public records. People search free services by ZabaSearch have helped so many people find people they have been searching for yet had no leads other than their names. It usually is hard to get information about someone, especially if you are a stranger to the locals.
ZabaSearch makes work easier for you by collecting someone information and making it available to you for free. This information is in the form of a compiled record of someone's life that is already known to the public.
How can ZabaSearch be helpful to you?
We take our phones with us everywhere, and usually, we get to meet new people to build a profitable relationship with. Because you cannot trust anyone, you can always do a little investigation before you can commit, especially if you are strangers and making the first interaction.
Using your mobile phone to confirm names and addresses should be an excellent way to ensure that you are dealing with a loyal and reliable person. Also, you can sniff out con artists without them realizing. Those are the kinds of people who will give you a fake name attached to the wrong house. To confirm their names and addresses even without them knowing, here is the original link.
What makes ZabaSearch reliable?
The information available on ZabaSearch is collected in various ways. Mostly, they are usually provided by you when you check in to a place on Facebook and other social media activities. Never forget to know that most people search website collect people information the same way, including the ones that charge for the service.
What if you cannot find someone?
There are some instances where you will not be able to find someone information on ZabaSearch. In most cases, such people have requested the company to remove their information from the free search service.
However, that does not mean that you cannot trace them, and ZabaSearch makes it even more comfortable. That is because it has partnered with Intelius will allow you to find this information, but it will cost you a small fee.
ZabaSearch is free, and some people don't like it
The fact that anyone can find you using ZabaSearch is not an idea that some people find safe, especially people with people after them and the VIPs. Through their phones, someone can type in your name after reading it somewhere and know exactly where to find you. For people who run businesses, ZabaSearch has been directing customers to their doorsteps.
Using ZabaSearch puts you in another professional level
Employers are some of the people who have greatly benefited from ZabaSearch to do some background check up on the people they are about to employ. The same way you are meeting someone interested in a partnership, and you want to ensure that you are dealing with a genuine person. So many times, people have fallen victim to con artists who pose as legitimate business investors.
Even some employees pretend to be polite when applying for jobs knowing that they are providing false information and hiding their wrong motives. People with several criminal cases, for example, will want to cover up their background to avoid lessening their chances of getting the job.
Conclusion
Through your mobile device, you should be able to ensure that you secure your investments and the people around you. It is also good to know that it is not easy to find people's search services that are free of charge like ZabaSearch. You should, however, know that to access more detailed information like their phone numbers; you must pay for the info.
ZabaSearch being a free platform can only allow you to access information up to some level. That is because, since anyone can use it, access to data like phone numbers can give criminals an easy time of getting their victims.
Further Reading:
Spy on iPhone without Jailbreaking your Device
Spying On Your Wife Made Easy
The best alternatives to AirPods
The best headphones for wireless gaming
The best smart scales