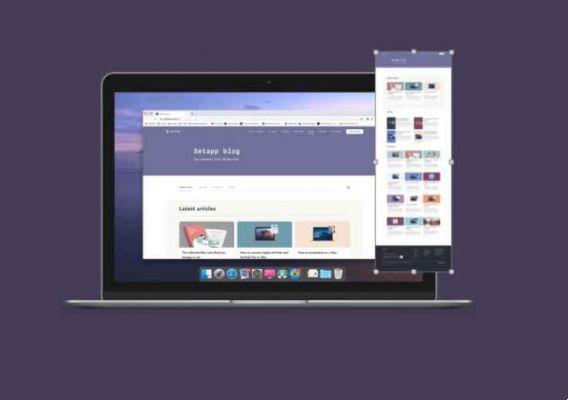 A normal screenshot captures only what is visible on the screen, leaving out the content beyond the viewing area. On the other hand, a "Scrolling Capture" (or Scrolling Screenshot or Full Page Screenshot), captures everything outside of your device's screen into a single photo.
Instead of taking multiple screenshots of different sections of a long conversation or document, a scrolling screenshot saves you time and storage space. In this guide, we will show you the different ways to take scrolling screenshots on iPhone, iPad and Mac.
How to take long iOS iPhone screenshots
The native screenshot tool on your iPhone or iPad can capture the entire content of a web page, document or email as a single screenshot. Before trying the screenshot scrolling feature, please take note of the following:
You can take full page screenshots on iPhone - iOS on native apps like Safari, File, iBooks, etc.
Taking a scrolling screenshot of a webpage only works on Safari. Third party browsers such as Chrome and Firefox are not currently supported.
Full-page or scrolling screenshots are not saved as images. iOS saves them as PDF files.
With that in mind, follow the steps below to take full page screenshots on your iPhone or iPad.
Simultaneously press the button of increase of volume e lateral for take screenshots of a full page, web, email, or document. For iPhones with a Home button, simultaneously press the side button and Home button to take a screenshot.
Click the screenshot thumbnail in the lower left corner of the screen to open the screenshot editing tool.
Tap the option Whole page to generate a full page screenshot of the web page or document.
click on end per I will proceed.
Select Save PDF to file.
Select the folder where you want to save the file and tap Save. You can also rename the screenshot by tapping on the automatically generated file name.
To view the PDF, open the Files app on your device and navigate to the location where you saved the file.
Take full page screenshots on Macos and iPadOS
There is a built-in screenshot tool on macOS but it doesn't take scrolling screenshots. Interestingly, some apps (mostly web browsers) have this capability. In the next section, we will show you how to perform a full screen capture on Mac using Safari, Chrome and Firefox.
Screenshot of an entire web page in Safari
Safari has a built-in screenshot tool that captures and saves an entire web page as an image. The tool is hidden in Safari's developer menu, so it's not exactly in plain sight. Follow the steps below to take a scrolling screenshot of a full page in Safari.
Open the webpage you want to capture, click Safari on the menu bar and select Pref Renze.
Go to the tab Advanced, check the box next to Show Develop menu in menu bar and go back to the web page.
Select Development on the menu bar and select Show Web Inspector.
Right-click the first line starting with html (i.e. the HTML element of the page) and select Take screenshots.
Name the screenshot, choose your preferred storage folder / location and select Save per I will proceed.
Navigate to the file path and double-click the screenshot to open it with Preview.
Screenshot of an entire web page in Firefox
Firefox probably has the best long screenshot tool you'll find on a web browser. It's super easy to use and doesn't require changing advanced settings. In fact, you can screenshot a complete webpage in Firefox with two mouse clicks.
Right-click anywhere on the web page you want to screenshot and select Take a screenshot.
Alternatively, click three dots icon next to the address bar and select Take a screenshot.
Do click icon Save full page in the upper right corner.
Then, select Download to save the screenshot on your Mac.
Screenshot of an entire web page in Chrome
Chrome comes with a built-in screenshot tool but, like Safari, it's also hidden in the Developer section. Here's how to access and use the long screenshots tool in Chrome.
Click the menu icon and go to Other tools > Developer tools. You can also launch Chrome's Developer Tools menu by pressing F12 on the keyboard or using the shortcut Command + Shift + I.
Then, click on Toggle device toolbar icon or press Command + Shift + M.
Click three-dot menu icon on the left sidebar and select Capture full size screenshots. This will require Chrome to generate an image file of the entire web page.
Choose a folder to save the screenshot and do click su Save.
Use third-party websites, apps and extensions
It seems that browsers are the best equipped for taking scrolling screenshots on Mac. If you need to take a full screenshot of the content within another app, you need to use third-party capture apps like Snagit. Note that some of these apps are not free. Developers often offer a free trial period to new users, but you should pay some money for continued use.
Screenshot iPhone come fare
We mentioned earlier that iOS and iPadOS take scrolling screenshots only with Safari and some other iOS apps. Platforms such as Web-Capture.net provide an alternative for non-Safari users. Web-Capture is an online screenshot service that allows you to download full screen images of any website to your device in different formats.
Enter the URL of the web page, select your preferred format (JPEG, PNG, PDF, TIFF, BMP, SVG) and click Capture Web Page.
On the next page, you can choose to view the screenshot or download it to your iPhone, iPad or Mac.
Finally, in the rare event that your browser's built-in screenshot tool doesn't work, you can also use some third-party Chrome and Firefox extensions to get the job done.
Further Reading:
How to take full page screenshots with iOS 13, iPadOS 13
How to update Mac to macOS Monterey
Screenshot su Samsung Galaxy A90 5G
Screenshot su Samsung Galaxy A70
You can take a screenshot on Samsung Galaxy S10 Plus