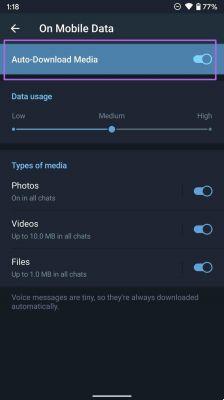 Telegram is one of the best alternatives to WhatsApp around. Unlike WhatsApp, the media upload size on Telegram is not limited to 25MB. You can send up to 2GB of video via Telegram chat. Telegram also boasts superior group capabilities over WhatsApp. Because of this, if you're not careful, you could end up with tons of Telegram photos and videos in your gallery. Here's how to avoid such a situation and prevent Telegram from saving photos and videos on Android and iPhone.
People often share media files on messaging apps like Telegram and Signal. However, with specific automatic download options in Telegram, you can make sure that not all photos or videos are downloaded automatically in the background and arrive in the device's memory.
How to stop the automatic download of Telegram on Android
Open Telegram on your Android phone.
Tap the hamburger menu and go to Settings.
Go to Data & Storage> Automatic Media Download.
Here you have two options. First, you can define rules for automatic media download for mobile data and Wi-Fi connection. Second, for a limited mobile data plan, you can disable automatic media download by turning off "When using mobile data".
You can also customize the type of media you want to keep during automatic download using mobile data.
Those who use Telegram with an unlimited Wi-Fi plan can keep the automatic media download active.
Prevent Telegram from saving photos to Android
The above options speak only of automatic downloading of media files to mobile data and Wi-Fi. How about stopping the downloaded photos and videos in the phone gallery? For that, just follow the steps below.
Open Telegram on your Android phone and go to Settings.
Go to Chat Settings and scroll down.
Disable "Save to Gallery".
That's all. From now on, you will not see the downloaded media files auto-save in the gallery app.
How to stop automatic Telegram download on iPhone
Open the Telegram app on the iPhone and go to Settings.
Open Data & Storage and make the necessary changes in the Auto Media Download menu.
Stop Telegram from saving photos to iPhone
You can stop saving incoming photos from certain chats, groups and channels on the Telegram iPhone app. That's how.
Open the Telegram iPhone app and go to Settings.
Go to Data & Storage> More> Save Incoming Photos.
Disable Save incoming photos from contacts, other private chats, group chats and channels.
Background downloading in Telegram's iPhone app works a little differently to Android. When the app is not in use, it will not continue to download large video files in the background. To exceed the limit, you can enable "Background Download" from the Settings menu.
Open Telegram Settings and go to Data & Storage> More> Background Download and keep it active. The app will continue to download media files for a limited time.
CLEAR TELEGRAM CACHE
Over time, your Telegram account fills your phone's memory with lots of photos and videos. If you have enabled automatic download, the app will continue to save those files in the app. This results in a huge app cache and takes up a good amount of space on the phone.
Thankfully, Telegram allows you to clear the app cache from the Settings menu. The steps to clear the Telegram cache are the same on both the iPhone and the Android app. Here, we are using the iPhone app for the demonstration.
Open Telegram on your phone and go to Settings.
Go to Data & Storage> Storage Usage.
From the device's storage menu, you will notice the "Clear Telegram cache" option.
Tap it, select the type of file you want to remove and hit the Delete button at the bottom.