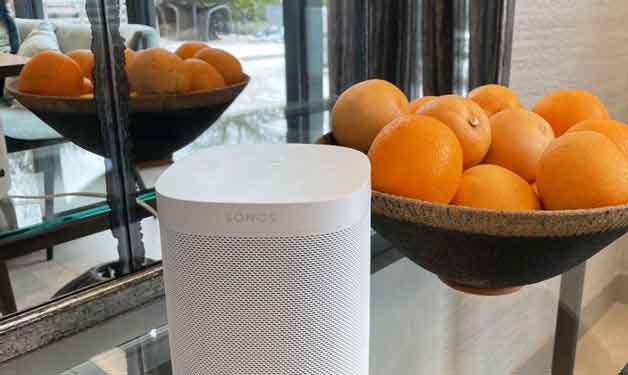 Have you bought a new Sonos One? Follow our guide and get your smart speaker up and running in no time. Sonos' most popular speaker is undoubtedly the Sonos One. Its sleek appearance and streamlined controls make it a great choice for anyone looking for a smart speaker.
How to set up Sonos One for the first time
While getting the Sonos One to work has gotten very simple, it can still be a little tricky the first time you do it at times. Below is a simple guide on what to expect when setting up your Sonos One device for the first time.
1. Download the Sonos app
Before you begin, download the Sonos app for iOS or Android to your smartphone. Once you open the app, you will see the gold Sonos logo.
When setting up the speaker, make sure you find a perfect spot in your home. This will allow you to understand how well it connects to your Wi-Fi and will help later set up Trueplay and other Sonos features on your device. One of the best is playing music. Make sure you find out how to stream music to your Sonos.
The next step is to click Set up a new system and create your Sonos account if you don't already have one.
2. Connect to your speaker
After you download the app and create an account, a screen will automatically appear showing you that your smartphone has found the Sonos One nearby.
If you don't see an automatic setup screen, go to Settings and do click su Select your product. Sonos will then start a new search to find the product nearby.
3. Put your speaker in pairing mode
Once your product is found, the app will guide you through an easy to follow guide. Your app will tell you which buttons to press on your speaker to create a temporary Wi-Fi network to connect a smartphone to.
Press the buttons at the same time Play / Pause e Increase volume on Sonos One. This will start the process of creating a network to allow pairing.
4. Connect to a temporary WiFi network
After pressing the buttons together to pair the device, you'll see the speaker light flash orange and hear the familiar Sonos sound. The app on your phone will ask you to confirm that you see a flashing orange light.
Click on I see the orange light and the app will begin setting up the Sonos One. Depending on your device, you may need to go through your own settings to access the temporary Wi-Fi network. In Wi-Fi simply click on the network named Sonos.
5. Conclusion
Once your device has finished its setup, all you have to do is choose the name of your speaker. Most people choose the name of the room it's in, but you can customize it if you have something specific in mind.
Once you've chosen a name, enjoy great sound from your Sonos One device. You can go a step further and stream your computer's output through your speakers as well.
Add your Sonos One to an existing system
If you already have multiple Sonos devices, setup is much faster. Simply open the Sonos app and log into your account. A pop-up window will appear asking you to add the your new Sonos One.
The app will then walk you through some very quick setup steps to complete the process.
Rock and roll with your Sonos One
As Sonos One improves the sound quality, the setup process is slowly getting easier too. But don't panic if you need some help. Follow the guide above whenever you need some help getting your device up and running as quickly as possible.
The Sonos One multipurpose is just one part of the fantastic line of speakers that can do more than just play music. Any Sonos speaker can also help you work from home a little easier.
Further Reading:
How to connect Amazon Echo to Sonos speakers
How to connect Google Home to Sonos speakers
How to make and answer calls with Amazon Echo
How to connect Spotify to Alexa
JBL Link Portable vs Sonos Move: which portable smart speaker to choose