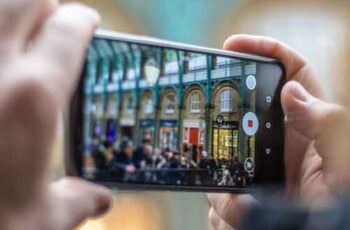 With today's modern gadgets, taking pictures has become so easy that having hundreds of images in memory isn't a particularly weird or unusual thing. However, storage becomes an issue, as the better the quality of the camera, the larger the file size of the photo.
Resizing isn't just cropping an image, it can also mean manipulating pixels to reduce the file size. If you are trying to send a lot of images to another person but the file size is too large, you will need to condense the photo to send it.
This is where image resizing comes in handy. With the appropriate tools, you can adjust both the image and the file size of a particular image to suit your needs. In this article, we'll show you how to resize an image for a variety of devices.
How to Upload Photos to iCloud from a PC
How to resize an image on an Android device
Out of the box, an Android phone or tablet doesn't come with apps that can be used to resize an image.
The Photos app that comes standard with Android can be used to view files, but there are no options available to edit anything. Fortunately, there are useful applications for Android devices available on the Google Play Store.
The type of app may vary by device type and Android version, but most have very similar tools.
The standard process of resizing an image is to select one or more images from your album, then choose the resolution you want to resize it to. Here are some pick tools that are highly rated on Google Play:
1. Photo compresses and resizes

An easy to use and intuitive image size reducer, Photo Compress and Resize allows the user to reduce image size or crop images and remove unwanted parts of the image. It can perform batch image reductions and allows you to select and reduce multiple files at the same time.
2. Photo & Picture Resizer
A handy photo resizer made for Android devices, the Photo & Picture Resizer app gives the user the ability to quickly change the size of single or multiple images with just a few simple taps. Made to match the aspect ratio of the original image by default, Photo & Picture Resizer makes it easy to upload images to various social media sites. The app also allows batch processing of multiple images at one time.
3. Q Reduce: Photo Reducer e Q Reduce Lite
The Q Reduce app is a simple, no-nonsense file size reducer that does one thing and does it well. The Lite version performs single image reductions, while the full version allows batch images along with several other image editing options, such as crop selection and photo storage.
How to resize an image on Windows PC
Arguably one of the most versatile tools for image editing, a PC usually comes with programs that allow you to edit images. Also, some of the best photo editing tools are available for PC. We will list some programs along with some tips on how to reduce images:
1. Paint
All versions of Windows lower than Windows 10 will ship with MS Paint by default. While they are pretty simple as photo editing tools, it can still resize images pretty easily. To do this, follow these steps:
Open the image by right-clicking on it and selecting Open With, or by clicking File, then Open on the top menu of Paint.
On the Home tab, under Image, click Resize.
Adjust the image size in percentages or pixels as you see fit. Click Constrain Aspect Ratio to keep the image size constant when adjusting by percentage.
Click OK.
2.Deepingi 3D
Windows 10 comes with an updated version of the Paint app that has far more options than the original. However, the interface has been slightly modified, so those familiar with the previous program might get lost when trying to navigate the menus. To resize an image in Paint 3D, do the following:
Open the image in Paint 3D.
Click the Canvas tool in the top menu.
In the menu on the right, you can adjust and resize the image in pixels or as a percentage. The lock aspect ratio maintains the correct balance of the image dimensions and Resize Image with Canvas increases or decreases the size of the Paint 3D canvas in relation to the adjustments.
Click Menu, then click Save to keep your changes.
3. Adobe Photoshop
Considered to be one of the best image tools out there, you can't really think about photo editing without mentioning Adobe Photoshop. While it's not as free as the others mentioned, the versatility of this program is worth the price. To resize an image in Photoshop, follow these steps:
Click "Image" in the top menu.
Choose Image Size.
Adjust the size as you see fit click OK.
Batch resizing is also possible, although it requires logging of actions, so proceeding to choose File, Automate, then Batch.
4. Irfanview
A free and very popular image viewer, Irfanview also has the ability to resize images, both individually and in batches without having to first register the program's actions. It's a very useful tool to have, and since installation costs nothing, there's really no reason not to try this program. You can resize images in Irfanview like this:
Open the image by right-clicking and choosing Open With, or finding it via the Irfanview menu by clicking File, then Open.
Click Image in the top menu, then click Resize / Resample.
Adjust the image values ​​as you see fit, then click OK.
Batch conversion of images located in a folder can be done by opening Irfanview, clicking File, then choosing Batch Convert / Rename. All the images found in the folder will then be automatically resized.
How to resize an image on iPhone
Although the Photos app that comes with your iPhone can be used to crop images to a certain size, it does not have the function to reduce the resolution or file size. There are, however, apps available through Apple's App Store that do the job very well:
1. Image size
Simple to use and quite straightforward, Image Size is one of the most popular image editors in the App Store. This free tool is useful for those who want an easy way to reduce the size of their image files.
2. Image Resize
A handy tool for quickly resizing and then posting images from your iPhone, ImageResize is another popular editing tool in the Apple App Store. When you resize your images, it displays the estimated resulting file size so you can easily adjust your files for uploading to sites with specific file size requirements.
3. Batch Resize
A useful app that allows users to resize multiple images at once, Batch Resize is a great tool for those who like to take lots of photos and have albums with lots of images.
How to resize an image on Mac
Mac is a powerful tool for people who want to edit images. Many graphic artists prefer to use a Mac when editing, although this is a professional or personal choice in question. However, the tools available are quite useful. Here are some of the easiest to use:
1. Preview for Mac
The default photo and image viewer for macOS comes with several editing options including resizing. To do this, follow these steps:
Open the file you want to resize in the Preview app.
Click Tools, then choose Adjust Size.
Choose the "Resample" image.
To batch resize images, open multiple images in the same window, then follow the steps above.
2. Adobe Photoshop
This popular photo editing program is also available for use on Mac. The steps for resizing images are the same as for PC.
How to resize an image on Chromebook
Since the Chromebook is limited to only Google-approved applications, the choices for photo editing on this platform aren't as varied as the others. But it still comes with a predefined program that can do this task. Alternatively, you can enable the Google Play Store on your Chromebook, then download image editors as if you were using Android.
Image editor
This is the default image viewer for your Chromebook and is the program used when you open an image file. To edit images using this app, do the following:
Open the image file, then click Edit in the menu.
Choose and click Resize.
Adjust the values ​​as you see fit.
Additional FAQs
Here are answers to some of the most frequently asked questions about how to resize images.
1. What online tools can you recommend for resizing images?
The following tools offer simple drag and drop options when resizing image files and are all free and available without installing anything.
For single images try using PicResize or PhotoSize. For batch projects, BulkResize and BIRME are quite useful. Since they are online tools, it doesn't matter which platform you use them on. If you have an online connection, you can use any one.
2. What programs can you recommend for batch resizing of images?
The applications provided for each platform above have choices that offer batch image processing. They are among the most popular for each of their specific platforms and offer users a great tool for resizing multiple images.
3. How does resizing an image affect file size?
Resizing an image has a considerable effect on the file size of an image. As decreasing or increasing the size of an image will respectively decrease or increase the number of pixels that are displayed when opening the file.
This means that the smaller the number of pixels, the smaller the file size and vice versa. It is important to remember that many online sites have upload restrictions and do not accept images beyond a certain file size.
An integral part of the photo shoot
Now that taking pictures is so simple, the need to manage image file sizes has gained in importance, especially for those who do it often.
It would be extremely frustrating to take a picture of an important moment, only to find that you have run out of storage space. Resizing the images has probably become an integral part of their shooting. Know any other ways to resize images on different devices?
Further Reading:
How to reduce the size of a JPEG: 5 ways
How to create a photo collage using Google Drawings
How to change iPhone wallpaper
How to pixelate an image on Windows and Mac
How to resize a photo, all methods