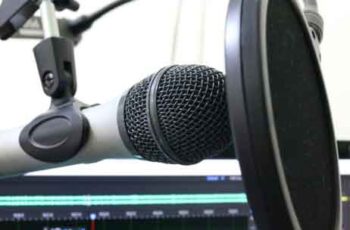 If you need to create an instructional YouTube video or record a sound, you will probably use a computer or smartphone to do it. Nowadays, these devices have replaced many everyday tools, including sound recorders. In this article, we will help you learn how to record audio using your PC or smartphone.
How to record audio from PC or phone
To record any form of external audio, you will need a microphone. These days, all smartphones are equipped with it. This microphone is mainly used to talk to another person during a call, but it is also used to record audio.
With computers, things are a little different. Your average desktop PC most likely doesn't have a microphone by default, even if you have recording software installed on it. Typically, you will need to connect an external microphone device.
Laptops, on the other hand, are conceptualized as 'moving' computers. Therefore, almost all laptop models, be it a Windows computer, Mac or Chromebook, are equipped with both a webcam and a built-in microphone. Of course, you can also introduce an external microphone for better quality, just like you would on a desktop computer.
Top 5 Ways to Extract Audio from Video on Windows 10
How to Record Audio on Android Devices
Android phones and tablets, unlike iOS devices, are not "uniform". While they are all based on one form of the Android operating system or another, the default featured apps may vary from model to model.
Samsung Galaxy S20 + 5G, for example, comes with a pre-installed app for voice recording. No matter how old or new your phone model is, it may not feature such an app by default.
But the great thing about smartphones is that you can download any app on your device. If you can't find such an app on your Android phone or tablet, download one by following these steps:
Open the app Play Store on your device.
Tap on the search bar.
Digita " records "The "recorder ".
Tap your favorite recording app.
Select Install .
Open the application.
Most audio recording apps offer a simple red circle or microphone button to start recording immediately. Make sure you allow the particular app to access the microphone function.
Your recorded files are stored on your device's file system, but you will likely be able to access them via the recording app itself.
Android app to extract audio from video
How to record audio on an iPhone
Every iOS device comes with a default recording feature as part of a pre-installed app. However, don't try to search for this app by typing "record"In the iOS search bar, as it is actually called Voice Memos.
The app is likely to be in the folder Extras device default on the home screen. If not, here's how to find it:
From the home screen, swipe left or right.
Tap the search bar at the top of the screen.
Digita " voice memos ".
Tap the result to run the app.
Within the app, tap the red circle button.
To stop recording, tap the red square button.
The content you just recorded will now be accessible through the app itself, from the app's home screen. You can delete it, share it, save it to file, move it to a different folder, and so on.
If you can't find it on your device (most likely because you deleted it), download it again from the App Store, like you would any other app.
How to record audio on Windows
If your device doesn't have a built-in microphone, you'll need to use an external one instead. Do not worry; if you have a pair of headphones that came with your smartphone, they likely come with a microphone (the little plastic box on the cable). Just plug your headphones into your computer's 3,5mm jack and that's it.
If your desktop PC doesn't have a 3,5mm jack on the faceplate, however, things could get tricky. Don't worry, mic devices are very inexpensive, and there are many affordable gaming headset options with long cables to choose from.
After making sure the microphone device is set up correctly on your Windows PC, here's how to record audio:
Open the Start menu.
Digita " voice recorder ".
Click on the result Voice recorder .
Allow access to the microphone.
Click the microphone icon.
Click the stop icon when you are done recording.
A list will appear on the left, with the file you just recorded on it.
Right click on it and you can share it, delete it, open the folder where it is stored, etc.
Of course, there are various other more sophisticated third-party recording options for your Windows PC. However, Voice Recorder is the quickest and most direct way to record audio on Windows.
How to record audio on a Mac
Every MacBook device, like every other laptop, has a built-in microphone. Apple computers often come as monitors, which also feature a microphone and a webcam. In addition, Apple-branded monitors also boast microphones and webcams.
Mac mini and Mac desktop computers, however, do not have built-in microphones. These devices will require a third party device. However, beware of dongle extensions that may be needed for a third-party microphone.
Apple devices are widely known for their lack of input / output options, and their dongle extensions aren't very cheap.
Once you've got everything set up and your Apple computer is ready for voice recording, recording itself is easy. Just follow these steps:
Find the app Voice Memos .
Run it.
To start recording, click on the red circle.
Press the pause button to stop recording (you can resume if you wish)
click on end to end the session.
The Voice Memos app works like the sister app on iOS devices. Recorded files are accessible through the app itself. You can edit the files, delete them, crop them, etc.
As with Windows computers, there are various Mac-compatible recording tools on the market. Using the Voice Memos app, however, is the simplest method.
How to record audio on Chrome
The world is continually moving in the direction of connectivity. Wherever you travel, you are probably online via your phone / tablet or computer / console. Many of us spend countless hours using web browsers like Google Chrome.
The great news is that yes, there is a website that allows you to record audio from your browser. It's called Voice Recorder and it's completely free. Here's how to use it:
Go to this website.
Allow the website to access your microphone if requested.
Click the microphone icon.
When finished, click the stop button.
To save the file, do click su Save .
However, your goal may not be to use Google Chrome as a regular microphone-based recorder. After all, there are other ways to record external audio.
But you might want to record internal audio from a Chrome tab. Thankfully, the type of extension that allows you to do this exists. It is called Chrome Audio Capture. Here's how to install and use it:
Select Add to Chrome.
Confirm by clicking Add extension.
Click on the newly added Chrome Audio Capture extension icon (available to the right of the address bar)
To start recording browser audio, select Start acquisition . You can also use the keyboard shortcuts outlined on the extension's main screen.
Once the registration is finished or after reaching the maximum of 20 minutes of registration; to select Save capture .
A new tab will open asking you to save the file. Awards Save Capture and save the file.
Recording of telephone conversations
Before delving into this topic, you should know that the laws and regulations related to the recording of telephone calls differ from state to state.
While some states require the consent of a single party (you), others may require that all parties involved in a conversation must approve the recording of phone calls. Keep this in mind to avoid potential legal complications.
How to Record Conversations on an iPhone
Unfortunately, iPhones don't come with a built-in feature for recording phone calls. Fortunately, however, there are various apps available in the App Store that can help you record your phone calls.
We can't recommend a single one, but we'll show you how to get your hands on the app list with the call recording feature.
Open theApp Store on your iPhone.
Tap the search bar.
Digita " telephone recorder ".
Check the apps that appear.
Download the one you find most interesting.
Each of these apps works differently. Then, after you've downloaded and installed an app, go back to its page within your App Store and look for the instructions.
How to Record Conversations on Android
Like iPhones, Android phones don't come with a built-in conversation recording feature. Using the Google Play Store, however, you can find a variety of apps that will help you with this problem.
The principle here is the same as for iPhones - just open Google Play and use the keywords mentioned above to find a list of apps that allow you to record phone calls.
Additional FAQs
How can I record audio on my computer without a microphone?
If you want to record external sounds using your computer, you will need to use a microphone. However, you don't need a microphone to record internal audio from your PC.
To do this, open the Control Panel and click on Hardware and Sound. Then, select Sound. In the dialog that appears, go to the Registration tab. Find the Stereo Mix entry and right-click.
Then, select Enable. If there are microphone devices on the computer, disable them. Select OK to close the window. Now use the Windows Voice Recorder app to record internal audio from your PC.
How do I capture audio from a website?
If you are using Google Chrome, please refer to the How to Record Audio on Chrome section. For Opera, check out the Desktop Screen Recorder extension. For Safari, you can use Soundflower. This extension, however, may be a little more complex to install than the others.
What is the best Android app to record audio?
For the easiest method to record audio using an Android device, see the How to Record Audio on Android section above. However, if you want more extensive options, various audio formats, cloud integration, playback speed controls and various other features, check out the ASR Voice Recorder app. This app is completely free and is absolutely feature rich.
Audio recording from PC and telephone devices
Most computers and smartphone devices come with their own default audio recording option. Even if your computer doesn't have a microphone, the Voice Recorder / Voice Memos app may be installed.
However, it is not possible to record external audio without a microphone of some shape or form. Sure, all smartphone devices have a built-in microphone, but for some computers you'll need to get a separate microphone or headset to record audio.
We hope this article helped you with your audio recording needs. Did you get the registration you were looking for? What app did you use? How did you like it? Add a comment below to let us know and join our growing community.
Further Reading:
How to record a call on Android
How to record audio on PC, MAC, Android and iPhone
Don't have a recorder on your phone? Find the one that's right for you in this list of apps
Top 7 Solutions for When Android 11 Screen Recorder Not Working
How to record WhatsApp video calls