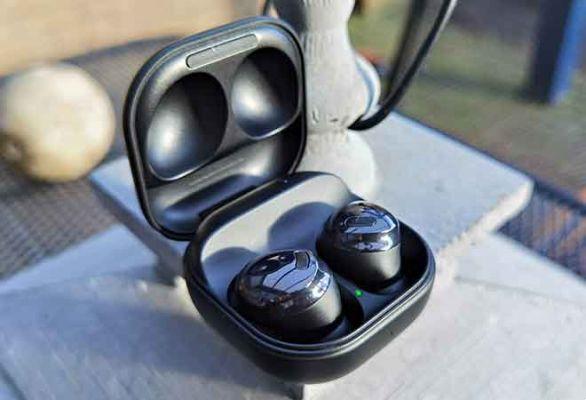 The Samsung Galaxy Buds Pro earphones are the latest wireless earphones from Samsung. This time around, Samsung has equipped these earbuds with an excellent feature set, including spatial audio and noise cancellation. Noise Detect is added as it allows you to automatically switch between ambient noise and noise cancellation.
The best part is that it is as simple and easy to connect to Samsung Galaxy phones as it is for other Android phones, iPhones, or even Mac laptops. Yes, you read that right. This pair of wireless earbuds can also work as a regular pair of earbuds. So, whether you want to connect them to your Windows laptop or your iPhone, it's doable. The only downside is that you tend to lose some of the functionality when connected to other devices.
So if you feel like it, let's see how to connect your Samsung wireless earbuds to devices other than smartphones.
1. How to pair Galaxy Buds Pro with iPhone
1 pass: If you have already paired the earbuds with another device, it is best to reset the earbuds before proceeding. To do this, press and hold the touchpads until you hear a series of beeps.
2 pass: Next, open the Bluetooth menu on your iPhone via the Control Center. If the headphones are in pairing mode, they will appear in the device list.
Just tap to select, and that's it.
pros and cons
Although all previous Galaxy Buds allow you to connect to Apple iPhones using the iOS Buds app, Galaxy Buds Pro does not support this feature. Instead of pairing via the app, you will follow the normal methods of connecting wireless headphones via Bluetooth.
This means that you will lose features like ambient noise, touchpad customization, and others.
2. How to pair Galaxy Buds Pro with your Windows PC or desktop
1 pass: On your Windows 10 PC or laptop, press Windows + I key together to open Settings. Search for Device> Bluetooth and other devices and click Add Bluetooth and other devices> Bluetooth to start scanning.
If the Buds Pro earbuds are close together, they will show up in the scan. Once done, all you need to do is click Connect to complete the pairing process.
However, if the Galaxy Buds Pro earbuds don't show up on the first scan, let the buds rest before attempting to pair them again. To do this, put on the Galaxy Buds Pro and hold the touchpads until you hear a series of beeps.
pros and cons
If your laptop has a newer Bluetooth card, Windows 10 also lets you enable Microsoft Swift Pair.
When enabled, the laptop will give you the ability to connect to previously connected Bluetooth devices such as earphones and headphones, even when they are disconnected or unpaired.
Secondly, the Samsung Buds Pro still offer you the ability to play games with touchpads. For example, a single tap will play / pause songs and a double tap will skip songs.
And here comes the interesting part. Gems will switch to ANC when you long-press the touchpad. Great, right? You need to make sure that the 'long press and hold' action is assigned via the Samsung Wearable app on your phone.
3. How to pair Galaxy Buds Pro with your Mac
1 pass: Open Action Center on your Mac (top right corner) and select Bluetooth> Bluetooth Preferences from the menu. Again, you need to keep the gems close to your Mac.
If the headphones are in pairing mode, they will appear under Devices. Click the Connect button and that's it.
Similar to Windows 10 laptops, you'll be able to use all three touchpad actions. So, if you hear someone calling while listening to your favorite songs on Spotify, you need to tap on it once to pause the song. Great, right?
How to pair Galaxy Buds Pro with your Samsung smartphone
Now, if you own Samsung smartwatches like Galaxy Watch 3 or Galaxy Active 2, you can also pair the earbuds to the watch. One of the main benefits is that you can leave your phone at home when you go out for a run or a walk and want to keep listening to music. You need to download a couple of Spotify playlists or add some songs offline.
Sounds exciting, right?
Let's see how to pair the Galaxy Buds Pro with Samsung smartwatches.
1 pass: Go to Settings> Connection> Bluetooth on the watch. Next, select Bluetooth Audio.
Step 2: Tap Scan and the gems will appear in the menu. All you have to do is connect.
Next, go to the Music widget on your watch and play your favorite songs. Just make sure to activate the little smartphone icon to enter Watch mode.
Samsung Galaxy Buds Pro vs Galaxy Buds Live, the new version is worth buying
Conclusion
In addition to boasting a chic appearance, the Samsung Galaxy Buds also manage to deliver a pleasant sounding voice. Compared to their predecessors, they fare much better when it comes to comfort and fit. They stay hooked and let you get your stuff done without distractions.
Further Reading:
How to connect Samsung Galaxy Buds Plus to laptops, iPhones and other devices
What is Samsung Galaxy S10 reverse wireless charging and how does it work?
What to do if your MacBook Pro won't turn on
How to connect Samsung headphones to PC
How to set up Galaxy Buds with your Galaxy S10 or other devices