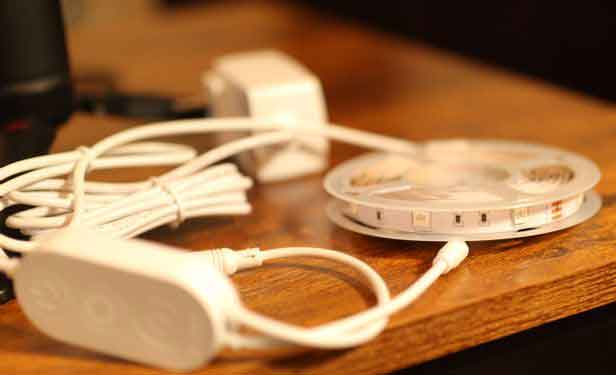 Lighting up your home is easy with an LED strip light. We'll show you how to install one in no time. Want to take your TV or desk to the next level? Maybe you've seen those cool multicolored stations on sites like Reddit or Pinterest and decided it's time to personalize your space. We will show you how easy it is to install LED strip lighting to illuminate and beautify your favorite area in your home.
How to install an LED light strip in your home?
The best smart LED strips
What do you need
LED strip (we used this Govee model, but most other lights are similar)
Access to a power outlet
Alcohol preparation pads (included)
Small mounting brackets (optional)
Measure your space before installing an LED strip
The minimum length for Govee strip lights is 5 meters. This means that if your space is longer or shorter, you will need to increase the number of light strip sets or you will need to trim the Govee lights to fit. To increase the distance of your light strips, purchase another set. They are not expensive, which is one of the reasons why Govee lights are so great.
The best way to roughly measure your final product is to find where you want to put the strip. Then stretch the strip along your space. This doesn't have to be exact, it just has to come close. You will still remove excess lighting at the end of the installation, but if you'd like to use a tape measure for a little more precision, feel free.
Then, plug in the lights to make sure everything is working. If so, unplug the lights and move on to the next step.
Clean up your space
The adhesive for these Govee light strips will not adhere to excessively dusty or dirty spots. That is why it is necessary to clean the installation area before starting to glue the strip. If the spot is not cleaned properly, the weight of the lights will cause them to fall out of space.
To do this, tear off the included alcohol swab and gently wipe all areas where you intend to place the lights. It doesn't matter if your space already looks clean. Clean it anyway.
If the alcohol prep pad dries out or starts to look particularly dirty, use a different one. Once this is done, allow the stain to dry for a few minutes. It shouldn't take long.
How to recognize the LED bulbs suitable for your home
Put the lights on the spot
Now, starting at the end where the light strip connects to the AC adapter, remove the paper backing for the adhesive. If this backing is difficult to remove, use a hair dryer to warm up the adhesive a little. It should remove easily.
Suggestion: do not remove too much media at one time. Only remove this holder one section at a time so the lights don't stick somewhere you don't want them.
The adhesive on these strips is very tacky and, in some cases, can remove paint from the wall. That's why it's important to make sure you put these strips exactly where you want them.
Now, fix the lights in place, moving them in sections, until they cover the entire space you are working with. It is helpful to install a section and press the strip down for about 15 seconds before moving on to the next area.
Also, if you need to shorten your Govee light strips, you can cut them to the copper colored contacts. Once this is done, you can throw away any additional lights you don't use, or you can save them and use them to solder on another project.
After this process is complete, you need to install the included clips for additional support. It is recommended to place one at each end and a few evenly spaced along the length of the light strip.
Enjoy your new striped lighting
Now is the time for the fun part. Turn on the lights and admire your new colorful space. With multi-colored LED strip lighting, you can turn a boring room into a personalized paradise.
By following the tips in this guide, you'll create a space that suits your individual mood or lighting style. And if you're looking to add more unique lighting to your home, there are a number of great options to choose from.
Further Reading:
The best smart LED strips
How to use the led strips associated with home automation
How to set or change your address on Google Maps
Smart light bulb, how to choose
How to recognize the LED bulbs suitable for your home