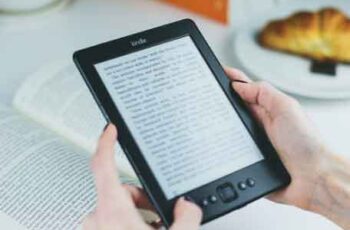 Ever since Amazon first released their version of e-reader called Kindle, some book lovers have refrained from the option because there's actually nothing like a real book. The smell, the dog ears, the real page numbers, how can an electronic device replace a book?
Fortunately, Kindle offers many features that make the transition from traditional paperbacks to e-reader a little smoother with each update.
Kindle Fire does not download apps. What to do
It is important to note that some features are only available for certain books. This article will tell you how to tell if the book you are about to download has page numbers available and how to activate them.
How to check page numbers
When looking for a new book on the Kindle Store, there are standard pricing options, a brief overview of the book and its author, then there are the features.
To see if the book you are interested in has actual page numbers available, scroll down the page until you see the features box.
1.) Touch i page numbers .
2.) Review the description of the page numbers.
You can even see the description of the page numbers if you're browsing the Amazon website for your next Kindle reading.
How to download Disney Plus on Kindle Fire
How to view real page numbers: the "Go to" option
So, as long as your chosen book has the actual page numbers option, there are a few ways to display them. For starters, Kindle doesn't inherently offer page numbers on previous models. For most Kindles, they will only see a percentage of completion that doesn't really correlate with page numbers.
So, if you want to see your page number or travel to a specific location, do the following:
1.) Tap the center of the screen and tap "Go To".
2.) View your page number.
Viewing actual page numbers in this way will not only help you keep track of where you are in a book, it will also help you share or find the page number that someone else is referring to.
Viewing page numbers - The app
Some users may prefer, or in some places, to read their books from a device other than the Kindle. Whether it's a web browser or the Kindle app on a mobile device, viewing real page numbers is much easier.
If you have downloaded a book with actual page numbers available, you can view them at the bottom of the screen.
If you can't see the page numbers, you've probably changed the text size. When you zoom in on the text, it is removed from the Kindle pages so that the numbers are not displayed.
You can re-adjust the text size by pinching the screen or like this:
1.) Tap on the page.
2.) Tap "Aa".
3.) Adjust the text size
By reducing the text size, you should now be able to see the page numbers listed at the bottom of your book. Also, by simply tapping on the page, you can see the page number as well. After reviewing the page number, you can tap again to increase the text size.
How to install WhatsApp on Kindle Fire
More great Kindle features
As we stated earlier, some avid readers have not yet begun to enjoy electronic readers. Amazon has offered some really cool features that make it easier to read.
Dark mode
Most Kindles and even the app version offer a dark mode. Whether you're reading at night or want to reduce eye strain, dark mode reduces the bright lights that accompany device screens.
Tap "Aa" just like you did above and select one of the four available color options:
Highlight, share and add notes
Kindle gives you the ability to share pages, highlight important content, and even add small notes that you can review later. Unlike traditional books, this is much better than writing in the margins.
Simply long-press the part you want to manipulate and select from the available options:
Translation, Wikipedia and the dictionary
When reading a book, there is no need to turn to another source to verify some information or search for a word. Kindle will give you the option to do this on the screen after long pressing a part of interest.
FAQ
We have more information on Kindle page numbers in this section.
How do I find my bookmarks?
Bookmarks are excellent for maintaining your page and saving positions of important text. To save a page in the bookmark section, all you have to do is click on the flag icon in the top left corner.
To locate your bookmarks, tap the page icon. Depending on how many bookmarks you have saved, you will have to scroll through the list and find the one you want.
Do Kindle books have the same number of pages as a paperback?
Yes and no. It all depends on the book (and if you have enlarged the text). Page numbers that don't match the actual print book could cause problems at school and book clubs, so look for a caption that says "Contains real page numbers" before downloading a Kindle book.
Kindle Fire won't charge or turn on, here's how to fix
You can lend your books
Therefore, it is not recommended to provide username and password. But book lovers can feel better about sharing their favorites with the people around them.
Your best friend is not likely to order things on your Amazon account, but they are likely to spill something on your book, dog ear pages, or maybe never return it. Kindle reduces any worries about these matters, so sharing your library is much safer (as long as you trust the person with your Kindle password).
Further Reading:
Amazon presents the new Kindle (2022), with a backlit screen
Kindle Fire won't charge or turn on, here's how to fix
How to download books to your Kindle for free
How to convert PDF to Kindle
How to download Disney Plus on Kindle Fire