If you have activated your PlayStation Plus subscription or automatic renewal, and you want to cancel it, you have come across the right guide to deactivate the service
Today we want to explain how deactivate your PlayStation Plus subscription in case you activated it to play with your friends or to get your hands on the monthly free games, and now you don't need it anymore. The procedure, which we will explain step by step, can be carried out via console, PC or smartphone. Let's see together how to deactivate a subscription to the Sony service.
PlayStation Plus and monthly games
Il PlayStation Plus, as you surely already know, it is a paid service for PlayStation 4 and 5 almost always mandatory in order to play online. The service, divided into monthly, quarterly and annual subscriptions, in addition to the possibility of online, also makes other benefits available to users. In fact, the subscription includes, every month, three free games and convenient discounts not available for those who do not subscribe to the service. In case you have signed up and want to unsubscribe, read on to find out how to deactivate your PlayStation Plus subscription from different devices.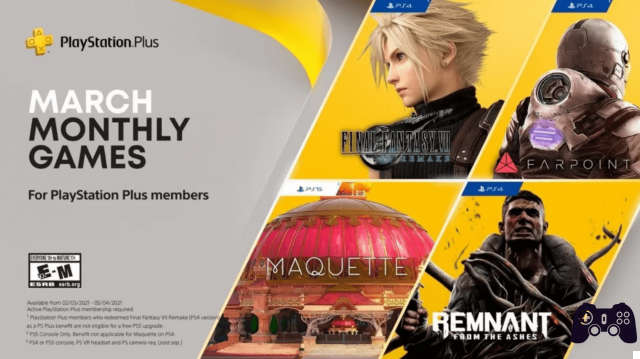 PS4 and PS5 - How to deactivate your PlayStation Plus subscription
Let's start from the core. Obviously, being a subscription linked to its consoles, Sony offers users the ability to manage, directly from the console, everything that revolves around their own. account PlayStation. After connecting the console to the Internet, just go to the Settings from the toolbar.
Then select Account Management, And then Account Information. Here you will find the section PlayStation subscriptions, including yours PlayStation Plus. Here you will find the option to deactivate your subscription, including the option to deactivate automatic renewal. Remember that your subscription will remain active until the expiration date indicated.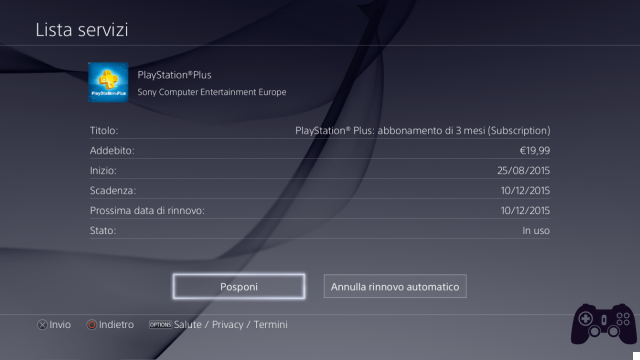 PC or Mac - How to deactivate your PlayStation Plus subscription
In addition to console, you can deactivate your PS Plus subscription even from PC or Mac. If you don't have access to your console, just connect to the official PlayStation Store website and click on Log in. Once redirected to the page, just enter your login credentials all'account PSN (username and password, as always) and click on Log In. Once logged in, by clicking on your profile, you will be able to access the Subscription Management section, just like on the console. Here you just need to deactivate your subscription and click on the Confirm button. Again, the subscription will remain active until the expiration date.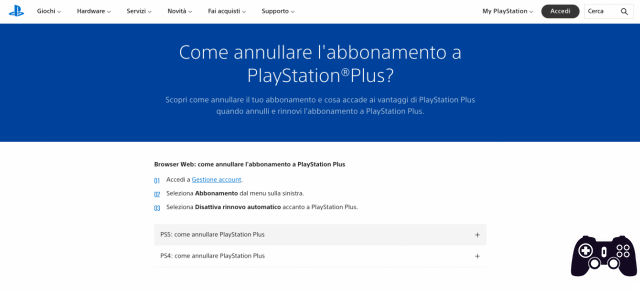 Smartphones and tablets - How to deactivate your PlayStation Plus subscription
In the last case, the one in which you want to deactivate the mobile subscription, you will have to use the official website of PlayStation directly from a smartphone or tablet. We specify that, at the moment, the PlayStation application for Android and iOS it does not support the ability to deactivate the subscription. Then, to proceed, simply access the PlayStation Store site via the device browser, and follow the steps listed above (those to access via PC). Similarly, go to the Account icon, then to Manage Subscriptions. Finally, click on the button to deactivate the subscription, confirm, and that's it.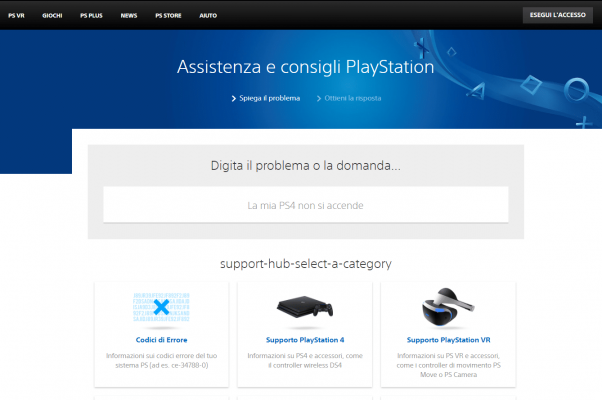 Service center
If you are unable to access your account due to credential problems or whatever, you can also contact the dedicated assistance service. Sony's support service works very well, and is contactable by email or at the dedicated support address. Here you can retrieve your credentials or, possibly, request the assistance of an operator to deactivate your PlayStation Plus subscription. Remember that the service is not instantaneous, so if you need to solve the problem in a short time we recommend that you follow the steps that we have explained to you earlier.
As always we hope to have been helpful with our guide on how to deactivate your PlayStation Plus subscription. We invite you to consult the Instant Gaming catalog for many convenient offers, and as always we remind you to stay connected on Holygamerz for further guides. , reviews, news and much more from the world of video games. Hello!