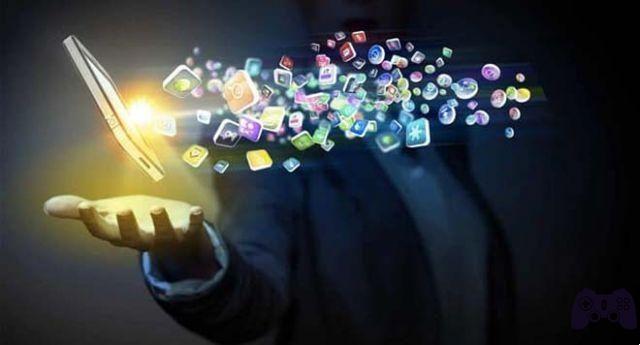 If you are reading this article, chances are you have a business or IT project in mind that involves building a mobile app. Instead, perhaps your goal is to give your business new opportunities through the infinite possibilities of an android application.
First of all, you have to work calmly and have a clear idea of ​​the ideas you want to develop in the medium / long term. Another very important question, before looking for one Professional app developer for Android, is to know what to face.
In a nutshell, it is necessary to have a smattering of development languages ​​to understand the potential and not make fancy flights that cannot be followed. A android course, for the development of applications (for example such as those proposed on puntonetformazione.com), in short, it is the basis of a winning idea regardless of whether or not it is you who will realize the finished product.
1 Why and how to create an Android app?
To answer this question it is necessary first of all to make a banal as well as fundamental premise: it will not be possible to embrace the entire audience of the mobile as not all devices work with the Android operating system.
A good portion of the world population owns an Iphone and, therefore, uses a dedicated platform to which you will not have access except for any and subsequent versions. Other operating systems we feel we can define them as "negligible" from the point of view of market segments, therefore the distinction must be made on a large scale on these two systems.
Growing market



We said that Android it does not cover the entire global mobile audience but it is equally true that the market for Android apps is growing rapidly thanks above all to the proliferation of an ever-increasing number of devices that mount it in spite of iOS which is used only by Apple.
New smartphone and cell phone companies automatically rely on Android OS for a series of reasons that, in fact, you too will have to consider as a future app developer for Android: the profound possibility of customizing the operating system; the hourly cost received by android developers which is lower than the Apple counterparts for an elite question; the most effective and least closed advertising network from the Mac circuit itself.
1.2 Developing apps for Android: a different choice
At the time of to Develop an Android App | there are many small differences. The main one, however, lies in the operating system itself and in the programming language. Each native development will use a code and a language. The first thing to understand how to create an Android app is to choose an Android developer, that is, an expert in this language.
Our budget, our business model, our promotion strategy will be different. In the case of native Android app development, we will only have to work for that platform. If, on the other hand, we choose to have a cross-platform app, our work will also serve us for other operating systems. But the final result of the application may not be as good.
Choose the type of programming to be used for Android it's important. If you don't choose the most suitable for your project, you may not get the desired result. Ask for advice from industry experts for more information about your case. Each project is a world unto itself. It may be that in your case a hybrid app is better than an Android app.
1.3 Time for development
Compared to create iOS apps it may be that there is no difference, i.e. the time it takes to create an app for Android is about the same as it takes to develop it for iOS.
The nuances are seen in the diversity of programming languages ​​and the type of development. It doesn't take the same time to build a native Android app as it does to cross-platform it. Be well informed about the time needed in different cases. If you have some urgency, it may be that you need to create anative android application.
We must also take into account the design of the Android apps. While the overall appearance and functionality will be very similar, the design differs. There are buttons on Android devices that aren't present on iPhones. We will have different designs for each type of development. This will result in extra in our quote, as we will have to design two apps.
1.4 Making money with an Android app
Surely you are also wondering how to make Android apps that are profitable. That guarantees us a profit. We can certainly say that, in general, the Android app they are less profitable than those of iOS.
Several studies reveal that iOS users are more willing to pay for apps. Those on Android, on the other hand, are looking for free apps. This is why making an Android app profitable will be a little more complicated. You will need to work more on your business model and monetization.
2. How to create an Android app: the 4 steps
You have already had a lot of information on how to proceed in the world of Android app development but, of course, you'll want to know how to make your own. Know that there are 4 fundamental phases: let's see them in detail.
2.1 Initial phase
This first step will need to verify your idea, industry and mobile technology. Before you start looking for developers or designers, there is some work to be done. Let's start with a real first contact with your idea.
The first thing you need is to have a good idea. Based on that you will decide how to create android apps. The appropriate thing is that it satisfies a need, solves a problem that mobile users may have. If they exist Android applications who already satisfy this need, make a better one. Improve this idea until you consider it to be feasible.
Once your idea is clear, draw on paper what your app should look like. Make it simple, basic, with no design elements. Everything must reflect basic operation and user interaction. Try to make it easy and easy for the user to understand.
2.2 Business planning phase
In this second phase we move from the idea to the project. At the moment we will not switch to yet program the app for Android. Instead, we need to define the project in a broader and more detailed way.
It's time to define the business model of your Android application. Creating an app just for the fun of it doesn't make sense. What do you want to achieve with it? How can this be achieved? We are talking about this and monetization methods. We include them in this phase because you have to define them before starting the development and design phase of the application.
We recommend that you create a document that contains all aspects of your Android app. From the simplest part like the mockups to the monetization method or the logo colors you have chosen for your brand. If it is not 100% complete it may leave some parts sketchy. For example, if you need special design or specialized advice.
2.3 Development and design phase
This is the longest stage of the whole process to go through create an application for android or for any other operating system. Let's get to the heart of the development itself. We are among those who think that when you embark on a business, you have to do it well.
It is useless to create an app without thinking about it, without developing it properly or without making an adequate promotion. We will therefore begin to find the android professionals that are right for you. It is imperative that you have the application design in mind.
In the case of designing native Android applications you should think about how this operating system works. For example material design animations, smart notifications etc. In general, the design of the application for the Android operating system claims visual simplicity.
You will definitely need someone to help you manage the process of creating your Android app. Not because you may not be able to do this, but to streamline operations. This way you can focus on the more important issues and not the more technical ones.
2.4. Launch phase
Once you've gone through all the steps in the process, your application is almost ready to go live. Before launching it you have to take care of some aspects so that it is as less traumatic as possible. The point is that the first week of an app in the store is crucial to gain visibility and start positioning.
Good luck!
Further Reading:
How to build applications with Angular
How to install Java JDK on Windows 11
How to speed up Android via developer options
How to install Android SDK on Windows, Mac and Linux
How to create and add a site icon (Favicon) in WordPress