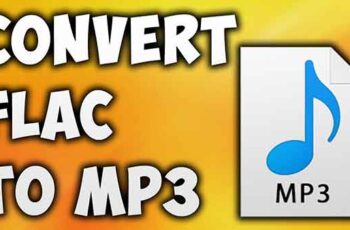 You know that feeling you get when you listen to your favorite song and it sounds really good. The highs and lows of the instruments are perfect and the voices are crisp and clear. This kind of sound quality is what music enthusiasts look for in digital audio, including FLAC files.
But how do you get the perfect sound of a FLAC file in a smaller file size? MP3 is the answer. Converting FLAC files to MP3 is easy with the right software. In this tutorial, we will show you several simple and effective tools to convert your entire FLAC album library to MP3. We'll also talk about what the move to MP3 means in terms of storage quality and volume.
Convert HEIC into JPG
How to convert a PDF to PowerPoint
How to convert a Word document to a JPG OR GIF image
4 ways to convert PDF to PNG on iPhone
FLAC and MP3: what's the difference?
A long-standing debate in the music industry is about the best file format for listening to music: FLAC or MP3. Here's what you need to know.
FLAC stands for "Free Lossless Audio Codec" file format. Since it is a lossless audio format, the encoding process does not affect the quality of the recording. On the other hand, MP3 (MPEG-1, Audio Layer III) is a proprietary digital audio encoding format that uses a lossy form of data compression. The MP3 algorithm compresses audio data to 1/10 of its original size (or smaller).
That said, FLAC files are higher quality than MP3s because they use less data compression to store audio information at CD-Audio quality (44100Hz) resolution.
This results in a more accurate reproduction of the original recordings. However, this also means that FLAC files take up much more storage space on your device. FLACs can be up to five times larger than their equivalent MP3 version.
The main drawback of an MP3 is that it cannot reproduce sound waves with as much detail as FLAC, which means your listening experience will be less enhanced. If you listen to a FLAC file and its MP3 equivalent, there will be a noticeable difference in sharpness and clarity. However, depending on the listener, what is lost may not spoil the experience.
How to convert FLAC to MP3
The tools used to convert FLAC files to MP3 fall into two main categories: downloadable tools and web-based options. Now let's see how our top picks in each category work.
1. Downloadable tools
(a) Wondershare UniConverter
Wondershare UniConverter offers music lovers a complete yet simple file conversion solution. The software has built-in presets and a drag-and-drop interface which makes it so easy to use. It allows you to convert your FLAC files to MP3 in just a few clicks. It is compatible with Windows, macOS and Linux.
To convert FLC files to MP3:
Download and install Wondershare UniConverter on your device.
Launch the program and select "Audio Converter" from the left navigation panel.
Click on "Add File" and then proceed with importing the FLAC file you want to convert from your PC. Alternatively, you can simply open the folder containing the file and then drag and drop it into the program.
Click on "Output Format".
Click "Audio" and then select "MP3" from the list of available formats in the left pane.
Choose the quality you prefer (128 kbps, 256 kbps or 320 kbps).
Set a destination folder in the left pane.
Click "Convert".
Wondershare UniConverter is extremely popular and for good reason. First, it will automatically reduce file conversion size when all queued files cannot be converted.
Secondly, if your computer is running slowly in a concurrent conversion process, the program will intelligently load FLAC files based on file size or frequency and wait for completion before loading the next batch.
Furthermore, Wondershare UniConverter is designed to preserve the original unmodified audio quality for all output formats. This ensures perfect sound quality whether you want to play the MP3 file on your iPod or transfer it to your smartphone.
(b) MediaHuman Audio Converter App
MediaHuman Audio Converter presents one of the simplest ways to create your MP3 collection from your FLAC playlist. Whether it is converting FLAC to MP3 or other audio formats, it keeps the original sound quality with no added artifacts. The program interface features a tabbed layout that can be easily navigated. It is also 100% free.
To convert FLC files to MP3:
Download MediaHuman Audio Converter.
Open the converter and click the "Add File" icon in the upper corner of the window.
Choose a FLAC track or folder that needs to be converted from your hard drive.
Select an output format (MP3).
Specify a destination folder for saving all converted files.
Start the conversion by clicking the "Convert" button.
There are a couple of features that distinguish MediaHuman Audio Converter from other converters. Specifically, it supports batch processing with multiple file formats at the same conversion stage.
This means that you can convert your favorite track from FLAC to MP3 and at the same time convert another file from MP4 to WAV. You also have the option to change the audio quality up to 320 kbps.
(c) Audacity
Audacity is both an audio editor and a digital audio workstation. As an audio editor, it allows you to edit audio using cut / copy / paste techniques. As a digital audio workstation, it allows you to convert audio files between various formats. It is compatible with Windows, macOS, Linux and other operating systems.
Here is how you can use the program to convert FLAC to MP3:
Download and install the program on your computer.
Select "File" from the toolbar, then select "Open" from the drop-down menu.
Locate the file you want to convert and click "Open".
Click "File" again and select "Export" from the drop-down menu.
Select "Export as MP3" from the Export submenu.
Type a name for the file you are about to create, then click "Save".
With Audacity, you can edit the newly converted MP3 file even more extensively, for example by cutting certain parts without compromising on quality.
2. Web-based tools
(a) Docspal
Docspal transforms your favorite media files into the desired format and allows you to make changes on the fly. It supports all audio formats, including FLAC, MP4, MP3, WAV, AU, WMA and ALAC.
To convert your favorite FLAC music track to MP3 using Docspal:
Visit the Docspal website and upload the file you want to convert.
Select the original file format (FLAC) from a drop-down list.
Select the target format (MP3) from the list of options in the left pane.
Click "Convert". You can also enter your email address to receive a download link in your inbox.
Docspal excels in three areas. First, it has a clean interface that is easy and straightforward. Even if you have little computer experience, you will easily use the program.
Secondly, it can handle almost any conversion request without requiring the installation of additional codecs or other programs on your computer. Finally, it works well on various operating systems, including Windows, Mac, iOS, and Android.
(b) CloudConvert
CloudConvert is a handy web application that will eliminate the hassle of converting files from one format to another. It allows you to convert anything from MP3, AAC, WAV and many other formats so that you can share your favorite files on any device with a cloud storage service. This includes Dropbox, Google Drive, and email.
To convert FLAC to MP3 using CloudConvert:
Go to the CloudConvert website and upload the file you want to convert.
Click "Open".
Select "MP3" as the final format in the left pane. You can also set your preferred output setting by clicking on the wrench icon.
Click "Convert".
Unlike some of the options on this list, CloudConvert is a free service.
(c) Online Converter
Online Converter is a free, versatile and multipurpose platform that allows you to convert between a wide range of formats. You can access the service from your PC or mobile device at no cost. There is no need to download any applications.
Per convertire FLAC in MP3:
Go to the website of the online converter.
Click "Go" under "Audio Converter". You will be taken to a new page where you will be asked to upload the file you wish to convert.
After uploading the file, click "Convert".
Save your new file in a folder of your choice.
In addition to FLC to MP3 conversions, the platform also handles conversions between various units of measurement, including mass, length, area, and speed.
(d) Zamzar
Zamzar is one of the few conversion resources on the internet that gives subscription-based platforms a run for their money. It is a wonderful service that converts files to various formats for free and provides fantastic customer support if you have any problems. Furthermore, their conversion process is highly reliable, fast and easy.
Here is how you can convert FLAC to MP3 using Zamzar:
Visit the official Zamzar platform and click on "FLAC Converter".
Upload the file you want to convert and click "Open".
Select "MP3" as the target format.
Click "Convert Now".
(e) FLAC in MP3 online
Maybe your conversions won't be frequent and you won't want to install an application just to use it sparingly, probably once or twice a month. In these circumstances, the best option is to use your browser to find a credible and trustworthy website.
Most of these platforms have a simple conversion process. All you have to do is upload the file and hit the convert button.
While you're at it, keep in mind that not all platforms are trustworthy. Some may infect your system with malware and other viruses. Google reviews would be a good source of trustworthiness and trustworthiness.
Additional FAQs
Posso convertire i file FLAC in MP3 in Windows Media Player?
Windows Media Player is suitable for many things, but it cannot convert FLAC music files, at least not directly. To do this, you'll first need to burn the file to a CD and then use Windows Media Player to rip the CD to an MP3 format:
Start by inserting a blank CD into your PC's DVD drive.
Open Windows Media Player.
Click "File" and then select "Open".
Add the FLAC audio files you want to convert.
Click "Burn".
After burning the CD, click "Organize" and then select "Options".
Select "Copy Music".
Set the destination folder and select "MP3" as the desired format.
Click on "Ok".
2. Can I use VLC to convert FLAC to MP3?
Yes you can. That's how:
Launch VLC Media Player.
Click "Media" and then select "Convert / Save" from the resulting drop-down list. This will launch the "Open Media" window.
Click "Add".
Add the FLAC audio files you want to convert.
Click "Convert / Save"
Select "MP3" from the options in the "Convert" box.
Set the destination folder.
Click "Start".
Embrace MP3s and expand your collection
If you are a music fan, your ears have probably been spoiled by the high quality sound of FLAC files. But converting them to MP3 will become more and more necessary as your playlist grows and embraces more portable devices like smartphones or tablets with limited storage space.
Converting FLAC to MP3 is not only an easy, but also a useful task which can save you from having to delete all the songs that you have spent hours assembling on your device. And thanks to this article, you now know the tools to use.
Have you tried converting your FLAC files to MP3? How did it go? Let us know in the comments section below.
Further Reading:
How to convert MP4 to MP3 using VLC, Windows Media Player, iTunes
Top 5 Ways to Extract Audio from Video on Windows 10
How to convert your Chromecast into a Karaoke
How to Convert MP3 Videos Online - Quick and Easy
4 ways to convert PDF to PNG on iPhone