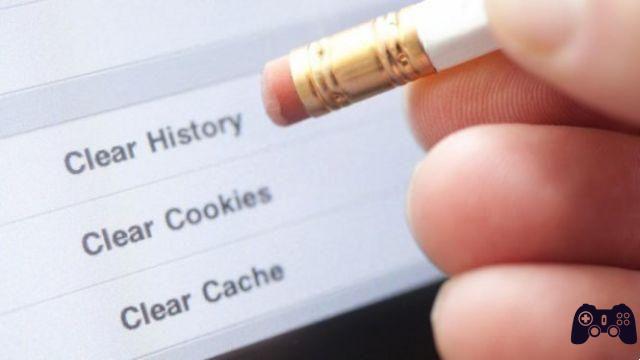 How to clear the cache of any PC, Android and iPhone browser. How to clear the cache of all major browsers. Don't let your internet history fall into the wrong hands. It's not always an easy process, but it's a good idea to occasionally delete your browser history and internet cache. Here's how to do it on desktop and mobile.
Browser history - a list of all the pages you've visited online and the time you've been there - is a modern processing standard. And it can lead to problems; it's pretty much a cliché. She thinks of the romantic "comedies" in which the girl finds a boy's browser story (because it's always a boy's) and they start arguing.
How to clear the cache on a Windows 10 computer
How to clear the cache of any browser
For most of us, sharing a PC is normal no matter if you're encrypting your emails, using Tor and VPN while browsing to stay anonymous, or if you wear a fake mustache on your desk - if someone has access to yours. devices, he can see what you have done and this is where our tutorial on how to clear the cache of any browser.
A browser can and will keep your history indefinitely. The goal is to help you find your way back to a perhaps forgotten corner of the Internet that you've only visited once. The reality is that it can be used against you by significant others, friends, bosses, subordinates, teachers, even the authorities.
But let's assume you just want some digital privacy. What can you do to hide your past visits? Cancel them. Regularly. Or perhaps the smartest move of all: make sure it's never memorized. Here you are how to remove history.
How to clear Google Play cache on Android
How to clear the cache on the PC
Google Chrome
Go to the three-dot menu () at the top right of Chrome to select Settings> Advanced> Privacy and security> Clear browsing data o History> History> Clear Browsing Data o Other tools> Clear browsing data. Or type "chrome: // settings / clearBrowserData" in the toolbar without the quotes.
One of these options takes you to the dialog to delete not only your browsing history, but also your download history (it will not delete the files you actually downloaded), all your cookies, images and cached files (which help to load pages faster when visiting again), saved passwords and more.
Better yet, you can delete just the information from the last hour, day, week, month, or all of it from the start.
Chrome doesn't offer the option not to collect your browser history, but earlier this summer Google announced that it would allow people to require Google to delete Location History and Web and App activity every three months. or every 18 months.
To do this, go to myactivity.google.com and click on "Go to your web and app activity". By default, Google will keep your activity data until you manually delete it; click "Choose to eliminate automatically "to get rid of it every 18 months or three months.
Opera
In Opera's main menu, in the left navigation bar, click on the clock icon to access History. You'll see a Clear Browsing Data button that offers nearly identical settings to Chrome's, right down to the "start of time" option. (You can also type "opera: // settings / clearBrowserData" in the address bar.)
It's similar because Opera is built with the Chromium Project engine, which is also the basis of Chrome. Opera still offers a little extra for those who want to surf the web safely: a built-in VPN option courtesy of SurfEasy, also available in the Privacy and Security settings.
Microsoft Edge and Internet Explorer
Go to the three-dot menu () in Microsoft Edge and select Settings> Privacy and security; In the pop-up menu, click the button under Clear Browsing Data that says "Choose what to clear".
Here you can delete your browsing history, cookies, delete the cache, stored form data, saved tabs, media licenses, website permissions and stored passwords; click Manage permissions and you can delete items such as sites that you have granted permission to show pop-ups.
It is not possible eliminate only a block of data from a period of time such as a day or a week, but there is the option "Always delete this [data] when I close the browser". This ensures that no browser history is stored, as long as you regularly close your browser.
Choose multiple types of data and you'll have next to nothing stored, which is fine as long as you don't enter the same passwords and 2FA logins over and over again (the price of freedom, the people).
Like Google, Microsoft keeps part of your online history. Click Change what Microsoft Edge knows about me in the cloud to visit a page for your Microsoft account where you can delete browsing history synchronized. You can also delete the history of searches on Bing.com, stored location data showing where you are signed in, and things you have stored on Cortana.
Are you still using Internet Explorer (IE)? You are not alone. To clear the history in IE11 and 10, go to the gear icon on the top left and select Internet Options. On the General tab, you can check a box next to Delete browsing history on exit or click the Delete button to instantly delete your browsing history, password, cookies, delete the cache (called Temporary Internet Files and Website Files) and more.
If you click on Settings instead, go to a History tab and make sure that history is only collected for a set number of days, automatically deleting anything older.
You have the option to get rid of your browsing history using the Favorites menu. Click the star in the top right> History tab. Here you can see the websites visited on specific dates (Today, Last week, 3 weeks ago, etc.)
Right-click to delete everything from a specific time period, or click to view and delete specific websites. If you're using an older version of IE, there are online instructions for delete the history.
How to clear the cache on Safari
On macOS, the Safari rules. Clearing the history of visits to your website is simple: click Clear history in the History menu. Then in the pop-up, choose a time frame for how long you want to delete. This is much more than that delete browser history, but also clears cookies and data cache.
Instead, you can click History> Show History to see a popup that displays all the sites you visit, then extract the sites individually, without losing your cookies and cache. Zap cookie by going to Preferences> Privacy; clear the cache by going to the Develop menu and selecting Clear Cache. If you don't have a Develop menu in Safari, go to Preferences> Advanced and select Show Develop Menu in the bottom menu bar.
Mozilla Firefox
In the latest version of Firefox go to the hamburger menu and section Options> Privacy and security. You are immediately in the Content Blocking section; scroll down to access History. Set Firefox to remember, to never remember, or to get some custom settings like remembering history, but not cookies or anything else.
This section also has a Clear History button. Click to select a time frame to clear (1, 2, 4 or 24 hours or whatever) and what data to download (history, logins, forms / search, cookies and cache).
Check the Firefox Account section while you're here - if you're signed in with a Mozilla Firefox account, your history (as well as bookmarks, tabs, passwords and preferences) may be synced with other PCs and devices using Firefox, even on smartphones.
How to clear the cache on mobile devices
Safari
On iPhones and iPads, Safari is the standard browser. In order not to record a browser history, you can simply stay in private mode while browsing. When you have a history to delete, go to Settings> Safari> Clear History and Website Data. This not only clears the history, but cookies and other things as well. Also, if your phone is connected to iCloud, it clears the history on iCloud and other devices connected to that iCloud account.
If you wish delete only data for certain sites, go back to Settings> Safari and scroll down to Advanced> Website Data. After it loads (this can take a while) you will see a list of all the websites you have visited, and probably not the you did, because it also registers sites that offer third-party cookies. Tap Edit> (minus symbol) next to each to delete, or swipe left for the same function.
How to clear the cache on Chrome
Google's Chrome browser is standard with all Android phones and is downloadable on iOS as well. In both, go to the three dots, select History, right now you are viewing the list of all the sites you have visited and that includes the history of all the Chrome browsers that are logged in to the same Google account.
With iOS, you have the option to click Edit or Clear Browsing Data at the bottom. If you click on the latter (which is the only option on Android phones and tablets), you will be sent to a dialog box (pictured) that allows the eradication of all browsing history, cookies, eliminate la cache, saved passwords, and autofill data — choose which one you want to delete. Android users have the additional option of limiting the cancellation to an hour, a day, a week, a month or the legendary "beginning of time".
Also, on iOS, there is a completely separate Google app for search (iOS, Android), with its own built-in browser. It is not possible delete browsing history within the Google app, although you can close all tabs by clicking the Tabs icon in the top right, swiping a floating window to the right to delete, then clicking CLEAR ALL. That app's search history is stored in My Activities, of course.
Should you clear the system cache on your Android phone?
Firefox
The Firefox browser is available for iOS or Android, free on both platforms. How you delete browser history in each is slightly different.
On iOS, tap the hamburger menu at the bottom right and select Settings. Scroll down to the Privacy section and select Data Management. On the next screen, you can completely disable the collection of your browser history (or caching of data, cookies and data from offline websites). Click the Clear Private Data link below to clear all of the above. Note in the Settings there is also a switch to close the private tabs, which turns them all off when you exit the browser, if you use those tabs in secret.
On Android, Firefox uses the three-dot menu on the top right. Select History to view the list, then click DELETE BROWSER HISTORY at the bottom to clear them all. If you click on the menu and go to Settings> Privacy and check the Clear private data on exit box to get the option to clear private data of your choice every time you exit the browser.
Opera
It's on iOS and Android, of course. In fact, Opera for Android comes in two versions: a standard version and Opera Mini, which sends all websites and graphics through Opera servers to compress before reading them. Opera Mini is also on iPhone and even Windows Phone.
To clear history in Opera Mini on iPhone, click on the O menu at the bottom and select History, then click on the trash can icon to delete it. Or from the O menu, select Settings> Clear to find options to clear saved passwords, browsing history, cookies and data, or to enter them all at once.
On Android, in the hamburger menu select the history and delete it with the trash can icon in the toolbar. Or go to the hamburger menu to access the Settings. You can scroll down to the Privacy section and find Clear Browsing Data… which allows you to individually delete passwords, history or cookies.
Further Reading:
How to clear the cache in Windows 10
How to clear the cache in all browsers
How To Wipe Cache And Cache Partition On Samsung Galaxy S10
How To Wipe Cache And Cache Partition On Samsung Galaxy S10 Plus
How to clear the history of any web browser