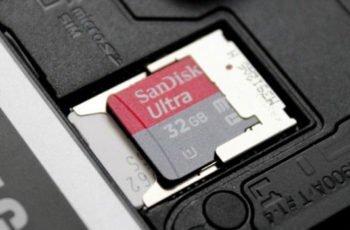 If you take / store a lot of photos, videos or audio files, the smartphone memory can fill up quickly. Some smartphones offer saving data on another memory - on microSD cards. Below we explain the differences between the types of cards and how to find them. Read on for know how to choose microSD card.
How to choose microSD card?
MicroSD cards are not the same and everything seems to be done to confuse the consumer. With our advice choose the best compromise between capacity and transfer speed to have the card that best suits the use you will make of it!
Reading on the packaging we say that we must at least have a degree in computer engineering to really know what we need to buy. We have decided to write this guide that will turn you into microSD Ninja!
First of all, a reality: there is not a single type of microSD card that has only the form factor and the connector in common. So when you buy one, you don't have to look at the size in GB, but other parameters as well. Because at worst they may simply not be compatible with your device.
What is a microSD card?
SD, sta per Secure Digital o Secure Digital Card is a format developed jointly by Toshiba, Sandisk and Panasonic in 2000. Users have been using them since 2001. microSD cards are compact and not particularly fragile, which explains their unprecedented success.
There are now several types of cards: SD, SDHC, SDXC, etc ... which correspond, in short, to different transfer speeds.
In a smartphone, do not confuse the internal SD card, a kind of hard drive dedicated to storage on the smartphone, and external SD cards.
Newer devices (after 2009) are SDHC compatible.
What is the SD card?
On smartphones, microSD cards they are used because they are smaller than an SD card, so they are more mobile and more suitable for these mobile devices. From a capacity of 128MB to 2GB, it works with all card readers. Due to its low storage capacity, it is no longer used today, except for photography.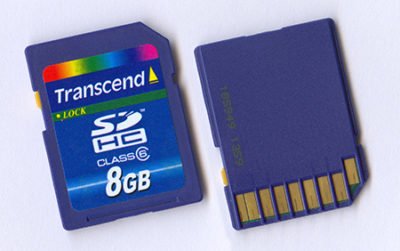 What is the SD card?
What are SDHC cards
"HC" for high capacity. This standard can handle large file transfers more efficiently. The capacity of the Micro-SDHC cards range from 4 to 64 GB. These are the most common currently, they are perfect for classic SD card use. They are not compatible with simpler SD drives, especially those older than 2008.
What does SDXC
"XC" for "extended capacity". From 64GB up to 2TB. They are compatible with previous standards, ie with readers, SD, SDHC and SDXC. Current high-end smartphones offer 128GB support.
What speed and class for a memory card?
You may have already seen numbers on these cards. These are the speed classes. From 2 to 10, this scale is used to measure the theoretical maximum speed supported by the SDHC or SDXC card. For class 2, the card can be up to 2MB per second, for class 4, 4MB / s, etc… up to 10.
In everyday use on Android, a class 6 is great. But if you transfer videos very often, for example, a class 10 card can be useful. If you want record videos directly to your microSD card on Android, so you have to buy a class 10, without hesitation. The write speed is much faster, which brings us to the UHS card.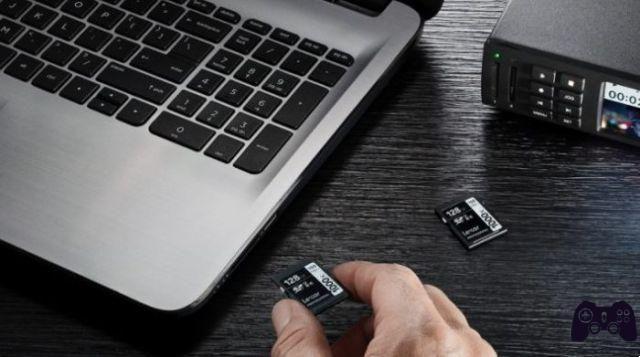 How to choose microSD card?
Schede microSD UHS – Ultra High Speed
Behind this evocative name hides a standard that characterizes the SD cards offering speeds of up to 104MB / s. For comparison, USB goes up to 480Mb / s in principle (around 60MB / s) but in practice it is often slower.
Since 2009, the name UHS-I refers to cards that can guarantee a minimum speed of 10 MB / s, which are frankly useless for most smartphone users, who just copy and paste files onto them. Like the Class 10 cards, are reserved for those who wish to record HD video in real time to their SD card.
It is important to note that this feature does not interfere with the compatibility of cards with simple SD readers, it will only be enabled on compatible devices. So you can use a UHS card on multiple devices, even if one of them is old.
How to use a microSD card on Android
It is simple, it must be inserted in the reader of microSD cards of your smartphone or "microSD slot". So let's give the device time to recognize it.
In general, it is best to insert and remove an SD card when the camera is off.
There is a sense to insert it, so if it doesn't fit, don't force it in, turn it around.
Android, allows you to store data. For example, your photos are saved on your Android phone and then you can move some app data to the card. You will find more information in this article: How to copy and move files to SD card on Android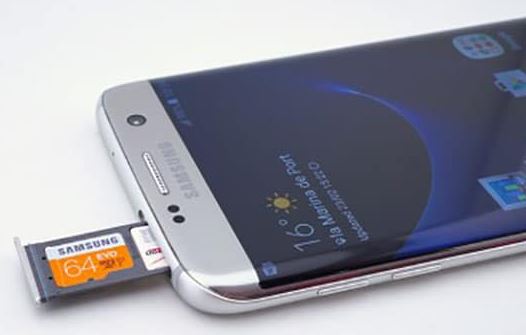 How to use a microSD card on Android
It is not necessary to buy a very fast card
SDHC and SDXC cards can operate in different modes. This is important to know because, as you will see, the price increases as the transfer speed (and of course the storage capacity) increases.
Do you want a super fast card?
It's possible an SD card will work on your device, but don't expect the insane speeds you thought you bought it for by reading the features on the box.
One of the sources of confusion is the Ultra High Speed ​​(UHS) standard, which allows the card to access a high-speed bus on the device. Therefore, SDHC and SDXC cards can include any of the following standards:
UHS-I : peak of 104 MB / s
UHS-II : 312 MB / s peak
UHS III : 624 MB / s peak
They can work on a device that doesn't support UHS, but you'll never take advantage of the advertised transfer speeds.
To confuse you a little more, manufacturers also indicate the UHC minimum speed class in a U-shaped logo. These are the minimum transfer rates that can be expected when UHS is present:
U1: at least 10 MB / s
U2: at least 30 MB / s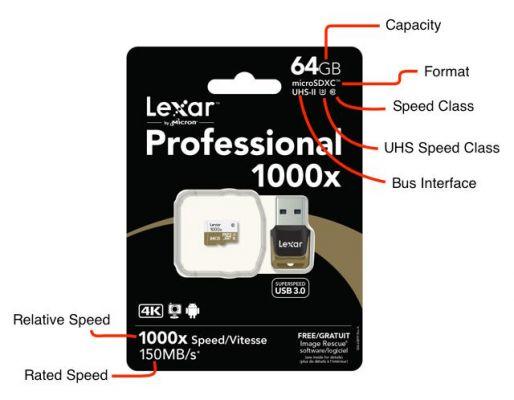 All information on microSD cards
How to choose an SD card - Conclusion
Choose an SD SDC or SDXC card, the desired capacity obviously depends on your usage. The brand doesn't make much difference, as long as it's reliable (Sandisk, Kingston, PNY, Patriot Memory, Transcend, etc…).
Note that most brands also offer multi-level cards, often there are "Pro" models.
Avoid low-quality cards, they will break and make you lose all your data.
Of course, you can aim for the best of better and take an SDXC card, make sure your smartphone supports this format.
If you are interested, do not miss our tutorial to know how to turn your external SD card into internal memory, allowing you to install any application on it.
If you don't want to waste time buying a card, there is always the cloud to host your data, but this will obviously be a problem if you use large files (eg Video to make montages).
If your phone is slow, you might be interested in: How to increase RAM on Android using SD card
Further Reading:
New microSD Express cards, as fast as an SSD
SanDisk and Micron announce the first 1TB microSD cards
3 best solutions for when SD card is not detected by PC
How to fix SD card not detected
How to recover photos from broken SD