Difficult to give an explanation of Honor Watch GS Pro. We could define it as a sportwatch with a rugged soul. In fact, the new device of the Chinese manufacturer offers everything that can be expected from a wearable at a low price. It comes in at € 249,90, but you can buy it at a discount at € 199,90 on the official website. At this figure, the Asian company has also managed to integrate all those features that would usually be typical of a smartband.
It loses the elegance of the MagicWatch but brings with it everything good Honor had done on the latter, starting from the autonomy definitely above the average. Watch GS Pro could potentially become the perfect accessory for those who practice outdoor sports and love to venture on rough trails. The solutions developed are many and all of them enhance the user experience that the device is able to offer.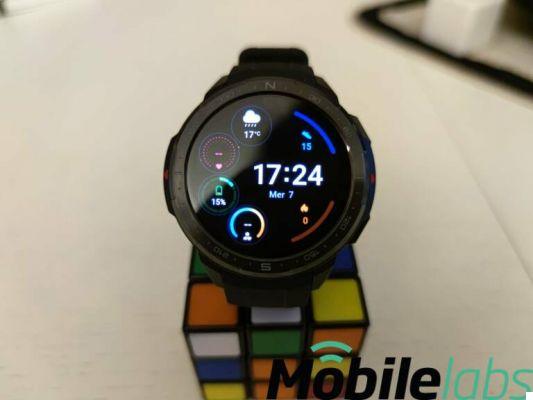 Design and fit
It is useless to hide it. Honor Watch GS Pro is a bulky smartwatch, especially for those with a slender wrist. With its 45,5 grams without strap and dimensions of 48 mm x 48 mm x 13,6 mm it certainly does not go unnoticed. In some cases, it may be annoying. It all depends on the size of your wrist.
The Chinese manufacturer has decided to abandon the delicate lines of MagicWatch in favor of a more aggressive style, which could be defined as rugged. The smartwatch in fact has passed 14 military tests which ensure resistance even in extreme outdoor conditions. The bezel of the smartwatch is made of 316L stainless steel, usually used on high-end devices and known for resistance to corrosion, acids and high temperatures. In short, you will not have to treat it with extreme attention and you can peacefully enjoy your adventures without the fear of being able to break it.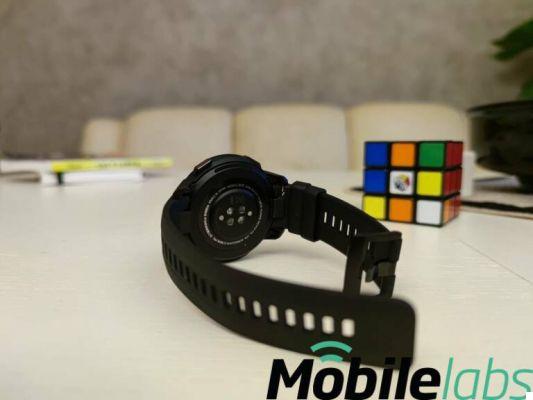 The first sensation you get as soon as you touch the Honor Watch GS Pro, in fact, is absolute solidity. The case is made of polycarbonate with a texture that echoes that of the rubber strap. The latter is quite comfortable to use and has a standard 22 mm hook, so you can easily replace it with any other you like. On the right, we find two physical buttons that are used to access the various menus. The lower one is configurable. We can therefore decide to give quick access to what we want (calls, weather, sports, etc ...).
Also promoted this time the 1,39-inch circular AMOLED display with a resolution of 454 x 454 pixels. It can be seen perfectly outdoors, has practically infinite viewing angles and excellent contrasts (essential aspect for a smartwatch). The response of the touch screen is also of a high level, allowing you to move easily in the system interface. Too bad that the glass holds fingerprints a bit.
Always-On function present which allows us to always have the main information available. In this case, however, the battery will suffer, which will drop faster. However, the smartwatch is also activated through the classic rotation of the wrist. In this regard, it is necessary to make a clarification. On my tight wrist, the smartwatch didn't always identify wrist movement and consequently didn't activate the screen.
Functionality and autonomy
Honor Watch GS Pro has a strong sporting vocation. The smartwatch is capable of monitoring over 100 training modes including swimming as it can withstand submersion up to 5 ATM. In addition to the classic sports activities that these devices usually monitor, there are sports such as snowboarding, cross-country skiing, hiking and mountaineering. There are also guided activities. If selected, a voice will guide us indicating times, pauses and rhythms. Too bad, however, that you speak only in English.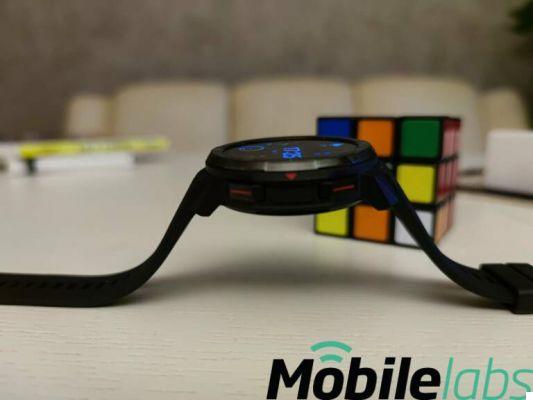 One of the coolest software features is called Route Back. Once an outdoor activity is started, Honor Watch GS Pro automatically stores the route taken thanks to the GPS (which works quite well). In case you get lost, just swipe to the right, click on the function to see a map appear that takes you back to the starting point. A function that could come in handy on many occasions. Without forgetting that it is also able to predict climate change and send a notification in adverse weather conditions.
All data relating to physical activity are available directly from the watch or from the Huawei Health app, which we have now come to know. Then there are all the classic functions such as heart rate monitoring, sleep tracking, analysis of the user's stress level and there is also the possibility of measuring the level of oxygen in the blood. I always wear a smartwatch on my wrist and the data reported by Honor Watch GS Pro were found to be in line with those of others, especially as regards the heartbeat. In short, an excellent result considering the type of device.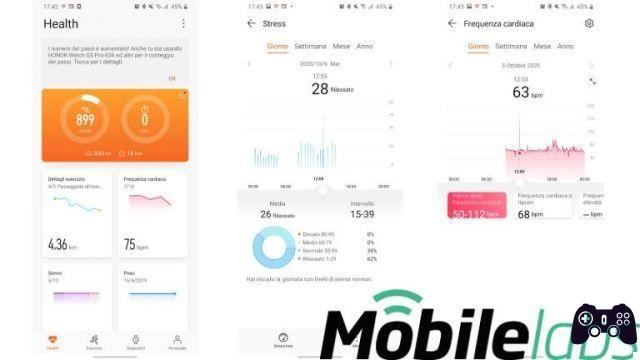 Another aspect that I really appreciate about smartwatches is the ability to manage phone calls directly from the watch. The newcomer to Honor does it thanks to the integration of a microphone and a speaker that together ensure a satisfying experience of use on call. The display shows the name (or number) of the person calling us, with a red and a green button. With the first, we reject the call; while with the second we answer and we can talk to our interlocutor directly from the smartwatch. A solution that I always find very useful.
As for receiving notifications, however, we can receive them from all the applications we want but we cannot interact with them in any way. Although it is inconvenient to reply to a message on such a small display, it may be useful to be able to reply at least with predefined and / or short answers. Furthermore, the emoticons are not displayed and the message is interrupted if too long, thus forcing us to take the smartphone. In short, the management of notifications is an aspect that - in general - smartwatch manufacturers need to improve.
Being a device designed for sportsmen, Honor has not forgotten to include solutions for music lovers. There are 4 GB of storage available where you can store up to 500 songs that we can play directly from the watch. But not only. It's possible connect wireless headphones to the watch through which to listen to the audio.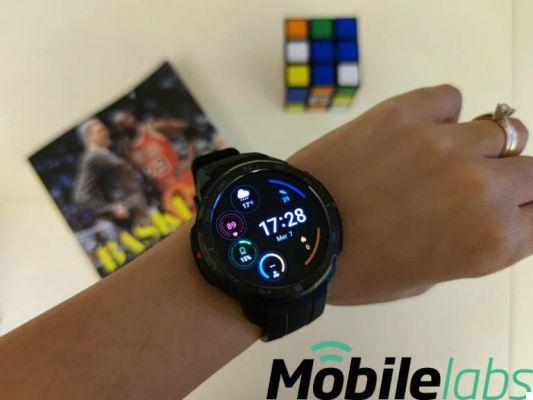 To move everything there is the proprietary operating system of Huawei (LiteOS) which - although it is less energy-intensive than that of Google and Apple - has no store from which to install other applications. There is also no system for mobile payments. Such a pity.
However, navigation within the system is fluid and intuitive with all the gestures we now know. With an upward swipe, however, you access the notification panel. With the upper key you return to the Home while with a touch from left to right you return to the previous screen or switch between the various functions. Finally, by swiping downwards, you access the quick menu from which to activate - for example - the Do Not Disturb function.
The beating heart of Honor Watch GS Pro is the Kirin A1. It is a SoC that made its debut during IFA 2019, but which continues to characterize the Honor and Huawei branded wearable devices. The chip, in combination with the 790 mAh battery, ensures a high level of autonomy. The company talks about 25 days. With minimal use it is possible to reach these numbers, while with intense use you can reach two weeks with a little residual charge. However, an exceptional result for a smartwatch, even if we expected more considering the large battery.
Conclusions: who should buy it?
The world of smartwatches is dominated by the Apple Watch, but Honor Watch GS Pro could represent a valid alternative for the Android world with some sacrifices, such as the lack of a store from which to download applications. On the other hand, however, it could be the ideal solution for those who practice outdoor sports and love to venture on inaccessible paths. The dual GPS, functions such as Route Back and the many monitorable activities make it the product to consider.
The list price of 249 euros, on offer at 199 euros, is absolutely adequate to what is offered. I would not recommend it for those with a slim wrist and does not particularly like outdoor sports. In this case, it is possible to consider Honor Watch ES, a fitness tracker with a sleeker and lighter design sold for 99 euros.