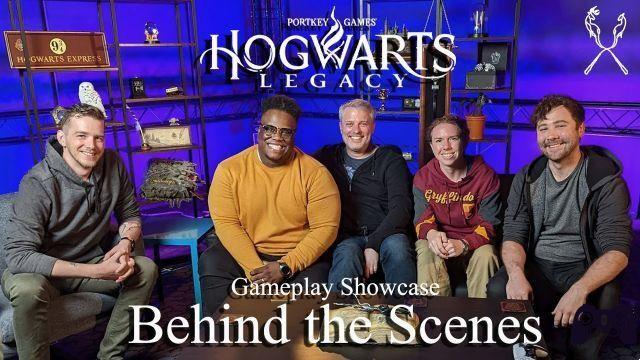 One of the main questions that Harry Potter fans ask themselves about the new Hogwarts Legacy (which you can book on Amazon) is related to the possibility that the developers will insert some canonical characters from the series into the game. Although nothing has been officially confirmed, it seems that Avalanche has decided to have fun leaving interesting clues in the footage released recently.
In a backstage video reported by XpectorGo, we can indeed see a very interesting character appearing on a screen, while the host interviews the developers. In fact, around the 7:10 minute mark of this video, we can see a battle with spells involving four students. If we start the video at maximum quality and stop the image at the right moment, we can see a red-haired character whose name is Hector Wesley.
Obviously, this is not indicative of the fact that an ancestor of the Wesleys is present in Hogwarts Legacy, since it could be a simple gimmick by Avalanche to create more hype on a title that fans of the wizard are eagerly awaiting. However, the fact that the character also appears in other scenes is indicative of a possible recurrence within the game. The hypothesis of having a sidekick belonging to the Wesley family to accompany us during our adventure seems implausible.
Also, in the canonical narrative created by JK Rowling for Harry Potter, no Hector Wesley is ever mentioned. This, on the one hand, intensifies the possibility that it is simply an easter egg inserted by Avalanche but, on the other, opens the door to a potential new world that explores characters never seen within the series. Being a game set in the 800s, in fact, the developers have the opportunity to take many creative liberties on the characters to be included in Hogwarts Legacy. February, and the release of the title, are approaching and they will be able to solve all the mysteries. Until then, we can just enjoy the videos released by the team.