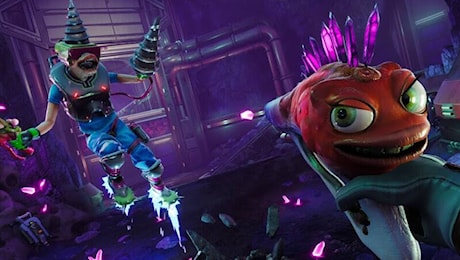 These last few weeks of the year are proving to be anything but lacking in new experiences to play. Among the latest releases there are games of the highest quality such as God of War Ragnarok, Pentiment and the very popular High on Life. This last title is making a lot of talk about itself for being the title of the moment on the Xbox and PC platforms, and thanks to this success, the author of the crazy FPS wanted to praise the Xbox Game Pass service.
It all happened recently within a new episode of the Xbox Podcast, where Justin Roiland of Squanch Games, as well as co-creator of the hit Rick & Morty series, spoke about some very important themes that made High on Life such a great debut. Roiland has spoke highly of Xbox support, especially about how pivotal the deal has been to put its latest game on the Xbox Game Pass service since day one.
The interesting thing is that Justin Roiland said that, thanks to this agreement with Xbox Games Pass, the independent team was not only able to finish the development of High on Life, but now he can also afford to bring the studio's future projects to life. "We are an independent studio. We are small. And we need a lot of loot to make a lot of even crazier and more fun games. We want our games to get out there. We want sales to go well. And I think, coupled with what I've gleaned from my research and asking different people, Xbox Game Pass has been a huge value add for the studio."
These are the words of Justin Roiland in the official Xbox Podcast, and now we are seriously eager to find out what these crazy future projects from Squanch Games will be.
Before saying goodbye, we advise you to also visit our YouTube channel, where you can find videos dedicated to the gaming world at 360 degrees.