Heply, a software agency made up of young professionals from the digital world, all under 35, announced Heply Speed, the new business unit of the company created to accompany companies in their path of innovation, as if they were startups.
Heply Speed, whose idea is based on the approach Lean Startup designed by Eric Ries, was created to respond to the increasingly frequent need of companies quickly validate digital projects and aims to limit the wrong investments by companies.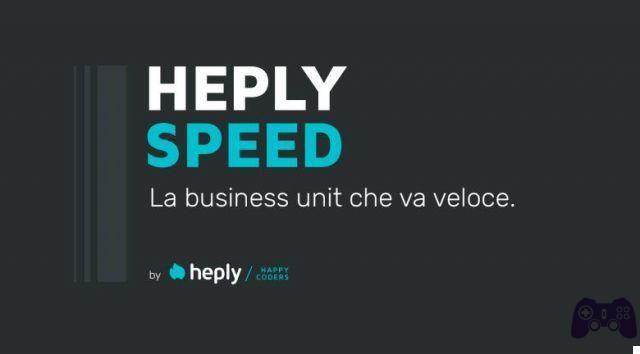 The new Hepli solution integrates Design Thinking, Agile development and Lean techniques Project Management, offering companies a quick solution for the development of innovative products even in conditions of market uncertainty.

In detail, Heply Speed ​​helps companies and organizations - and more generally any reality that relies on Heply - to rapidly validate their idea and their digital project. An example of a project launched with Speed ​​technology is Hello John, a business tool for collecting feedback from employees of an organization.
Andrea Virgilio, CEO of Heply, commented in this way on the idea of ​​creating a digital tool capable of mapping employee satisfaction: "We did not have enough information on how the market would respond and that is why we validated the tool by creating a dedicated landing page on which we generated traffic with advertising activities on digital media".

"This activity has led to the generation of leads and to collect the needs of various companies. On the basis of the information collected, we developed the tool and proposed it directly to the companies we were in contact with, thus reducing validation costs ".
Another similar tool is Goal Board, a tool designed for teams working towards goals. To make it happen, Heply has created a landing page of the service with a free version and a paid version.
Users were directed to request a trial of the free version and in a few weeks, Heply generated dozens of contacts that allowed them to collect enough data on how to improve the solution and what implementations to do to make the software more attractive on the market.

Heply Speed ​​is all about measurement of results achieved by product development cycles. In order for the metrics oi measurement criteria are valid must be usable (i.e. they must demonstrate a clear cause and effect link), accessible (the development team must always be able to access the metrics to collect, analyze and interpret them correctly) and finally verifiable (it is of fundamental importance that the data collected is credible and can be verified).
"Companies often develop digital projects with the waterfall methodology, running the risk of wasting budgets and wasting time on unnecessary functions and services. Thanks to the Heply Speed ​​approach, each company will be able to understand the needs of its stakeholders, validate the idea, analyze the data and finally optimize resources. All this in a very short time. The real revolution? Developing products and services useful to people using technology as a driver to develop them "concludes Virgilio.