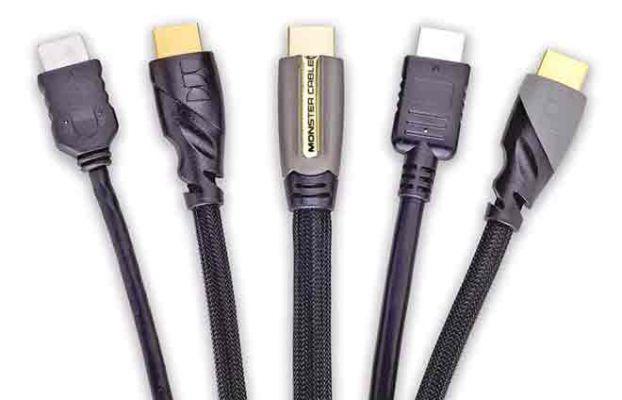 HDMI cables are the primary way to connect devices to a TV or home theater setup. HDMI cables can carry limited video, audio, and control signals. Devices that may have HDMI connections include:
TV, video projectors, PC monitors
DVD, Blu-ray, Ultra HD players
Cable / satellite box and DVR
Home theater receivers
Multimedia Streamers
Game console
PC / laptop
Digital cameras, camcorders and smartphones
Types of HDMI cables
HDMI cables provide different functionality depending on the signal transfer rate (bandwidth) and the HDMI version they are associated with.
Here are the different types of HDMI cables.
Standard HDMI cable: these cables are designed for common HDTV, cable TV and satellite TV resolutions (up to 720p and 1080i) with bandwidth capabilities up to 5Gbps. It is optimized for HDMI versions 1.0 to 1.2a.
Standard Car HDMI Cable: This type of cable has the same capabilities as a standard HDMI cable, but is used to connect portable or car DVD players and other devices to car video displays. Additional shielding is also provided to suppress interference from other electrical systems and car wiring.
High Speed ​​HDMI Cable: this type of cable is designed to handle video resolutions of 1080p and 4K (30Hz) as well as providing support for 3D and Deep Color. Bandwidth transfer rates up to 10 Gbps are supported. It is optimized for HDMI versions 1.3 to 1.4a.
High Speed ​​Automotive HDMI Cable: this type supports the same features as High Speed ​​HDMI cables but is optimized for the automotive environment.
Premium High Speed ​​HDMI Cable: This type of cable is designed for reliable transfer of 4K / UltraHD resolution video, including 4K / 60Hz, HDR, and extended color gamut. The cable bandwidth support is 18Gbps and is optimized for HDMI 2.0 / a / b versions.
Ultra High Speed ​​HDMI Cable: this type of cable includes all the features of the others with additional support for 8K video with HDR. It supports bandwidth up to 48 Gbps (transfer rate) and is less susceptible to EMI (electromagnetic interference) caused by some wireless devices. This type of cable is optimized for HDMI 2.1 version.
HDMI cables with integrated Ethernet: Standard, High-Speed, Premium High-Speed ​​and Ultra High-Speed ​​HDMI cables are also available which can support an additional HDMI Ethernet Channel (HEC). This is designed to allow multiple HDMI-connected devices to share a single traditional Ethernet connection with a broadband router at speeds of up to 100Mbps. However, this feature is not normally implemented on devices.
Types of HDMI connectors
In addition to cables, there are four types of HDMI terminal connectors, depending on the application.
Normal size (Type A): an HDMI cable with a full-sized connector is typically used to connect source devices, such as DVD / Blu-ray / Ultra HD players, computers, media streamers, cable / satellite boxes, and game consoles to TVs, projectors, and home theater receivers .
Mini size (type C): HDMI cables with mini connectors are used on standard size DSLR cameras and tablets. The end that connects to the camera or tablet is a mini HDMI connector, while the other end of the cable is a full-size connector that connects to a TV, PC monitor, or video projector.
Micro size (type D): Micro HDMI is used on smaller portable devices such as digital cameras, smaller smartphones and tablets. A micro HDMI cable has the micro connector on one end and a full size HDMI connector on the other.
Automotive (type E): A special connector for Automotive HDMI cables is available.
Combination of HDMI with selected non-HDMI connections
HDMI can also be used in conjunction with other types of connections. For example, there are HDMI / DVI, HDMI / Display Port, HDMI / USB-C, and HDMI / MHL connectors and cables if you need these options.
Which HDMI cable to choose
Other features of the HDMI cable to consider
HDMI cables may also include additional features designed to improve signal transfer between devices.
Passive HDMI cables: most HDMI cables are passive. This means that one end goes into a source and the other goes to a home theater receiver or video display and the signal is passed on. The cable is also bi-directional, which means you can connect both ends to an HDMI input or output connection. Passive HDMI cables should be able to provide a stable signal for lengths up to 15 feet.
Active (powered) HDMI cables: Longer HDMI cables may require an additional push to transfer a stable signal. Active HDMI cables contain amplifier circuits inside one of the connection heads. In most cases, power is supplied internally, but you may come across an active cable that connects an external power source via a small cable that connects from one end of the HDMI connector to a USB power source or AC adapter .
Optical HDMI cables: similar to digital optical audio connections, optical HDMI cables carry signals via fiber optic cable, in this case both video and audio. Optical HDMI cables have the same types of connection ends as other HDMI cables. An optical HDMI cable can be very thin but can transfer stable signals over a much longer distance than other HDMI cables without the need for external power.
Active and optical HDMI cables are directional. This means that one end is labeled as Source or 1 and the other end will be labeled as TV or 2. The cable must be connected in the correct direction to work.
There are also other ways to transfer an HDMI signal over long distances using wired and wireless solutions.
Tips for buying HDMI cables
Buy cables with the right connector for your devices.
Buy the right cable length. Don't buy a cable that is too long, but make sure the length isn't so short that you won't be able to move the components around enough to provide easy access to the connection.
Don't pay more than you owe. Don't pay $ 100 or more for a 5m HDMI cable. The price doesn't always reflect the quality of the HDMI cable. You don't want to buy inferior cables, but if the box has an official certification logo, they will work with reference to the other specs listed. There are good quality HDMI cables starting at € 10 per 5 meters. If you shop online, go to a reputable site like Amazon.
Further Reading:
Best 4K HDMI Cables
The best adapters from HDMI to VGA
How to connect the computer to the TV with an HDMI cable
How to connect a laptop to a TV via HDMI
How to connect Chromebook to the monitor