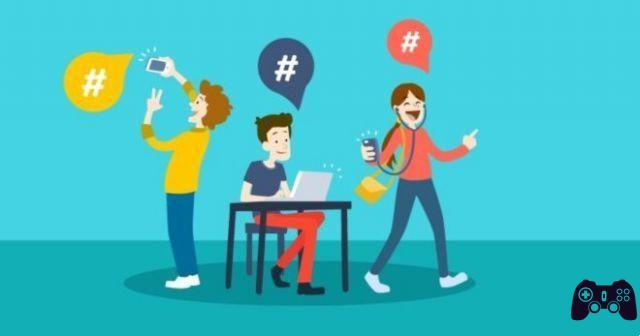 By reading this article we will learn what Hashtags are and what they are for. If you are a fan of social networks, you have surely noticed the hashtags, but if you don't know them… it is very important to know what are hashtags and what are they for? These tags are very popular on Instagram and help you position your content.
Hashtags, all you need to know
Plus, you'll know how to get the most out of these commonly known labels with hashtag, so you can turn them into world-class trends. In addition, they are essential if you want to start a business and want to make it known on social networks, with this tool it is possible.
Hashtag meaning
Hashtag is an instruction or keyword currently used by most users of all social networks. This word originates in the English language and has a Spanish translation meaning "label", but users prefer to use it in the English language.
Although you already know what hashtags are, it will be interesting to know that the first social network to use them was Twitter. Its use has become so popular around the world that other social networks such as Facebook and Instagram, among others, have also decided to incorporate it into their platform.
These labels seem very easy to place on social networks, however, very few users know how to position them perfectly. Therefore, not all of them end up going viral or trendy, in fact they sometimes go unnoticed.
If this is your case, you are in the right place because after today you will be an expert in using this powerful tool. You will then be able to share and view all the content you want in real time and on your profile.
A particularity you should know about these Labels is that they are designed with a numeric symbol (#) before entering the phrase or keyword. Another interesting fact is that you can put as many words as you like, but without spaces between them, because when you place a space the label is incomplete.
It might interest you: How to recover deleted chats from Whatsapp
How are hashtags used?
Since you know more about what hashtags are and what they are for, it's good now that you learn how use them correctly. Because, this valuable tool won't help you if you don't know how to position or use it within your social networks.
Next, you will know how to properly use any hashtag you want to use, to place content within a social network.
The first thing to do is to be clear about the content you want to highlight or become one trend to create your own hashtag.
When it is already clear what content you will be using in your label, you should know that you shouldn't use too long a sentence. If you can't reduce the sentence, you need to capitalize the first letter of each word you use in the hashtag.
Ideally, you should not enter more than 3 tags in the same post on your social network and after each tag enter a short description. This way you will attract more attention from the reader and they will know what the Hashtag you entered in that publication is about.
Furthermore, you can take advantage of the hashtag posted by other users to position yourself on your social network. To achieve this, you just need to see which tags are trending in your social network and then post the same tag, but with its description.
The last recommendation you should follow is to take the utmost care of spelling, since a simple typo in your Hashtag it would be fatal. Also, if this happens, you can lose your followers as well, because they will think that you are unprofessional and that your content is not relevant.
As you now know, these tools are very important in social networks and can help you increase your popularity if you use them correctly.
Read on: How to add more photos to your Instagram Stories
Further Reading:
How to hide hashtags on Instagram
Inflact, does it really work?
How to tag someone on Instagram
How to search on TikTok
Top 7 best Instagram story apps in 2022