Not many will probably remember Gungrave, TPS action saga born in the early 2000s on PS2 whose last appearance is an unfortunate virtual reality episode released almost five years ago. A franchise capable of producing some titles that are all in all discreet and, above all, able to offer a particularly captivating imagery, so much so that it also received a more than convincing anime adaptation. In short, something with more than one arrow to its bow and that Iggiymob e Prime Matter have decided to take over with Gungrave GORE, a title out today on PC, PlayStation and Xbox. Has this revival of Gungrave succeeded in bringing back a brand full of potential or have the adventures of the implacable Grave turned out to be out of date? After several hours of playing I can finally bring you an answer to this question.
We reviewed the game with the following PC:
GPU: Zotac RTX 3070 Twin Edge OC
MOBO: Asus ROG STRIX Z370-F
RAM: G.Skill Trident Z RGB 16GB DDR4 3200MHz
CPU: Intel i5 8600k 3.6 GHZ
SSD: Sabrent SSD 2TB Rocket NVMe PCIe M.2 2280
Keyboard: Corsair K70 LUX LED Rosso Cherry MX Brown
Mouse: Fnatic Flick 2
Headphones: Logitech G930
Monitor: Samsung C27HG 70 Quad HD 144Hz HDR
Gungrave GORE: New Enemies, Old Threat
Gungrave GORE picks up the narrative from where it was left off with Gungrave Overdose of 2004, placing itself as a direct sequel to the first two episodes of the saga released in the early years of the new millennium. Although it is therefore a sequel, the latest effort by Iggiymob e Prime Matter still manages to be all in all usable in terms of plot even for newbies, given that it presents a new criminal organization to be vanquished, even if behind everything there is still the seed, a powerful drug capable of transforming people into hideous and powerful abominations. To facilitate everything, and also to allow a refreshed narrative to all those who need it, fortunately there are short films in the main menu, which tell everything that happened in the first two episodes of the series.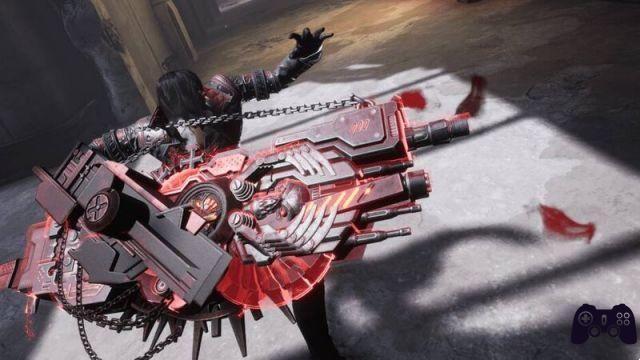 As you can imagine, however, albeit with some discrete moments, the plot of Gungrave GORE is above all the background to what is the gameplay of the game, which develops on one shooting after another. An ever-increasing spiral of bullets from level to level, in which we will be called to fight criminals, mutants, large war machines and more. All in the company of a couple of pistols, several special abilities and a large coffin to be used for close combat.
An action TPS straight from the past
The first thought I had, once my adventure with Gungrave GORE began, was that I had done A jump into the past, at a time when other drivers reigned supreme in the gaming medium. In fact, Iggymob's work literally catapulted me back to a good ten years ago, when more carefree and less committed productions on a narrative level and emotional were decidedly more abundant than now.
A leap into times gone by all in all bittersweet, in which certain things have given me excellent memories and others decidedly less good. Unlike a title like King's Bounty 2, which, although belonging to a completely different genre, had masterfully managed to capture gaming systems of the past in a modern perspective, here the mixture does not always work properly.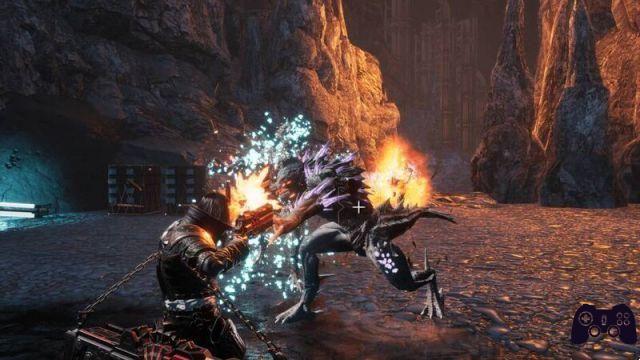 Gungrave GORE's gameplay is ultimately simple and straightforward, but still all in all satisfying. In fact, the various levels of the game take place between corridors and more or less large rooms, in which we should proceed incessantly like grim reapers, eliminating the dozens of enemies that the game will shoot at us. Sure, small variations on the theme pop up from time to time, like scenarios to complete in a certain amount of time or objectives to defend, but otherwise the leitmotiv of the game remains the same for the ten or so hours needed to complete it.
Most of our time in Grave's company will take place with your finger on R2 or whatever other command you use to shoot, with our mouths of fire that will hardly have a few moments of relief. To make everything a little more varied are the large coffin on the shoulders of our digital alter-ego, which can be used for melee combat and to send back some overgrown bullets to the sender, and, above all, the special attacks. By filling a given indicator in a HUD taken with both hands from the first episodes of the series, it is in fact possible to unleash powerful attacks with a strong cinematic impact, capable of razing almost any threat to the ground. To top it all off they are then a number of other small mechanics, such as charge shots or the ability to dash to the side to dodge some enemy onslaught.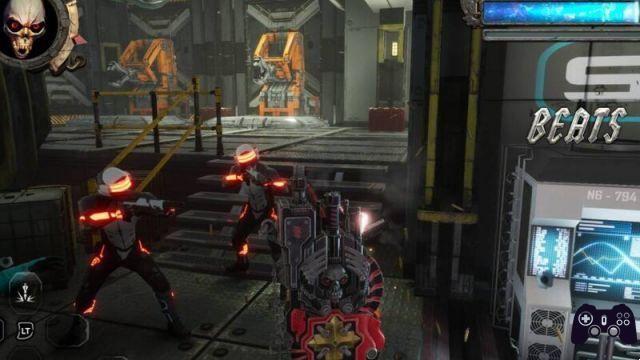 A combat system therefore in the end quite complete and capable of carry the entire war potential on one's shoulders of Grave. The problem is that, combined with the incessant pace of the game that constantly shoots us at enemy after enemy, in the long run everything becomes repetitive and not as fulfilling as in the first hours of the game. Take it in small chunks, as is understood after all given the high number of levels lasting a few tens of minutes, is therefore the best way to enjoy Gungrave GORE.
One of Gungrave GORE's big problems is its being studded, even in the early game levels, by some highly frustrating and poorly balanced sections. All this even at the lowest difficulty levels. In fact, it happens especially in the points where, in addition to fighting with the opposing hordes, you have to avoid falling off something, such as a moving train or a moving platform, or repeatedly finding yourself on the ground and in front of the Game Over screen. To make everything even more complex and prone to frustration is the fact that some of these situations are also timed, with the level of difficulty rising as a result even more artificially. I'm not joking when I say that, even in the very first hours of the game, I had to attempt certain passes dozens and dozens of times and I almost got to the point of leaving it all there. The hope, this time absolutely necessary, is that these sections are heavily reworked with some future fixes to make them less punitive, for example by removing some mines or opponents equipped with rocket launchers.
Finally, to top it all off some little RPG mechanics, strongly nested with what is the arcade soul of the title. By completing the levels of Gungrave GORE with a high score, therefore putting us little, eliminating every threat and so on, in fact, you get an evaluation and a certain number of points. These points can be used in a special menu in different ways, such as boosting Grave's passive stats or unlocking new combos or special abilities. Nothing transcendental, therefore, but a small and pleasant trick to encourage players to get a higher score and unlock more and more content by progressing with the game.
The appeal of the bullet
Technically speaking, the latest effort by Iggymob and Prime Matter is certainly not a custom-built one, but it still manages to juggle all in all well even according to today's parameters. So don't expect cutting-edge technical virtuosity, futuristic textures or who knows what else, but an honest title, which does not excel but does not disappoint either. Grave's animations are indeed successful, especially when the granite anti-hero engages in some particular dance of death, and what are the explosions recreated all in all well. Even the enemy ranks do not disappoint in terms of variety, although, given the large amount of opponents that we will face, the feeling of fighting against clones is not too unusual.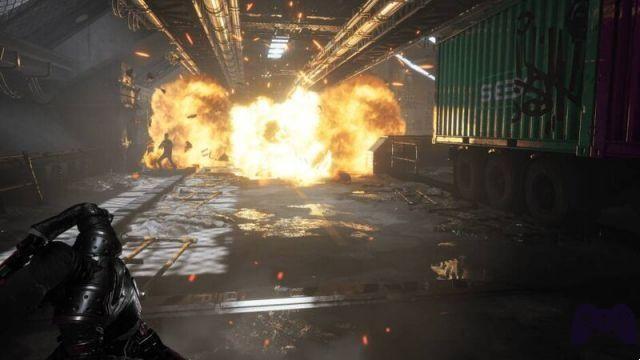 In short, if on the technical side Gungrave GORE is a work without infamy or praise, on the artistic one the title of Iggymob has a few more cards, starting from the stylistically charismatic protagonist. Grave, thanks in part to his signature arsenal and his impeccable aplomb in sowing death, in fact, it manages to take everything up a notch, even in the less inspired levels. The extra quid of the title, needless to hide it, in fact lies in the taciturn reaper, a character edited by none other than Ikumi Nakamura and which, as we have also seen in the dedicated anime, is capable of not disfiguring even in other media.