When I booted Gunfire reborn for the first time, or thirty hours before concluding it, I didn't know at all what was in front of menor why it attracted me so much. I had no idea what she could offer me, I didn't know what she had to say and, above all, I had never heard of her. I informed myself on Steam, looking for news about it, reading the reviews and then, starting it, I found that I wasn't going to do anything else all week.
Initially I had looked for the simplest explanation, bringing up the unknown, the only force capable of offering happiness and bliss, but I hadn't taken into account the unpredictability, which can bring suffering and sadness beyond measure. Despite this, however, Gunfire Reborn is a video game that fortunately ranks in the first case, as Hades did at the time of him, now two years ago. However, unlike the Supergiant Games masterpiece, Gunfire Reborn is an FPS that combines not one, not two, but three souls inside, enhancing them all in an original and intelligent way and consequently choosing a very different approach from many other productions present on the market.
When we analyze a video game, we often can't talk enough about the personality of a work, and it's a shame, because video games like Borderlands survive in today's market mainly thanks to their crazy and atypical features. Originally released on PC and mobile, Gunfire Reborn is a video game developed by Duoyi Network, a Chinese team that in its history boasts a single work that responds to the name of Eternal Magic, a free-to-play game available only on PC but not has been successful, not even intriguing passionate MMO players.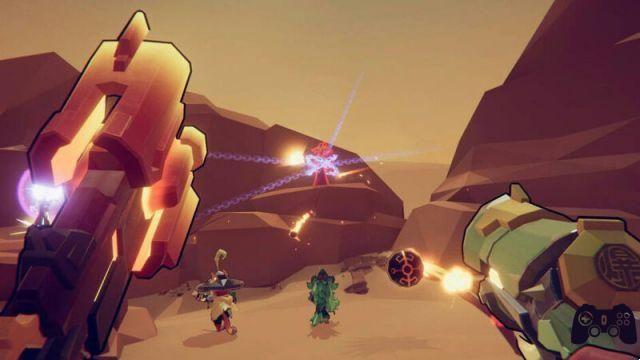 Gunfire Reborn, unlike Eternal Magic, is a very different video game from all points of view, as well as considerably more ambitious, inspired and better built. because it is one of the productions that no one immediately notices because they are overshadowed by more illustrious names. In this fiery October, to be precise, we are perhaps too saturated with proposals: if on the one hand Batora: Lost Haven comes out, on the other Gotham Knights presents itself with all its problems. And so on, as is inevitable, because video games never stop. However, Gunfire Reborn has nothing to tell, except when it's fun to shoot anything that walks and breathes. On the other hand, we are returning from DOOM and Halo Infinite, from incredible works but also from video games that have disappointed us and left us with a bad taste in our mouths.
Before trying a production, one often wonders what is in front of us, perhaps assuming which genre it could belong to even before discovering it on the official page of the various platform stores. It's a natural behavior, because on the other hand it happens with many other forms of art and with many other media. Gunfire Reborn, I admit it, I thought it was one of the many productions that tries to get out of the ordinary but perhaps gets lost due to a deficient and uninvolving game design, which wants to try to be different and original but doesn't fully succeed because it exaggerates, resulting even cloying. And so I thought until I investigated properly.
No story, but a dream context
How many of you out there know Kung fu Panda, the famous animated film produced by Dreamworks appreciated by critics and audiences, by young and old? Here you are, Gunfire Reborn captures this inspiration by proposing four anthropomorphic animals as protagonistseach of them with its own characteristics. They are characters capable of understanding, of wanting and, above all, of killing anyone who threatens or attempts to kill and abuse the weakest, and they have no qualms about using the hard way when necessary.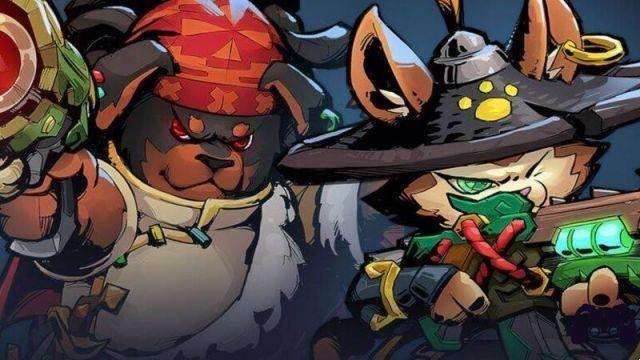 Our adventure, in fact, began right away. And the video game was clear from the beginning: there is no plot, there is no story of any kind and there is not even a lore. There is just a unique backdrop inspired by China in its heyday, which has seen dynasties follow one another and new symbols rise above the Great Wall and the Imperial City.
Just like Wo Long Fallen Dynasty, Gunfire Reborn makes itself known thanks to its loyalty to Chinese mythology, one of the most complex and difficult in the world to understand and absorb. Its inclusion is an enjoyable as well as spot-on result, because it made it possible to relive exciting situations and moments during its discovery, in particular during the first three levels of the game, which gave the opportunity to fully understand the spirit of the work in its entirety . As I mentioned before, Gunfire Reborn focuses everything on a context that is explored as one progresses inside, which is enhanced by excellent visual quality and a detailed design of the various protagonists. In this sense, Gunfire Reborn has masterfully written dialogues that are translated appropriately and spot on. Furthermore, in the tavern it is possible to stop, rest and also view the weapons collected during the vicissitudes around the production levels.
There's also a compendium dedicated to all the weapons, which are not as superior as those present in Borderlands 3 but are still substantial in many respects. Therefore, by choosing a similar approach, Gunfire Reborn offers an all-round context that fully reflects the spirit of the team, which has not renounced to design a work that does not go too far beyond its comfort zone but which is at the same time well structured to offer a pleasant and enjoyable imagery. China has always been as much a mystery as Japan is, with the only difference that the former is only recently becoming fashionable, and it is mainly due to Genshin Impact.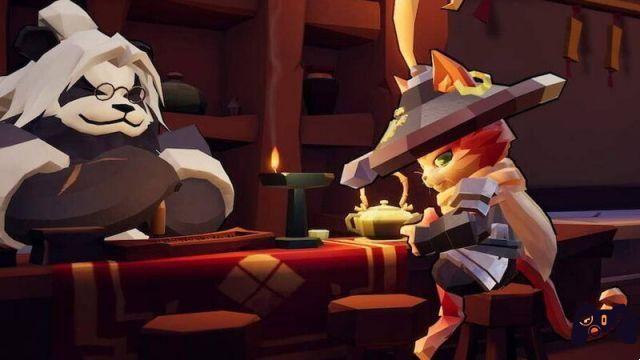 If with Sifu, in fact, the player had a sprinkling of Kung Fu and classic Bruce Lee tones, in Gunfire Reborn the focus is on Chinese tradition and mythology. Gunfire Reborn, taking advantage of this context, puts the player at ease by giving him the opportunity to live an experience out of the ordinary, capable of leaving you speechless, thrilling and entertaining from start to finish also thanks to the context. The Duoyi Network production gets to its goal with simplicity, and it does so especially when the only solution to total victory is shoot, spplow and still shoot.
The follies of Gunfire Reborn
Gunfire Reborn, for those who haven't figured it out, is a fps loot and shooter with roguelite elements. The game world extends into rooms to explore and free from the hordes of enemies that occupy them, researching more powerful weapons, sacred objects capable of winning and precious skills useful for perfecting your build. The gameplay of Gunfire Reborn is simple, essential but made with accuracy and skill, because it manages to fit each element in a unique and original way, qsomething that very few studies have succeeded in recent years. The roguelite dynamics, which fully represent the very nature of the work, are well represented and offer a greater challenge as one progresses from room to room.
Each one, in fact, changes shape when you die. The enemies are always the same, though each loss strengthens our character as much as their ranks. Having reached the fortieth degree after a lot of effort and a lot of effort, I managed to reach the final boss of the game fully armed. Gunfire Reborn, thanks to a very solid game design, however, he is not satisfied with little, and exaggerates by taking inspiration from Borderlands gunplay, succeeding in the complex experiment of uniting all its souls in a complete, well-crafted and, above all, enjoyable and fun video game from start to finish.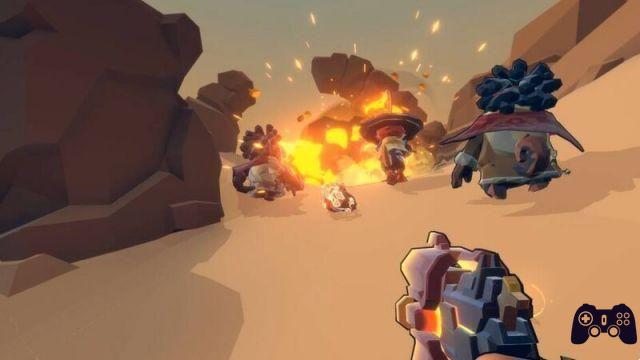 Thanks to a clear and intuitive interface, the rhythm of the clashes always maintains a worthy level of spectacularity, with sometimes chaotic clashes, explosions and many deaths. I've often pinned down an enemy using a spell, and on another occasion I've used poison grenades to lower their vitality points. I dodged attacks, jumping from side to side, concealing my position with smoke grenades and hitting him mercilessly, using the random weapons that were dropped by the enemy or that you found inside the various treasure rooms.
Inside them I found weapons such as the Hippo, a weapon that fires bursts of bullets to lower the enemy's shield just like in Borderlands. Each weapon has its own strength capable of instantly killing those in front of us. In each level, then, there are a craftsman and a merchant: the first, in addition to giving the opportunity to forge a weapon, can improve those that you have equipped. The merchant, on the other hand, offers new and more powerful weapons, in addition to bullets, grenades and the possibility of acquiring life points to proceed in the rooms, each procedural as well as approachable at will.
The best tips for survival, on the other hand, they are the same as they were for Hades: reading every line of dialogue, every object and every weapon is essential to improve, increase and give your build more strength and protection. I have always preferred elemental weapons, for example, which prove to be especially useful against groups of more complex enemies to manage. Therefore, expecting a low challenge level is fallacious, since there is a pre-established difficulty and there is no difficulty selector at the beginning of the adventure but only in the middle, which may alienate some players. It is a risk, however, that is worth taking, even if there is an insurmountable wall ahead, which however must be overcome with application and training. In the first two areas I had to tailor my builds to enemies and bosses, figuring out how to handle situations and then focus on them later. It wasn't easy, mind you, but in the end I won and defeated anyone who prevented me from advancing. Gunfire Reborn, without too many turns of the word, could be addictive: I'm not kidding, is truly a video game that might make you want to do nothing else for fifteen, twenty-five or thirty hours.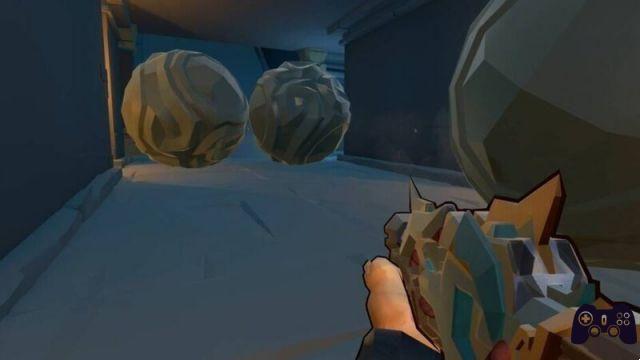 If played in company, it becomes another video game: chaotic like Borderlands but fun like the most famous multiplayer shooters. Its multiplayer sector, having reached the thirty-five degree, gives the opportunity to devote oneself to the daily challenges, which allow you to face the levels again at a higher level of difficulty. In addition to being an addition that offers great replayability of the experience, it's definitely the best way to enjoy the Gunfire Reborn experience.
A graphic style that never gets old
Just like Gearbox Software's Borderlands, Duoyi Network comes with detailed and enjoyable cel-shaded graphics, proposing environmental designs and first-order polygonal models, optimally implemented within the production.
Considering that the Chinese team offers anthropomorphic animals as the protagonists of the Gunfire Reborn events, the best option could only fall on a more cartoonish graphic style. A choice that I appreciated especially during the discovery of the entire experience, which presented impactful places and environments. I've visited tombs, I've been in the desert and I've traveled through remote jungles, and for the entire thirty-five hours I've spent on Gunfire Reborn I haven't felt a moment of boredom, because everything is absolutely managed to press the player and get him out of his chair.
Despite the sixty frames per second on Series X, Gunfire Reborn is the victim of some technical stumbling block, such as poorly finished textures and interpenetrations which, however amusing, could annoy the most demanding players. Ultimately, Gunfire Reborn is proposed as an alternative to the classic isometric roguelites on the market. It turns out to be a production with a purpose, which it achieves with flying colors and entirely satisfactorily. In fact, shooting has never been so much fun. Even against terracotta men. Especially against them. Moreover, we remind you that from October 27 Gunfire Reborn will be added to the Xbox GamePass catalog.