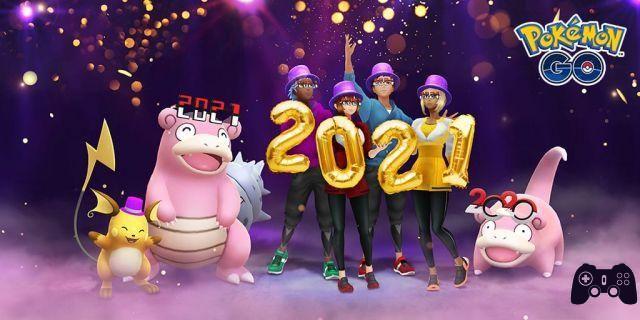 There are only a few days left until the new year arrives (but I don't want to put pressure on you). As usual Pokémon GO does not miss the opportunity e takes part in the festivities in his way.
Some return Pokémon in costume and new ones arrive, and with them also new ones avatar objects for us Coaches. The event will last only a few days, to then give way to those of January and the rest of the in-game season. Meanwhile, enjoy the New Year celebrations, from December 31st to January 4th.
Pokémon in costume
How to get them
Pokémon in costume
New this year is Slowpoke, who will wear a pair of 2020 glasses for the occasion (the same ones you can buy in the store for your avatar since last New Year). While costumed Pokémon are usually not evolvable, Slowpoke makes an exception to the rule. Slowpoke with glasses will in fact evolve into Slowbro with 2021 themed glasses.
Another pocket monster that you can meet in costume is Pikachu, who never misses an opportunity to party with a new dress. He will wear a special festive top hat, and he too can evolve into a Raichu with the same hat.
To wear a party hat they will also be Raticate, Wobbuffet and Wurmple, almost all of them returning from the past except Wobbuffet. The trio will be present in level 1 raids alongside Klink and Espurr (these without caps). Last return finally Eevee, which can only be encountered as a reward for field research.
How to get costume Pokémon
Niantic just doesn't want us to miss a very rare Pikachu in costume. In order not to abuse this fresh novelty, Pichu with a party hat will hatch from 2km eggs, but it is not clear if you can evolve it. Alongside him also Wynaut and Slowpoke. While Wobbuffet's baby Pokémon will not have a costume, Slowpoke can only be encountered with 2020 glasses.
Let's summarize where to meet these rare and unfailing friends:
Slowpoke: wild, field research, level 1 raid, 2km eggs.
Pikachu: wild, field research (2km spawning pichu)
Raticate, Wurmple, Wobbuffet: level 1 raid
Eevee: field research
If you're not interested in these costumed Pokémon, that's good the event also brings with it some bonuses. In fact, hatching the eggs will yield twice as much candy and stardust as usual. The distance required for hatching will also be halved, but only if the egg has been placed in an incubator after the start of the event. These bonuses apply naturally to any Pokémon that hatch from the egg.
In the shop boutique they will finally be added new holiday items for your avatar. This is a pair of 2021 glasses and a party bowler hat, available in the store as early as 22pm on December 30 (hopefully something will be free). Always added in the shop also gods themed packs, which will however be purchased with Pokémonete.