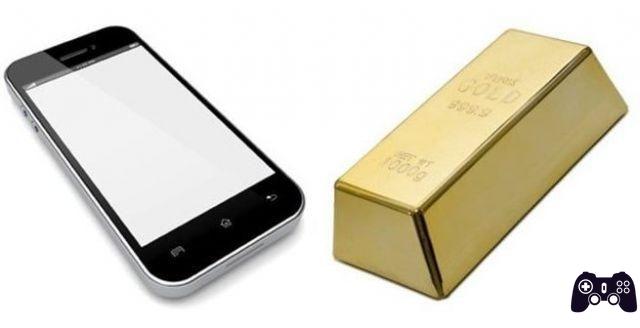 There are several guides and tutorials that show you how to recover gold from electronic devices. It might seem absurd, but from old smartphones it is possible through accurate operations to be able to extract the gold present between the electronic gears.
The presence of gold in electronic devices is entirely natural, as it is a great material electrical conductor essential for the use of all electronic devices, such as computers or smartphones.
There are many companies that offer particularly advantageous offers, with the opportunity to be able scrapping an old cell phone.
It is through this expedient that companies are able to resell cell phones or even manage to place it in other companies that deal with the recovery of materials to be recycled.
Is it better to recover gold from smartphones?
Without a doubt the recovery of gold from electronic devices definitely worth it.
In particular if carried out by specialized companies, being qualified and equipped to be able to quickly and easily recover the precious material present inside a computer or smartphone.
Companies dedicated to recovery of gold from electronic devices have a large and continuous supply of such devices. By recovering any type of device, recycling companies of all special waste can afford a double profit to recover both gold and various others recyclable materials like plastic or iron.
Research from the University of Edinburgh has shown that the copper in a smartphone exceeds at least 800 times the gold content, and therefore one of the first challenges is to be able to remove it without damaging other materials or precious metals contained in the smartphone.
300 tons of gold for making electronic devices, and just 7% of gold is found in electronic waste such as cell phones, televisions and computers.
The precious metal is contained in the video cards, in the USB ports, but also in the antenna and in the connectors near the battery.
How to extract gold from old smartphones?
There are many who try to obtain a source of income by recovering the gold present in electronic devices thanks to DIY.
But to be able to obtain a considerable economic return you will need to have a fair amount supply of electronic equipment, also considering that the recovery of gold is a long and dangerous operation even for the human body if special safety precautions are not taken.
Those who are familiar with disassembling all the technological devices have no difficulty in extracting the gold contained in the gears, however, having to pay great attention to separating the gold from the residues using specific chemicals.
To start gold recovery operations on smartphones, it is first necessary to identify which parts are in gold, distinguishing them from the parts that contain a trace of them.
The recovery of parts completely in gold is quite simple and fast, while for the components that contain a trace of it, the operation becomes long and complicated, since they require the use of chemical products necessary to separate the gold from the other components present in the smartphone.
In order to proceed with the recovery of gold from your DIY smartphone, you need to have several essential aids such as hydrochloric acid, distilled water, urea or sodium metabisulphite, gloves, syringes and jars.
We proceed, as already mentioned, by disassembling the smartphone entirely especially in areas where gold may be present both visible and in single traces. And then proceeding by disassembling the bases, that is the green plates crossed by the filaments for the conduction of electricity that allow the electrical circuits to communicate with each other.
Such electrical circuits consist of a thin layer of gold and precisely for the separation of gold from the sideburns, they will have to use chemical substances composed of a mixture of nitric acid and hydrochloric acid.
The mixture for separating and recovering gold is made up of 70% of nitric acid and 30% hydrochloric acid.The compound will help the gold to dissolve and then be filtered with a syringe to be able to separate it from the presence of different impurities.
Thanks to the use of a spoonful of urea, the acidity present can be eliminated and within a few hours the small gold particles will tend to settle on the bottom, ready to be subsequently refined.
Finally the distilled water can be used for rinse gold from acid used to recover every gold particle. By letting the liquid evaporate, a brown-colored powder can be obtained, that is pure gold.
Surely the gold obtained by completely disassembling a single smartphone is really small, so to obtain a substantial profit it is necessary to have several electronic devices, as well as being particularly fast, meticulous and practical.
A single smartphone would be able to generate only 1/3 of a gram of gold for a really low value. However, this process would only make sense if considered on a large scale, by collecting a considerable number of electronic devices in order to carry out the do it yourself gold recovery operations.
In the event that you are in possession of, for example, a dozen or twenty telephone sets the game could be worth the candle, but only if you are an expert in the sector and those few grams of gold obtained could you change them from a I buy gold for a hundred euros.
Furthermore, a further detail that should not be underestimated for the possible convenience of the operation is the economic value of the gold market, as well as considering the time taken to recover the gold and the costs of the chemical reagents used to extract it.
Further Reading:
Install Xperia 10 Launcher on any Xperia smartphone with Android Pie
How to remove a phone from the Google Play Store?
How to convert EXE to APK
How to delete old user accounts in Windows 10
Download Samsung Galaxy S10 Ringtones for Any Android Phone [Updated]