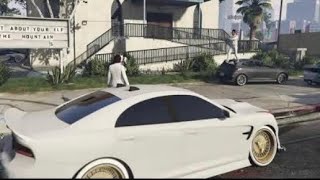 It's not the first time this has happened just as it won't be the last. A group of GTA Online players has in fact decided to organize a funeral within the gigantic multiplayer game produced by Rockstar Games. The whole thing was made to pay tribute to the untimely death of an American rapper called Takeoff, who passed away on November 1, 2022.
The tribute was held yesterday and is extremely well done. All players wore elegant white suits to attend the ceremony. Immediately afterwards they changed into dark suits, to participate in the "refreshments", as per tradition for US funerals. All with decidedly stringent rules, including a procession to be followed taking care of road rules, such as red traffic lights and right of way.
Takeoff's great popularity prompted players to organize such a funeral. The rapper is in fact very famous in the United States of America, especially after the collaborations with Nicki Minaj and Cardi B. The musician was killed on November 1, 2022, in a shooting that took place in Houston, Texas. The community obviously didn't stand by and decided to pay homage to the singer and musician who is a member of the Migos trio with the organization of this huge tribute, of which you can see the video just below.
If all this happened in GTA Online, it is also true that in other MMOs the same thing has been done for several years. In fact, it is not uncommon for players of a certain game to meet to pay homage and commemorate others deceased players or even members of the development team of different games, as well as the titles themselves. All this is possible thanks to the formula used by these games. Keep following Tom's Hardware for all the news and upcoming announcements from the world of video games.