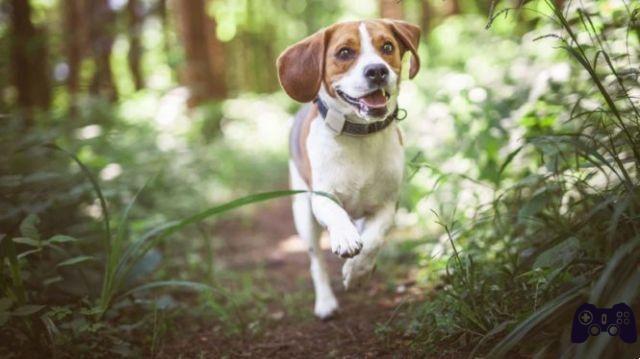 Pets are the most important members of our family, they love us unconditionally, they keep us company and offer us considerable emotional support. Their presence not only gives us joy every day, but greatly reduces our stress levels, fills the void that may exist in our life by reducing the sense of loneliness we can feel, makes us more sociable and helps us to maintain an attitude always. positive as well as entertaining us and making us happy.
Our animal friends like to play, explore and browse and sometimes, but unfortunately too often, they can lose their way home. They can also be kidnapped in some cases. Therefore very often we are haunted by the fear of being able to lose our faithful friend.
Although electronic chips are quite popular, their function is generally limited to providing basic information and nothing more. It is much simpler, more practical and convenient to be able to identify without problems the exact position of your dog or cat at any time of the day.
The good news is that there are excellent tracking devices on the market specially designed for our animal friends designed and manufactured with the best technologies. Furthermore, these are devices that offer a wide range of functions.
Choosing the best device and application is essential in addition to the fact that it is essential to install the correct application that can fully satisfy your needs and requirements. This article is intended to give you 10 important tips, which you should follow, before making any decisions regarding the ideal application to meet your needs.
1. Localization in real time
If you really need a tracking device for your dog or cat, you will first need to look at the features and reviews left by various buyers about that specific application. You will need to purchase a GPS tracking device that is equipped with the features and specifications necessary to meet your needs.
The device in question will also need to have a real-time localization so that you can monitor the movements of your four-legged friend at any time of the day. In fact, the most modern localization devices allow you to set up a virtual "fence" using the map made available by the application itself.
2. Dimensions of the tracking device
The size of the tracking device plays an important role in determining the comfort level for your faithful friend. The device should not be too large and should fit smoothly onto the pet's collar. However, it is important to always keep in mind that a tracking device designed and built for large animals may not be suitable for small animals.
3. Waterproofing
Any modern tracking device made with the most advanced technologies must be completely waterproof. The fact that it is water resistant implies that under no conditions this type of device will allow water to enter it. If the tracking device is not completely waterproof, the application may stop working when the device is accidentally submerged in water.
4. Monitoring of activities
One of the main functions of a GPS tracking application is that it allows you to track your pet's daily movements and activities.
This feature can be especially useful if your dog or cat is recovering from a minor injury or something more serious. By monitoring his daily activitiesand, you can easily modify the daily program you have designed for him such as the time and portions of meals, the time you spend playing with him, the training program and much more.
When you are not at home, this function allows you to monitor the activities of your four-legged friend at home as well as send you notifications if there are any problems. You can also see if your dog or cat suffers from loneliness or tends to wander aimlessly for any reason.
5. Set up a safe zone
Some GPS trackers also allow you to set a "safe zone" for your four-legged friend, in this way you will be immediately warned if your dog or cat should leave the perimeter you have set on the device. This feature is especially useful for those animals that tend to go outside as soon as they get the chance.
6. Localizzatori RF
RF or radio locators have been in use for several years now. Although they were initially used mostly for hunting dogs, today they are used to locate and monitor various pets. These types of devices generally tend to perform very well when staying within their range.
7. GPS locators
La localization via GPS it is the latest technological innovation with which most of the localization devices on the market are equipped. This type of devices have a greater range of action than RF locators and allows you to monitor the movements of your faithful friend at any time and place.
Other important features of a GPS tracking device are for example the fact that it is able to provide satellite images, monitor the animal even inside the house ... etc ...
8. Pet-friendly
Both the design and the features and functions of an animal tracking device must be pet-friendly. Furthermore, the device must also be suitable for those animals that live mostly in the open air.
9. Price
Price is also an important factor in choosing the ideal pet tracking device for your needs. Many devices on the market are quite expensive, but always remember to choose the device that best suits your needs. Some of the more popular tracking devices offer a free trial period for the GPS tracking service.
10. Battery life
The device should be equipped with a good quality battery that needs to be recharged less frequently. Therefore, battery life is an important factor that you should take into consideration when choosing which tracking device, among the most modern on the market, is best to buy.
The device must be easy to use, moreover when you have to choose the ideal tracker for you you will also have to take into account other important factors such as the fact that it does not prevent your dog or cat from moving, that it has a battery that lasts a long time, is equipped with modern and avant-garde technology and functions, has a certain range of action and a certain subscription cost.
Further Reading:
Seven offline map apps to travel and never get lost even if you stay offline
Should you clear the system cache on your Android phone?
Cheap Samsung Galaxy A71: where to buy it at the best price
The best controllers for PC
The best drones