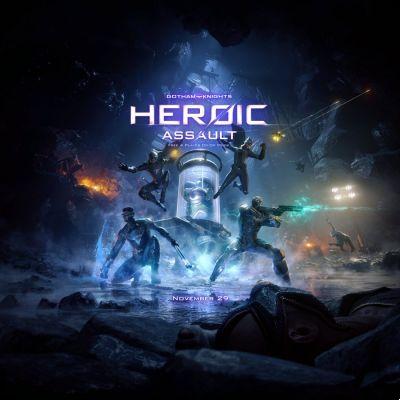 It's been several weeks since Gotham Knights was launched, and although the title set in the Batman universe has not been extremely acclaimed, there are several fans who have given this title more than a chance. Now, the development team has announced a series of upcoming innovations that will appeal to players, and among these new contents we find both a very particular new villain and the expected co-op mode to four players.
The announcement of the arrival of new content within Gotham Knights came a few hours ago, when a post was published on the game's official Twitter introducing us to the new Heroic Assault mode. It is a cooperative mode that will allow up to four players to take part in a series of fights and challenges each as one of the heroes in the game: Batgirl, Nightwing, Red Hood and Robin.
The Heroic Assault mode is not linked in any way to the single player part of Gotham Knights (you can buy it on Amazon), which will remain something of its own, but that's not all. As we can see from the new artwork posted on Twitter to announce the news coming with the next update, we can see the presence of a very particular villain. It's about Starro the Conqueror, the alien creature that is shaped like a colossal starfish.
A challenger from the stars arrives in Gotham tomorrow. Don't miss the free update for Heroic Assault tomorrow at 8AM PT. #GothamKnights pic.twitter.com/UD4xt5di3j
— Gotham Knights (@GothamKnights) November 28, 2022
We arrive at the latest information relating to these novelties, or the launch date. The new update for Gotham Knights, which will add all the content mentioned above, will be released this afternoon starting at 17:00. So here we go, if you've been hungry for new things to do within the Bat-Family game, get ready today is going to be the big day.
Before saying goodbye, we advise you to visit our YouTube channel, where you can find videos dedicated to the gaming world at 360 degrees..