What are the best gaming wheels? Gaming steering wheels they are essential to increase driving sensations and the total sense of immersion that the best racing games are able to offer. However, the one in question is an incredibly technical and complex sector, which should be properly explored before attempting to purchase a complete set. The models that the various renowned companies have put on the market are in fact many and are suitable for every range of users, from neophyte explorers with a great desire to start, to the most geeks with an unlimited budget who do not set themselves any limits and bet everything on build quality, cutting-edge design and comfort.
Therefore, in this article we will suggest different options for each category of user, in order to facilitate you and direct you towards the product that best suits your needs; moreover, if you want to combine one of these steering wheels with excellent racing games, you will find a nice list of titles HERE.
The best gaming wheels
Thrustmaster T-GT
Thrustmaster TMX
Hori RWA Apex
Logitech G29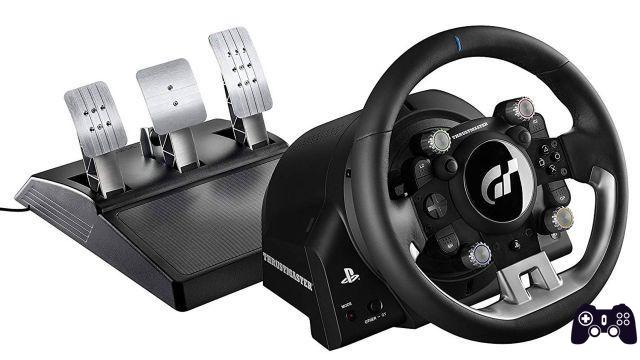 Thrustmaster T-GT, the best for PlayStation and PC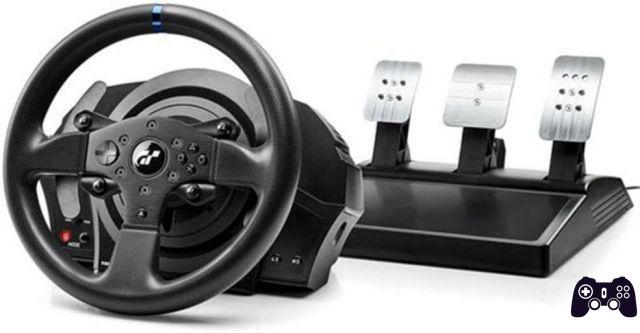 The model Thrustmaster T-GT it's a practically perfect steering wheel for gaming sessions on PlayStation. The experience it is able to offer is very immersive and simulative, and the construction of the materials is of the highest quality, thanks to the excellent grip on the steering wheel which facilitates the more complex maneuvers to be carried out. It is also equipped with the technology force feedback, truly indispensable if you are looking for sensations as close as possible to those you would have on board your car. In essence, this technology attempts to return everything that reaches the steering wheel from the car's wheels, that sensation that drivers with licenses in particular know very well, which sees the steering wheel automatically return to its initial position as the wheels move.
It is completely covered in leather and has four rotary selections, twelve positions, two mini sticks and paddle shifters. Unlike many other products, the pedal set - in addition to being made of metal - is also equipped with a clutch and the three pedals can be adjusted both in terms of distance and height. All of this is sold at a price of approximately EUR 600, which isn't bad at all given the full compatibility with i PC and the aforementioned characteristics
See on Amazon
See on eBay
Thrustmaster TMX, the best for Xbox and PC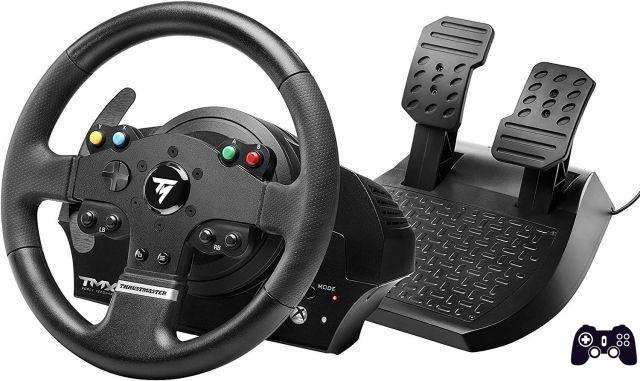 Thrustmaster it is a company that needs no introduction; especially in the field PC, has made many peripherals of the highest quality, which is why we offer you this steering wheel for Xbox One e PC which responds to the name of Thrustmaster TMX.
The steering wheel is comparable to the Logitech G29 which we recommend for PlayStation e PC both in terms of general comfort and the excellent quality of the materials. Also in this case you will find a pedal complete with clutch and a headset with a slightly larger diameter. As usual, there is no shortage of buttons on the steering wheel and the directional cross, which allows you to wander through the game menus without necessarily having to go through the controller. The general design of the steering wheel, on the other hand, appears well worked and, also in this case, very close to what Logitech did with the G29. So, racing and Xbox lovers, this is a product that is definitely for you.
See on Amazon
See on eBay
Hori RWA Apex, the best budget price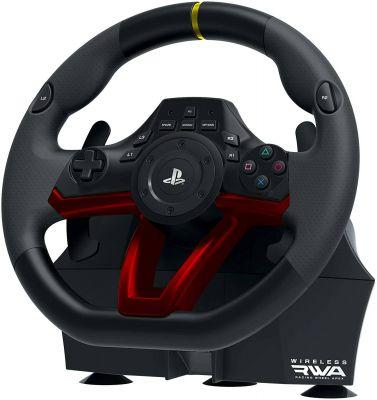 Is your steering wheel broken and you don't want to spend a lot to get another one? The solution may be to purchase Hori RWA ApexReally excellent value for money. Although it costs just 129 € it is in fact very accurate and compatible with all the games released, provided they support these peripherals.
Therefore, although the model is cheap, it is not of poor quality: the materials are light and of good quality, the design of the steering wheel is minimal - in some ways reminiscent of that of a real car - and the pedal set is simple to configure. (unfortunately it has no clutch). Again, there are the buttons on the steering wheel, the directional cross and even the PlayStation button that allows you to call up the console menus. If desired, then, even if not very comfortable, it is also possible to take advantage of the back buttons and triggers, directly from the steering wheel. In short, despite some limitations, with 129 euro approximately you will take home an effective and compatible product PlayStation e PC.
See on Amazon
See on eBay
Logitech G29, the best value for money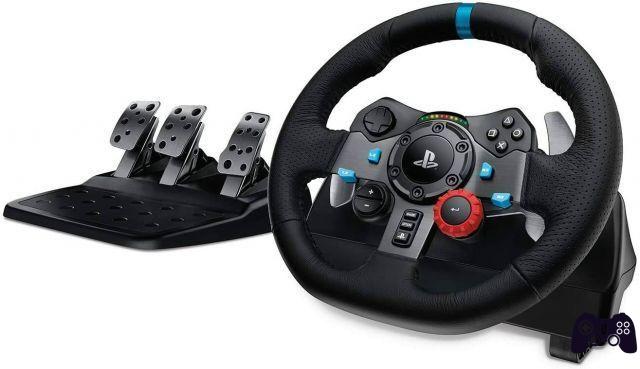 One of the biggest concerns for newbies and all those who would like to jump into these fantastic simulations is the price; you are afraid of having to shell out a fortune for a product that will probably also be quite complicated to manage. All of this is partly true: the prices are not low at all, unless you jump into poor quality products which could even be more complicated than the more expensive ones. Another factor to take into consideration is the community behind a product which, in the case of Logitech G29 that we have selected, is very active and always willing to suggest the correct settings for each title, sometimes even for specific cars.
This model is sold together with a pedal set complete with clutch and as with most models there is no gearbox (it can be purchased separately). In any case, it is not a mandatory purchase, since the steering wheel is equipped with two gear levers, but clearly if your intent is to simulate as much as possible, it is the case to buy it.
As regards the rotation of the steering wheel, approximately 360 degrees can be reached, which can be configured to your liking by the software included with the product, in order to find the right balance and perhaps even increase realism. To consider is the fact that the shape of the steering wheel is not suitable for all games, for example Formula 1, which requires a much slimmer steering wheel. However, this is a rather marginal note, a limitation that will not prevent you from playing the best racing games, from Forza Motorsport and Horizon to Gran Turismo.
See on Amazon
See on eBay
Gaming steering wheel, the features to consider
Gaming steering wheels, as we will also see in the following paragraphs, they are very complex devices which, however, manage to significantly improve the gaming experience, enriching it and increasing its sense of immersion. In titles such as the very recent Gran Turismo 7, for example, the sensations returned by a good steering wheel are exceptional. Therefore, complexity aside, there are many advantages, so follow us in the following paragraphs as we explain some information to keep in mind.
Ergonomics and active community
Gaming steering wheels are very complex tools which, sometimes, need too many tricks to work well. That's why we advise you to choose the most talked about models out there based on community support, because by comparing yourself with other users it will be easier to find solutions that can be implemented. In this regard, the most talked about models are those distributed by Logitech, such as for example he G29, which we have suggested for PlayStation and PC.
Ergonomics is also important: make sure the steering wheel is really comfortable; to do this, read the product description carefully and, if you have the opportunity, touch the steering wheel directly with your hand. This will not only increase your match performance, but also your overall ergonomics and grip. So consider carefully.
Force feedback and other features
You have surely heard of it somewhere, since we are talking about an almost indispensable technology for any self-respecting enthusiast: force feedback. What is that? Briefly, it returns sensations as close to reality as possible, trying to make you perceive the reaction of the wheels, automatically returning the steering wheel to its home position as the wheels move. If you really want to maximize driving sensations, make sure the wheel in question supports this technology. But it certainly doesn't end there! A self-respecting complete experience cannot fail to boast a pedal set and a gearbox. To help, there are some models already equipped with everything, and they are the ideal solution for those who want maximum sensations and realism.
Compatibility with new consoles
As described in the article, there are still no gaming steering wheels specifically designed for the new consoles or with logos that refer to them. Luckily though, most of the models out there - and that's the case with the ones we've selected - are also compatible with new hardware, offering maximum performance without any downgrades. So, if you already own the new Xbox Series or PlayStation 5, also refer to the models suggested for Xbox One and PlayStation 4, so as to enjoy the games coming out in the next period, above all Gran Turismo 7, which really promises a lot to Sony users.
Price and Compatibility
As often stated in articles like this, spending too little could be a bad idea, since the construction quality of the steering wheel, the form factor and the grip in general, may not be very suitable for a self-respecting racing experience. The ideal, therefore, is to spend a little more, in order to ensure a purchase that lasts over time. In our opinion, an expense of around €200 is really excellent for starting to embark seriously on the world of racing games. However, there are other cheaper products, such as the Hori model, which still manages to guarantee optimal performance for just over €150.
Another very important thing is compatibility: as you may have noticed, we even dedicated a paragraph to this element, since not all steering wheels are designed for cross-platform use; some are designed only for Xbox consoles, others for PlayStation ones, with the PC always in the middle. So, don't forget to check this aspect as well.